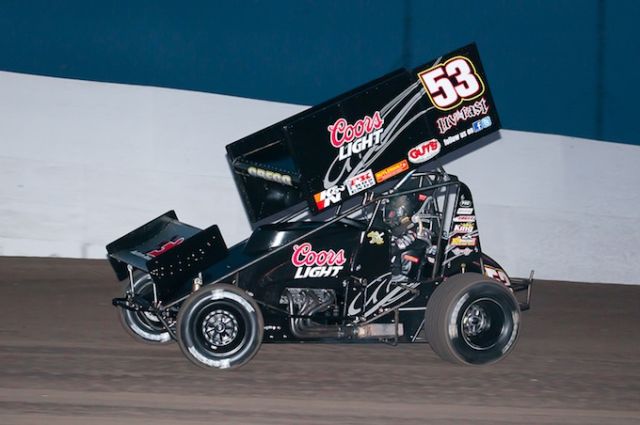 Andy Gregg picked up two more podium finishes over the weekend as he was in action in both Chico, CA and Placerville, CA.
Friday saw Gregg pilot his Coors Light/LivFast/GUTS Racing No. 53 machine with his 410ci power plant bolted in.
Timing in second fastest, Gregg then proceeded to win his heat race from his third row starting spot, putting him in the third row for the 25-lap feature event.
Starting fifth, Gregg, Rico Abreu, and Andy Forsberg all began working their way forward as they chased after Shane Golobic.
Gregg ran in the fourth spot, as Abreu ran in third, as the leaders hit lapped traffic. Traffic was treacherous, and actually took second running Shane Golobic out of the race, moving Gregg up into the third spot.
On Rico Abreu's bumper on the restart, the Placerville, CA driver wasn't able to get around Abreu, and went on to settle for the third spot.
Saturday night saw Gregg climb aboard the Russell No.14R for a 360ci race at the Placerville Speedway.
Setting the standard in time-trials, Gregg lined up in the third row of his heat race, and was able to work around several cars, and score a third place finish in his heat, safely putting him in the night's main event.
Lining up in the fourth row for the main event, Gregg wasted no time getting to the front as he found himself up in the third spot by the ninth lap as he chased after second running, Justin Johnson.
Chasing after Johnson for seven laps, Gregg dove down underneath him on the 16th lap, and overtook the second spot, as he set his sights on Andy Forsberg.
Though he did all he could over the final nine laps, Gregg was unable to catch up to Forsberg as he settled for a second place finish.
"I cannot complain at all about our weekend," Gregg said. "We ran well at Chico on Friday night and that is been a good place for us all year, and I am really hopeful that we can run well there next week at the Gold Cup. In Placerville we were really good again in Scott Russell's car, and though we came up short on a win, we were right there, and everyone is pretty pumped."
Andy would like to thank Coors Light, LivFast Clothing Co., GUTS Racing, Meyers and Son Drywall, Ervin Sales Group, K&N Products, FK Rod Ends, Eagle Motorsports, King Racing Products, BR Motorsports, Hinchman, Brown and Miller Racing Solutions, and 103.5 The Blaze for their support in 2013.
2013 BY THE NUMBERS: Races-37, Wins-7, Top 5's-20, Top 10's-24
ON TAP: Gregg will be back in action on Saturday night at the Placerville Speedway for their final night of weekly points racing.
STAY CONNECTED: Stay up to speed with Andy by following him on twitter @andygregg16x.