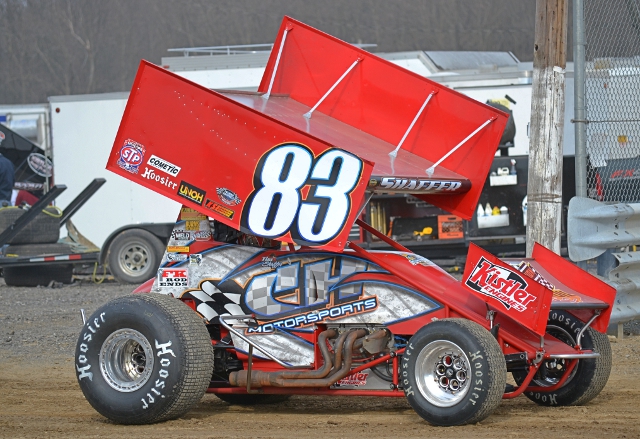 By Brian Liskai
ATTICA, Ohio – Don't look now, but Tim Shaffer is on his game. The four time University of Northwestern Ohio All Star Circuit of Champions titlist passed Dale Blaney with nine laps to go Saturday and went on to sweep the weekend at Attica Raceway Park.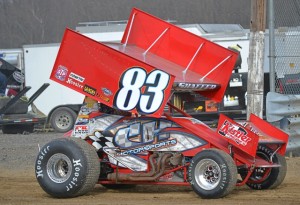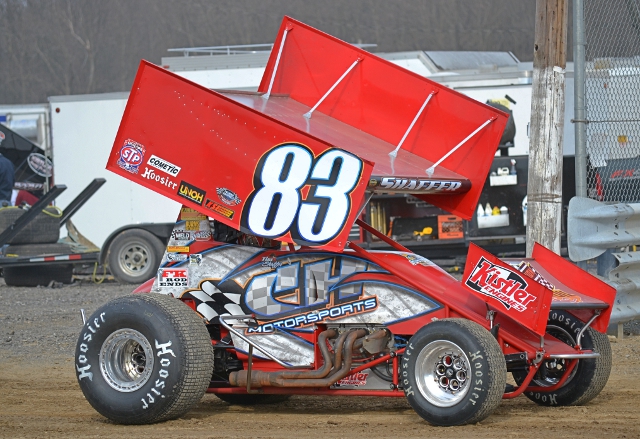 Shaffer earned $5,500 by winning the Attica Ambush thanks to the Baumann Auto Group and just as important stays within striking distance of Blaney as he looks to take his unprecedented fifth straight UNOH All Star championship.
Shaffer, who came into the weekend double-header winless with the UNOH All Stars, now has 53 career series wins, tying him with Frankie Kerr for fourth on the all-time win list, just three away from matching the legendary Jack Hewitt. It's Shaffer's 12th career win at Attica, moving him to ninth on the track's all-time win list, just one away from tying Frankie Kerr.
"It's definitely good to come back to Attica. Here and Fremont are two awesome tracks and the fans are so awesome. They put such good racing on here. They give us two lanes to race and everyone races each other clean as you possibly can and I really respect that and I think everyone respects that two," said Shaffer beside his Aaron Call/Janet Holbrook owned machine.
Unlike the previous night when Shaffer used the extreme high line around the track, Saturday he used the bottom groove.
"Yeah it was like Shaff can run the top and the bottom again. It's a lot of fun running the top like that but usually your days are numbered up there. To get the win last night was awesome and to come back tonight…we had a really bad ass car. These guys gave me a great car. It's been awhile. I feel like Shaff's back," said a beaming Shaffer of his Kistler Engines/VRP Shocks/J&J Auto Racing/FK Rod Ends/Champion Oil/KSE Steering backed #83.
Bellevue, Ohio's Cap Henry would battle with Blaney throughout the closing laps and would bring his Kistler Engines/K&N Filters/FK Rod Ends/Champion Oil/Keizer Wheels #54 home in second.
"My car was pretty awesome. We kind of got held up there and I had to make some stuff happen but that's what racing is about. Those guys (lapped cars) got real fast all of a sudden. Wish they wouldn't have but it is what it is. I kept seeing his (Shaffer's) nose and I was like 'I have to get going.' I kind of got caught up there on one of the restarts," said Henry.
Blaney was disappointed with his third place finish.
"The car was okay. We just got third. I made some mistakes in traffic…traffic didn't go my way a couple of times and I didn't pick the right lane a few times and we got beat. We've been running well. I just feel like I've disappointed myself. I've lead a couple races and I don't want to say I've let them get away but I had an opportunity to win some races and I haven't capitalized on it so I just have to come out and do a better job," said Blaney beside his Ti22 Performance/GF1 chassis backed machine.
Bellevue, Ohio's Ryan Missler has watched several wins slip through his grasp at Attica this season in the Summit Racing Equipment UMP Late Models. Missler, who wrapped up his fifth straight track champion last week, would drive around Ryan VanderVeen on lap 13 and held off a charging Garrett Krummert to score his first win of the season. It is his 10th career win at Attica.
"It's about time. The race car was real good. I have to thank all the fans for sticking around and coming out every night this year. I want to thank all my sponsors and Jerry Huff. We put this deal together five years ago and it's been a lot of fun. I have to thank my wife, my kids and my in-laws and both Gulicks…they couldn't be here tonight," said Missler beside his York Fabrication/Quality Welding/Taze DJ Service/Terry McConnel Excavating/Twin Lakes Golf Course and Restaurant/Cenpeco Lubricants backed #50Y.
Castalia's Jordan Ryan scored his second win of the season in the Foster's Auto Body 305 Sprints, leading all 25 laps. Ryan withstood several challenges from Tyler Gunn and Steve Rando to earn his third career Attica win. It was his second straight win as well.
"My Uncle Doug did a pretty good pill draw last week too and he put us on the pole tonight. I think I'm going to invite him to the next couple of races at Fremont," said Ryan beside his J&J Automotive/Village Pizza House/Frosty Frog/Walton's Cutting Crew/Kistler Racing Products backed machine.
"I didn't need those cautions. I knew Rando was out there. I tried to restart all over the place so they couldn't figure it out. My motor took off great…Griff's Engines gives me a great motor every week," added Ryan of his $1,000 payday thanks to the Baumann Auto Group and Ron McComas.
Risingsun, Ohio's Shawn Valenti would blast from third into the lead on lap five and then held off several challenges from Matt Foos to claim his second win of the season in the Bob's Machine Shop Dirt Trucks.
"I just got into a rhythm there and was able to hit my marks on the bottom. Matt Foos was tough there running me on the bottom and I had to move down there and protect what I had. To come out here and pick up four wins between here and Fremont…it's definitely a lot of fun," said Valenti. "I have to thank Jeff Babcock for putting me in this and KS Sales and Service and Kevin Shammo…without him we wouldn't be able to do this and all the guys that made this happen," said Valenti.
Cole Duncan and Danny Holtgraver would bring the UNOH All Star field to the green for the 40 lap feature with Duncan grabbing the lead over Dean Jacobs, Holtgraver, Blaney, Henry, D.J. Foos and Shaffer. Duncan would pull away with Jacobs comfortably in second while Holtgraver, Blaney and Henry waged a great battle for third.
Duncan would find heavy lapped traffic by the seventh circuit but Jacobs couldn't close as Blaney, Holtgraver, Henry and Shaffer gave chase. With 13 laps in the books Jacobs began to close and as Duncan exited turn two something went wrong with his mount as he stopped to bring out the caution. Duncan would retire to the pits, handing the lead to Jacobs with Blaney, Henry, Shaffer, Holtgraver, Foos, Byron Reed and Andrew Palker in tow.
When the green flew Jacobs pulled away slightly as Blaney and Henry were locked in a tremendous battle for second. The caution would fly again on lap 16 when Stuart Brubaker spin in turn one and Randy Hannagan stopped in turn four. When the green reappeared Jacobs again pulled away as Blaney, Henry and Shaffer battled for second.
As the laps ticked off, Blaney began to close on Jacobs and by lap 22 was racing to the leader's inside as Henry, Shaffer, Foos and Reed gave chase. Blaney would drive under Jacobs for the lead on lap 24 as the leaders raced into heavy lapped traffic. Henry and Shaffer would use the traffic to move into second and third with Jacobs back to fourth. Shaffer would drive into second on lap 26 and closed on Blaney.
With 10 laps to go Shaffer was blasting under Blaney and finally took the lead a circuit later with Henry, Jacobs, Reed, Foos and Holtgraver in tow. Shaffer pulled away slightly as he negotiated traffic with Blaney and Henry locked in a torrid battle for second.
Shaffer got held up slightly by traffic with three laps to go and Blaney and Henry were there to challenge. But, Shaffer would be patient on the bottom of the track and drove to the win. Henry, Blaney, Jacobs and Reed would round out the top five.
In the 25-lap late model main, Dave Hornikel and VanderVeen would pace the field and when the green flew VanderVeen would bolt into the lead. Mike Bores would drive into second on lap four, but it was Missler who was on the move. Using the high line while most others ran the bottom, Missler would take second on lap five and raced to VanderVeen's outside. A caution on lap seven when one of the infield tractor tires was shoved into the racing grove saw the restart order as VanderVeen, Missler, Hornikel, Matt Irey, Bores, George Lee, Brad Malcuit, Garrett Krummert and John Bores.
VanderVeen would continue to lead Missler with Irey moving into third when the caution flew for a Josh Haynes spin on lap 11. Hornikel would retire to the pits with a flat with Lee also going pit-side under the caution. On the restart Missler would rocket off the high side to take the lead as VanderVeen and Irey battled for second with Mike Bores and Krummert racing hard behind the leaders.
Irey would take second on lap 15 and just as the leaders were getting into heavy lapped traffic on lap 19, the caution flew for a Hiram Bachman spin. On the restart Haynes would spin. With six laps remaining Missler lead Irey, VanderVeen, Mike Bores and Krummert.
When the green came back out, Krummert would take a cue from Missler and use the high line to vault into second. With two laps to go Krummert was right on Missler's rear bumper. Missler would hit his marks perfectly and would take the win over Krummert, Irey, VanderVeen and Malcuit.
Ryan and Jim Taddeo brought the field to green for the 25 lap 305 sprint main with Ryan stealing the lead while Steve Rando blasted into second. Paul Weaver would move into third on lap two bringing Tyler Gunn into fourth. The caution would fly for a Kyle Capodice and Seth Schneider spins on lap three. On the restart Rando blasted to Ryan's outside but the youngster wouldn't budget off his bottom line. Rando would slip over the cushion allowing Gunn, Ivy and Taddeo to slip buy.
Gunn would move into second on lap seven with Weaver, Rando, Taddeo and Nate Dussel giving chase. Ryan would encounter lapped traffic on the 12th circuit with Gunn closing while Weaver, Rando and Dussel also closing the gap. Just as Ryan was about to enter heavy lapped traffic on lap 14, the caution would fly, giving the leader a clear track.
When the green flew, Ryan lead Gunn, Weaver, Rando and Dussel. Rando would move into third on the next lap. With five laps to go, Gunn was pressuring Ryan but spun in turn four, ending his great run. On the restart Ryan led Rando, Weaver, Dussel and Alvin Roepke. Luke Griffith would spin on lap 22, setting up a three lap shoot out.
Ryan would continue to use his low line to lead with Rando trying desperately to get by with Weaver and Dussel ready to pounce. As they exited turn four to the checkered flag, Ryan would take the win with Rando getting sideways and collecting Nate Dussel at the finish line. Weaver, Rando, Dussel and Roepke would round out the top five.
John Ivy and Matt Foos would bring the dirt truck feature to the green with Ivy gaining a slight lead over Foos, Valenti, Dustin Keegan, Art Ball and Bryan Sebetto. Both Valenti and Foos would get around Ivy on lap five and with seven laps in Ivy would tangle with Ball, ending his night. The restart order was Valenti, Foos, Ball, Sebetto and Dustin Keegan.
While Valenti lead, Foos kept him in his sights as Ball and Sebetto were locked in a great battle for third. Foos just couldn't get around Valenti who would drive to the win. Foos, Ball, Sebetto and Dustin Keegan would round out the top five.
Attica Raceway Park Promoter John Bores and all the track staff would like to thank all the race teams, fans and sponsors for a fantastic 2013. Before you know it March will be here to kick off the 2014 season.
For more information and to keep track of when the Attica champions banquet will be held go to www.atticaracewaypark.com
Attica Raceway Park – 8/31/2013
Baumann Auto Group Night
UNOH All Star Circuit of Champions (35 Cars)
[#]-Starting Position
Qualifying – Kistler Engines
1. 83-Tim Shaffer, 12.545; 2. 2-Dale Blaney, 12.564; 3. 45-Danny Holtgraver, 12.697; 4. 57X-Andrew Palker, 12.729; 5. 22-Cole Duncan, 12.756; 6. 97-Dean Jacobs, 12.827; 7. 40-Caleb Helms, 12.847; 8. 54-Cap Henry, 12.875; 9. 24H-Bryan Sebetto, 12.921; 10. 16-Chris Andrews, 12.928; 11. 53-DJ Foos, 12.929; 12. 5R-Byron Reed, 12.969; 13. 9X-Rob Chaney, 12.997; 14. O9-Craig Mintz, 12.999; 15. 11N-Randy Hannagan, 13.004; 16. 40DD-Caleb Griffith, 13.039; 17. 60-Jody Keegan, 13.071; 18. O-Brian Smith, 13.079; 19. 94-Jack Sodeman Jr., 13.099; 20. W20-Greg Wilson, 13.108; 21. 5T-Travis Philo, 13.109; 22. 77X-Wayne Johnson, 13.132; 23. 40XL-Mike Linder, 13.142; 24. 17-Jared Hortsman, 13.156; 25. 23-Jimmy Light, 13.157; 26. 35-Stuart Brubaker, 13.176; 27. 45L-Brian Lay, 13.185; 28. 83M-Broc Martin, 13.187; 29. 80-Trey Gustin, 13.193; 30. 46AU-Stuart Williams, 13.195; 31. 55-Brad Bowman, 13.266; 32. 39M-Matt Merrill, 13.295; 33. 787-Jimmy Pooler, 13.408; 34. 15H-Mitch Harble, 17.370; 35. 29-John Ivy, 99.999
Heat 1 – Kears Speed Shop (10 Laps – Top 5 finishers transfer to the A-feature)
1. 5T-Travis Philo[1] ; 2. 9X-Rob Chaney[3] ; 3. 22-Cole Duncan[5] ; 4. 24H-Bryan Sebetto[4] ; 5. 83-Tim Shaffer[6] ; 6. 80-Trey Gustin[8] ; 7. 23-Jimmy Light[7] ; 8. 787-Jimmy Pooler[9] ; 9. 60-Jody Keegan[2]
Heat 2 – All Pro Aluminum Heads (10 Laps – Top 5 finishers transfer to the A-feature)
1. O9-Craig Mintz[3] ; 2. 77X-Wayne Johnson[1] ; 3. 97-Dean Jacobs[5] ; 4. O-Brian Smith[2] ; 5. 2-Dale Blaney[6] ; 6. 35-Stuart Brubaker[7] ; 7. 16-Chris Andrews[4]
Heat 3 – Dragon Race Fuel (10 Laps – Top 5 finishers transfer to the A-feature)
1. 53-DJ Foos[4] ; 2. 40XL-Mike Linder[1] ; 3. 94-Jack Sodeman Jr.[2] ; 4. 45-Danny Holtgraver[6] ; 5. 11N-Randy Hannagan[3] ; 6. 45L-Brian Lay[7] ; 7. 55-Brad Bowman[8] ; 8. 40-Caleb Helms[5]
Heat 4 – Kinsler Fuel Injection (10 Laps – Top 5 finishers transfer to the A-feature)
1. 17-Jared Hortsman[1] ; 2. 5R-Byron Reed[4] ; 3. W20-Greg Wilson[2] ; 4. 40DD-Caleb Griffith[3] ; 5. 54-Cap Henry[5] ; 6. 57X-Andrew Palker[6] ; 7. 83M-Broc Martin[7] ; 8. 39M-Matt Merrill[8]
Dash – Outerwears Performance Products (6 Laps, finishing order determined first 6 starting positions of A-feature
1. 22-Cole Duncan[1] ; 2. 45-Danny Holtgraver[2] ; 3. 54-Cap Henry[3] ; 4. 97-Dean Jacobs[4] ; 5. 83-Tim Shaffer[6] ; 6. 2-Dale Blaney[5]
B-Main – MSD Ignition (12 Laps – Top 4 finishers transfer to the A-feature)
1. 57X-Andrew Palker[1] ; 2. 16-Chris Andrews[3] ; 3. 35-Stuart Brubaker[6] ; 4. 45L-Brian Lay[7] ; 5. 60-Jody Keegan[4] ; 6. 83M-Broc Martin[8] ; 7. 40-Caleb Helms[2] ; 8. 23-Jimmy Light[5] ; 9. 46AU-Stuart Williams[10] ; 10. 55-Brad Bowman[11] ; 11. 80-Trey Gustin[9] ; 12. 39M-Matt Merrill[12] ; 13. 787-Jimmy Pooler[13]
A-Main – University of Northwestern Ohio (40 Laps)
1. 83-Tim Shaffer[5]; 2. 54-Cap Henry[3]; 3. 2-Dale Blaney[6]; 4. 97-Dean Jacobs[4]; 5. 5R-Byron Reed[9]; 6. 45-Danny Holtgraver[2]; 7. 40DD-Caleb Griffith[15]; 8. 53-DJ Foos[8]; 9. O9-Craig Mintz[13]; 10. 57X-Andrew Palker[11]; 11. 9X-Rob Chaney[10]; 12. 24H-Bryan Sebetto[7]; 13. 45L-Brian Lay[24]; 14. 94-Jack Sodeman Jr.[17]; 15. 5T-Travis Philo[19]; 16. W20-Greg Wilson[18]; 17. 77X-Wayne Johnson[20]; 18. 40XL-Mike Linder[21]; 19. 11N-Randy Hannagan[14]; 20. 16-Chris Andrews[12]; 21. O-Brian Smith[16]; 22. 17-Jared Hortsman[22]; 23. 35-Stuart Brubaker[23]; 24. 22-Cole Duncan[1]
Hard Charger: 45L-Brian Lay[+11]
Summit Racing Equipment Late Models (22 Cars)
[#]-Starting Position
Heat 1 – Nitro Black Performance by Engine Pro (8 Laps – Top 10 finishers transfer to the A-feature)
1. 5M-Ryan Markham[4] ; 2. 61-George Lee[3] ; 3. 48-John Bores[8] ; 4. 15B-Mike Bores[7] ; 5. 30-Nate Potts[2] ; 6. O3-Jim Gingery[5] ; 7. 16-Steve Sabo[1] ; 8. 92-Hiran Bauchman[6]
Heat 2 – Summit Racing Equipment (8 Laps – Top 10 finishers transfer to the A-feature)
1. 50Y-Ryan Missler[1] ; 2. 79-Brad Malcuit[3] ; 3. 23V-Ryan VanderVeen[2] ; 4. 29-Garrett Krummert[6] ; 5. 5J-Josh Haynes[5] ; 6. 98-Tim Sabo[7] ; 7. 18-Jamie Reed[4]
Heat 3 – Ultra Shield Race Products (8 Laps – Top 10 finishers transfer to the A-feature)
1. 36-Matt Irey[7] ; 2. 59-Larry Bellman[1] ; 3. 71-Dave Hornikel[4] ; 4. 18R-Chris Ross[6] ; 5. 77-Coby Bartram[5] ; 6. 21T-Richie Taylor[2] ; 7. 1F-Justin Collet[3]
A-Main –  (25 Laps)
1. 50Y-Ryan Missler[3]; 2. 29-Garrett Krummert[9]; 3. 36-Matt Irey[8]; 4. 23V-Ryan VanderVeen[2]; 5. 79-Brad Malcuit[5]; 6. 15B-Mike Bores[4]; 7. 5M-Ryan Markham[10]; 8. 18R-Chris Ross[11]; 9. 48-John Bores[7]; 10. O3-Jim Gingery[16]; 11. 16-Steve Sabo[19]; 12. 59-Larry Bellman[12]; 13. 30-Nate Potts[13]; 14. 92-Hiran Bauchman[22]; 15. 77-Coby Bartram[15]; 16. 5J-Josh Haynes[14]; 17. 18-Jamie Reed[20]; 18. 98-Tim Sabo[17]; 19. 71-Dave Hornikel[1]; 20. 61-George Lee[6]; 21. 1F-Justin Collet[21]; 22. 21T-Richie Taylor[18]
Hard Charger: 16-Steve Sabo[+8]
Foster Auto Body 305 Sprints (22 Cars)
[#]-Starting Position
Heat 1 – Nitro Black Performance by Engine Pro (8 Laps – Top 9 finishers transfer to the A-feature)
1. 19R-Steve Rando[1] ; 2. 68G-Tyler Gunn[2] ; 3. 10J-CJ Jones[4] ; 4. 4T-Jim Taddeo[6] ; 5. O8-Andy Fiel[8] ; 6. 2-Ricky Peterson[7] ; 7. 7P-Brandon Moore[3] ; 8. 11G-Luke Griffith[5]
Heat 2 – Summit Racing Equipment (8 Laps – Top 9 finishers transfer to the A-feature)
1. 83X-Nate Reeser[1] ; 2. 1-Nate Dussel[6] ; 3. 12-Kyle Capodice[2] ; 4. 13D-Jeremy Duposki[5] ; 5. 36-Seth Schneider[7] ; 6. 39C-Scott Riley[3] ; 7. 1M-Mike Moore[4]
Heat 3 – Ultra Shield Race Products (8 Laps – Top 9 finishers transfer to the A-feature)
1. 1W-Paul Weaver[4] ; 2. 5R-Jordan Ryan[3] ; 3. 22D-Dan Hammond[1] ; 4. OO-Alvin Roepke[6] ; 5. 10S-Roger Shammo[2] ; 6. 8J-Jess Stiger[5] ; 7. 6-Dustin Dinan[7]
A-Main –  (25 Laps)
1. 5R-Jordan Ryan[1]; 2. 1W-Paul Weaver[6]; 3. 19R-Steve Rando[4]; 4. 1-Nate Dussel[11]; 5. OO-Alvin Roepke[3]; 6. 4T-Jim Taddeo[2]; 7. 2-Ricky Peterson[16]; 8. 10J-CJ Jones[10]; 9. 83X-Nate Reeser[7]; 10. 22D-Dan Hammond[12]; 11. 13D-Jeremy Duposki[9]; 12. O8-Andy Fiel[13]; 13. 7P-Brandon Moore[19]; 14. 68G-Tyler Gunn[5]; 15. 10S-Roger Shammo[15]; 16. 12-Kyle Capodice[8]; 17. 8J-Jess Stiger[18]; 18. 36-Seth Schneider[14]; 19. 11G-Luke Griffith[21]; 20. 39C-Scott Riley[17]; 21. 1M-Mike Moore[20]
Hard Charger: 2-Ricky Peterson[+9]
Bob Machine Shop Dirt Trucks (18 Trucks)
[#]-Starting Position
Heat 1 – Nitro Black Performance by Engine Pro (8 Laps – Top 10 finishers transfer to the A-feature)
1. 88-Bryan Sebetto[1] ; 2. 8KB-Kent Brewer[3] ; 3. 25S-Tony Siferd[4] ; 4. OO-John Ivy[7] ; 5. 18W-Cory Ward[5] ; 6. 37-Eric Devanna[6] ; 7. 7-Dana Frey[8] ; 8. 79-Andrew Lutman[2] ; 9. 18-Jeff Ward[9]
Heat 2 – Summit Racing Equipment (8 Laps – Top 10 finishers transfer to the A-feature)
1. 7B-Shawn Valenti[6] ; 2. 2-Matt Foos[4] ; 3. P51-Willie Keegan[2] ; 4. D1-Dustin Keegan[1] ; 5. O1-Art Ball[8] ; 6. 33-Brian Arnold[5] ; 7. 3X-Brad Keckler[3] ; 8. 4S-Keith Sorg[9] ; 9. 85S-Brandon Stuckey[7]
A-Main –  (15 Laps)
1. 7B-Shawn Valenti[4]; 2. 2-Matt Foos[2]; 3. O1-Art Ball[6]; 4. 88-Bryan Sebetto[5]; 5. D1-Dustin Keegan[3]; 6. P51-Willie Keegan[10]; 7. 8KB-Kent Brewer[9]; 8. 25S-Tony Siferd[8]; 9. 7-Dana Frey[13]; 10. 37-Eric Devanna[11]; 11. 33-Brian Arnold[12]; 12. 4S-Keith Sorg[16]; 13. 3X-Brad Keckler[14]; 14. 85S-Brandon Stuckey[18]; 15. 79-Andrew Lutman[15]; 16. OO-John Ivy[1]; 17. 18W-Cory Ward[7]
Hard Charger: P51-Willie Keegan[+4]
©2013 – Results Provided by: Computer Man Inc. Fremont, OH