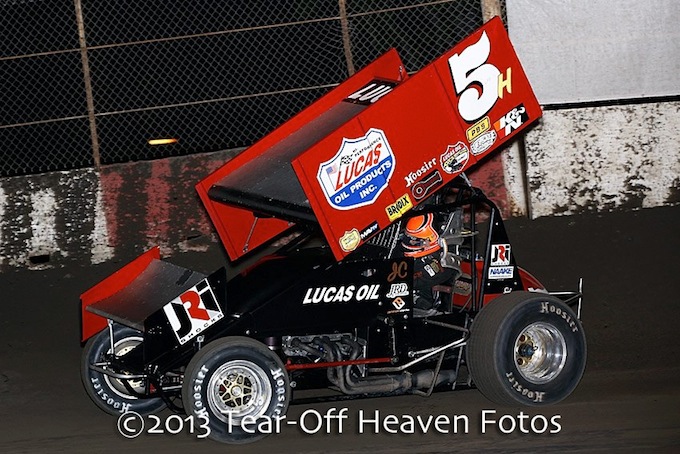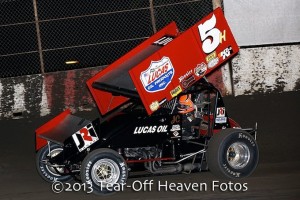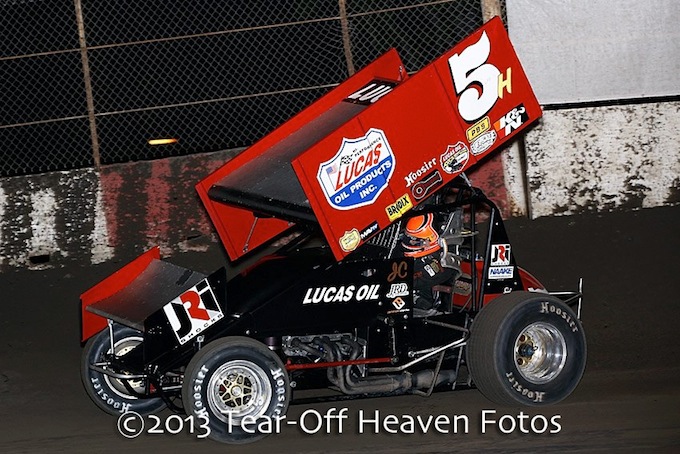 From David Smith, Jr.
Belleville, KS – (September 1, 2013) – Justyn Cox made a slight detour on his way back from Jackson, Minnesota to his home state of California pay off in a huge way as he took the lead at the start and then held off a late race charge by J.D. Johnson to claim his first career National Championship Racing Association of Park City, Kansas presented by Precise Racing Products 360-ci sprint car victory Sunday night atop the famed Belleville High Banks in Belleville, Kansas.
Mike Peters started on the S&S Trailer Sales front row for the twenty lap feature with Cox along his outside. Cox used the top of the track as his preferred line while Peters worked the bottom as both drivers raced side by side all the way until the exit of turn four when Cox powered out into the lead. Peters stayed on his rear bumper while behind them, J.D. Johnson, Jeremy Campbell and Don Droud, Jr. ran three wide at times in a battle for the third position.
Cox, aboard the #5H Van Dyke Motorsports/Rogers Racing Engines powered Maxim Chassis kept glued to the top side of the track and his advantage stayed to six car lengths over Peters as lapped traffic came into the play for the first time on lap nine. Peters would gain a little ground as several cars would get ready to be lapped on lap twelve but Cox disposed of them with ease.
One lap later J.D. Johnson got a run on Peters down low entering turns one and two and would take over the runner up position. He then set his sights on the leader and with three laps to go caught a break when A.J. Selenke slowed entering turn four with a flat left rear tire.
The restart saw J.D. Johnson on the leader's rear bumper and would dive low entering turns one and two while Cox continued to work the top side. Both drivers ran the top in turns three and four with J.D. Johnson once again attempting a slide job in turns one and two.
On the final lap after another attempt at a pass in turns one and two, J.D. Johnson worked low coming out of turn four but would fall just two car lengths short allowing Cox to take the victory.
"This is very special," said a very excited Cox in victory lane. "I have always heard about the prestige of this race track and we decided to stop off here on our way back home to California after running the Jackson Nationals last night and I am glad we did. I am very honored to win here." Cox also became the sixth different feature winner in 2013 out of the seven events that have been held thus far.
Droud, Jr. would continue his impressive run in the famed Ochs Brothers #1x to come home third while Peters settled for fourth. Current point leader C.J. Johnson rounded out the top five.
It was not a good night for former champion Jeremy Campbell, who came into the night ten points out of the lead. While running fifth, Campbell would lose the motor in his #10c on lap eleven and be credited with a twelfth place finish.
The next event for the NCRA 360-ci sprint car division will take place this coming Saturday and Sunday night, September 7-8th. On Saturday night the tour will head to Junction Motor Speedway in McCool Junction, Nebraska before they embark on their first ever appearance at the annual "Nebraska Cup" at Eagle Raceway in Lincoln, Nebraska on Sunday night. Both events will be run with the Speedway Motors ASCS Midwest Region and the Nebraska 360 sprint series.
NCRA 360-ci Sprints
Belleville High Banks/Belleville, Kansas
September 1, 2013
13 Cars
1st Heat: 1) Mike Peters, 2) Jeremy Campbell, 3) J.D. Johnson, 4) Marc Robe, 5) Jordan Boston, 6) Jon Freeman, 7) Norris Anderson
2nd Heat: 1) Justyn Cox, 2) C.J. Johnson, 3) Don Droud, Jr., 4) Mike Peters, 5) C.J. Johnson, 6) Jordan Boston, 7) Marc Robe, 8) Jon Freeman, 9) Jeff Stasa, 10) Randy Woodside, 11) A.J. Selenke, 12) Jeremy Campbell, 13) Norris Anderson