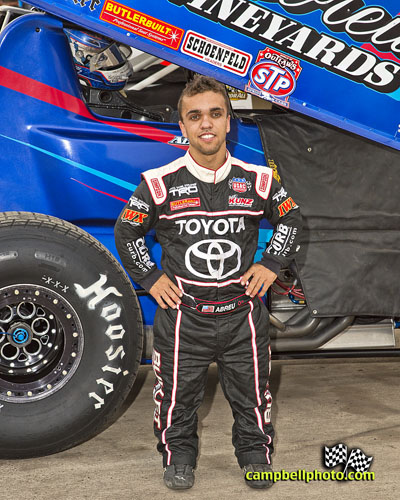 PETERSEN MEDIA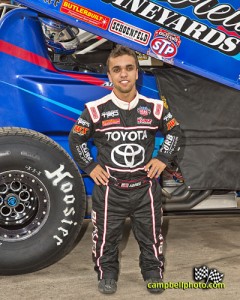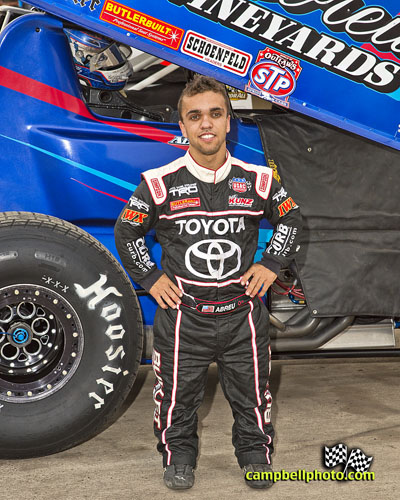 Back at his home track, the Calistoga Speedway for the sixth annual Louie Vermeil Classic, Rico Abreu did not disappoint the hometown crowd as he dominated opening night before exchanging blows with Kyle Larson on Sunday night to score a second place finish.
With 26 USAC Western States Midgets on hand for the 6th Annual Louis Vermeil Classic opener, Abreu timed his Toyota/TRD/Abreu Vineyards entry in third fastest, putting him sixth in his heat race.
Showing to field and the crowd he knows his way around the ½ mile speedway, Abreu charged up to the top spot in heat race action, and picked up the win, putting him in the second row of the feature event.
The feature event saw Abreu get off to a slower start, as he chased after race leader, Shane Golobic.
Sliding his way to the front, Abreu slid for the lead on the seventh lap, and never looked back.
Out front, Abreu stretched himself out to a monster lead, and went on to pocket the huge payday for the second weekend in a row.
"I can't say enough about this entire team," Abreu said. "The car was great all night, and it was fun to drive. Calistoga is turning into a great facility and it is awesome to see all these people out here."
Sunday night saw Abreu get some added competition as teammate and close friend, Kyle Larson, joined him and the rest of the field.
With 23 cars on hand for the finale, Abreu laid down a great lap during time trials, that saw him put four wheel above the cushion, and time in second fastest behind Ronnie Gardner.
The opening lap of his heat race saw the Rutherford, CA driver drive around the field, and grab the lead heading down the backstretch, on his way to a six-second heat race victory.
Starting fifth in the feature event, Abreu made a bold move on the start of the race to jump into the second spot on the first lap, before the caution waived on the second lap, putting him on the rear bumper of race leader, Shane Golobic.
When the race resumed, Abreu was able to get around Golobic, but as he made his move, Larson got around both of them to grab the lead, as Abreu now chased after his teammate.
Hanging with Larson, Abreu stayed committed to the high, scary side, and Larson slowly pulled away, but Abreu ran comfortably in the second spot, until the caution waived on the 17th lap.
On Larson's rear bumper, Abreu hung with his KKM teammate, over the final 12 laps, and made several bids for the lead, but Larson was too good on this night, and Abreu settled for second.
"Not many people beat him (Kyle Larson) out here, and we gave him everything we had," he said. "All three Kunz cars did awesome tonight, and it's great for Keith and the boys."
Abreu was crowned the Louie Vermeil Classic Champion in the Midget division based on his two night finishes.
Rico and his team would like to thank Abreu Vineyards, ButlerBuilt, FK Rod Ends, Schoenfeld, Keith Kunz Motorsports, Brown and Miller Racing Solutions, and Willwood for their support.
2013 BY THE NUMBERS: Starts-77, Wins-7, Top 5's-33, Top 10's-45
ON TAP: Abreu will now head North to meet up with the World of Outlaws and follow them into California. Abreu will be in action tonight at the Gray's Harbor Raceway in Elma, WA.
STAY CONNECTED: Stay updated with Rico by visiting his website at www.ricoabreuracing.com, 'liking' him on facebook at www.facebook.com/ricoabreuracing or following him on twitter @Rico_Abreu.
VIDEO: Be sure to check out http://www.youtube.com/ricoabreuracing for video of Rico, as content is constantly being uploaded!