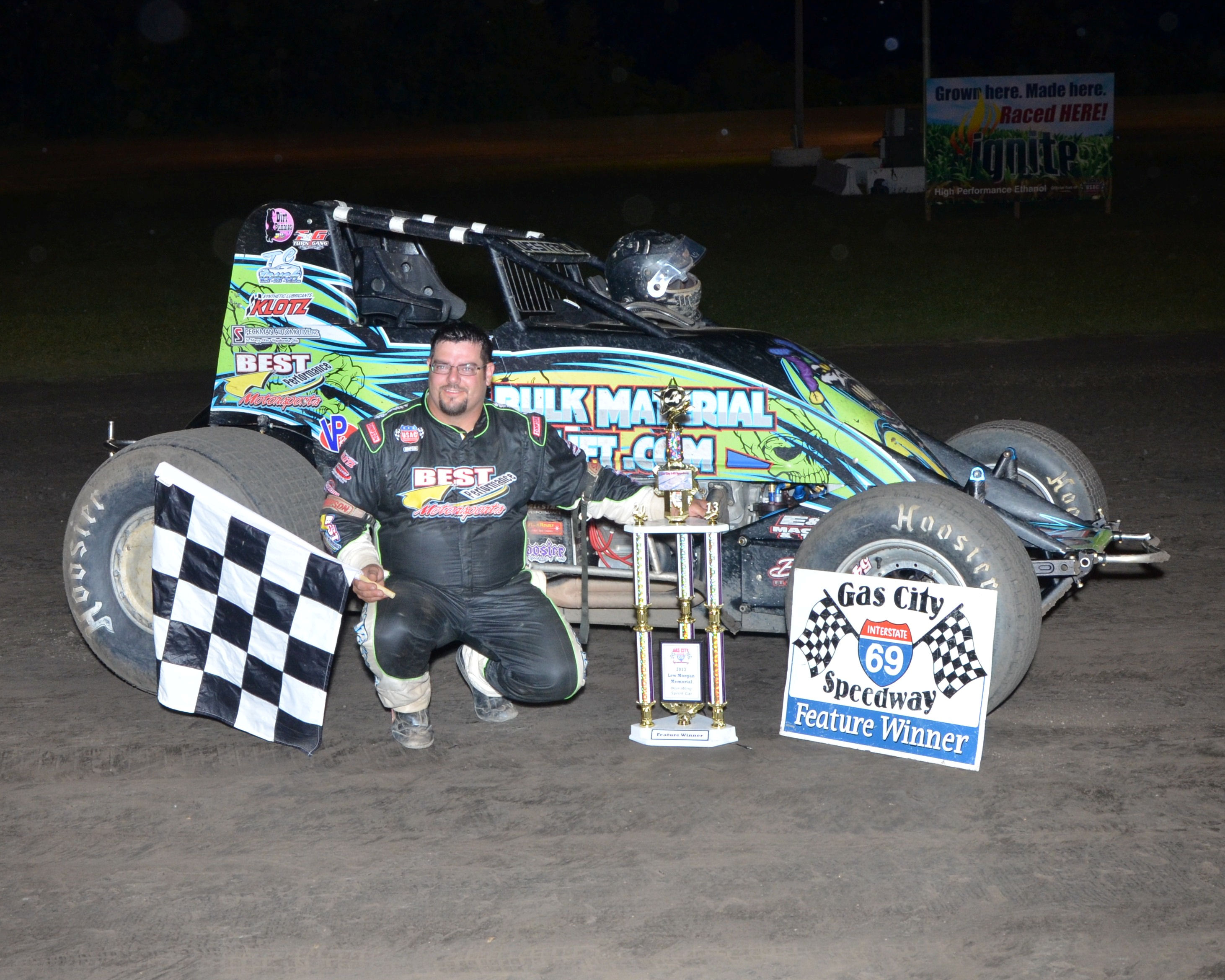 By Bob Buffenbarger
Gas City,In. Sept. 6th-Ohio's Matt Westfall has only campaigned 15 sprint car races this season, but he put a feather in his cap by winning the 30 lap "Lewis Morgan Memorial" at Gas City I-69 Speedway Friday night. Along with the normal payout, a $1,000 bonus was added to the payday for Westfall.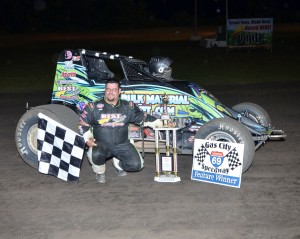 Scotty Weir and Chris Gurley made up the front row for the 30 lap contest, with Weir getting the jump at the green. After five laps were complete, Weir was leading Parker Price Miller, Gurley, Jarrett, Andretti and Westfall.
7th place starting Jerry Coons Jr. was on the prowl and was moving forward quickly. By the tenth circuit, Coons had made his way to fourth. Lap 14 saw the yellow appear for a Travis Welpott spin in turn four. As the green came back out, it was Weir, Coons, Westfall, Miller, Logan Jarrett and Kyle Robbins. Coons was on a mission and took the lead on 16 and quickly put distance between himself and Weir. Just as Coons was stretching his lead, the 21h of Todd Hery lost power and stopped in turn four. Coons was closing fast and had nowhere to go, sliding into Hery on lap 17. Coons returned to action at the tail.
At the re-start it was Weir, but Westfall was on his bumper, with Jarrett, Robbins, Miller, Andretti and Ted Hines chasing. Lap 20 found Westfall getting past Weir with a fast Kyle Robbins now 3rd and Jarrett holding tough in 4th just ahead of a now charging Chad Boespflug (from 17th).
Westfall was now several car lengths out front but a caution flew for Chris Gurley's spin in turn one on lap 27. With three to go, the green waved as Westfall maintained his lead over Weir, Robbins, AJ Hopkins, Jarrett, Joe Ligouri, Boespflug and Miller. Robbins got around Weir to take 2nd at the checkers.
Heats for the 32 cars on hand were won by AJ Hopkins, Logan Jarrett, Chris Gurley and Matt Westfall. Chad Boespflug took the B main win. Another great night of racing at Gas City I-69 Speedway.
A Main
1-Matt Westfall
2-Kyle Robbins
3- Scotty Weir
4-AJ Hopkins
5-Logan Jarrett
6-Joe Ligouri
7-Chad Boespflug
8-Parker Price Miller
9-Jerry Coons Jr.
10-Ted Hines
11-Jarrett Andretti
12-Adam Byrkett
13-Todd Hery
14-Travis Welpott
15-Garrett Abrams
16-Dallas Hewitt
17-Max McGhee
18-Chris Gurley
19-Matt Goodnight
20-Hunter Schuerenberg
These results are not official.