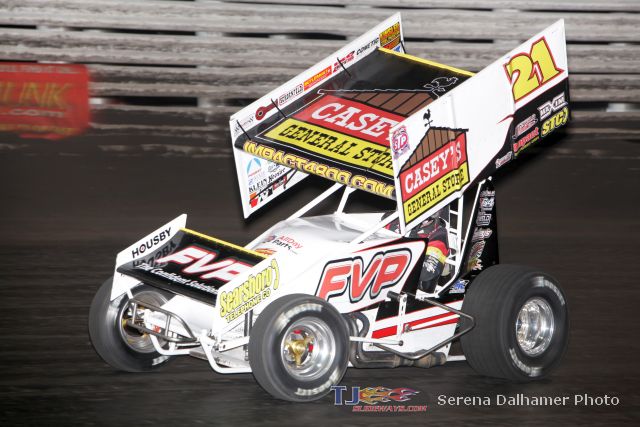 By Bill W
September 9, 2013 – Brian Brown and the Casey's General Stores/FVP #21 team scored three second place finishes last weekend.  All three had a familiar winner in front of them, Danny Lasoski.  With big money on the line with two MOWA shows at 34 Raceway in West Burlington, Iowa and at the Nebraska Cup at Eagle Raceway on Sunday, second was the next best place to be.  The Grain Valley, Missouri driver will take on the World of Outlaws this weekend at the Clay County Fair Speedway in Spencer, Iowa on Friday and at the Deer Creek Speedway near Spring Valley, Minnesota on Saturday.
There was $10,034 up for grabs for wins on Friday and Saturday in West Burlington.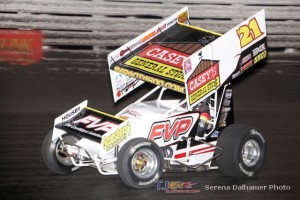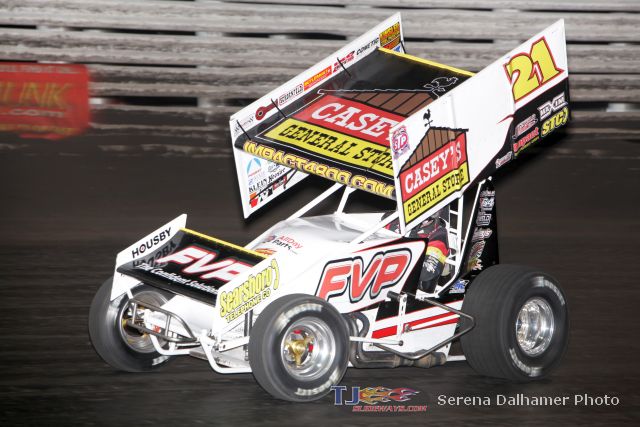 I'm just thankful that the MOWA and 34 Raceway put on such a great weekend event.  It's not often you get to race for that amount of money two nights in a row at the same track.  They did a great job with the track both nights.  They tilled it on Friday.  Jeff (Laue) makes sure the track has at least two grooves, and as a driver, that's all you want.
You were second quick on Friday night and started fourth in the heat.
We were able to get to second.  We were able to win the Dash from the pole as well.  I felt pretty good going into the A.
It sounded like you were challenging Lasoski for the win throughout.
Danny got the jump on me a little bit, and I kind of settled in there behind him.  We were able to pass him for the lead a couple of times both in and out of traffic.  I really felt we had a better car than him that night.  I feel I got outsmarted or outdrove at the end of the day.  You'll have things like that, but as a driver you hate to say that.  You have to call a spade a spade.  I just didn't get the job done as a driver.  I think I was a little impatient.  Overall, there was a great field of cars and second is nothing to hang your head about.
Saturday night saw you qualify third, run second in your heat and third in the Dash.  You lined up inside row two for the feature.
In the feature, I don't feel we were as good as we were Friday night.  It was slicker, and we just didn't have as good a car.  We fell in behind Danny and Jason (Johnson) on the start, and we stayed right with them for a while there.  I was able to get by Jason.
What did you think your chances of running down "Dude" were at that point?
Our car kept getting worse and his got better where he could maneuver better in traffic.  As much as I thought we had the better car on Friday, I thought he was better than us on Saturday.  Honestly, we took a bit of a butt-whooping.
It was on to Eagle for the Nebraska Cup on Sunday.  Your history there hasn't been the greatest.
Eagle has been mostly famine for us.  We've never got a good grasp on the track and the setup.  I don't think I run the track the right way either.  It's all added up to some bad finishes for us there.
Early in the night, it looked like famine again.
We drew a bad number and started in the back of the heat.  Jason and (Jack) Dover were up there.  I think there were six of eight cars capable of winning that night in the heat.  We just didn't get a good start.  We were ninth by the time the first lap was over.  We got back to sixth, but we really buried ourselves.
The team bounced back well though.
The good thing about our team is Chad Morgan and Travis Marsch don't give up.  They don't get down on me.  We just keep working hard as a team.  They kept working hard, and we were able to go from sixth to win the B.
By all accounts you had the fastest car on the track after starting 15th.
Running the B helped me with my confidence.  We changed a few things for the feature, and when they dropped the green, we kind of went where they didn't.  We had a caution about eleven laps in and we were already fifth by that point.
Did you need the caution at that point?
I really would have rather it not come.  Those guys were dicing around for position, and I already knew the spots on the track that I could pass.  As a driver, when you get that close to the front, you get your elbows up higher knowing you have a chance to win.
You ended up challenging for the win late.
We were able to get to second, and then snuck by Danny for the lead, and he got back by.  At that point, the yellow came out for a green, white, checker finish.  Even at that point, I thought we had a shot to win.  We went down there, and I didn't know if we would crash or what.  We got into the last corner and I just couldn't quite finish it off.
A lot of drivers would have liked three seconds last weekend.
I'm just proud of our whole team.  Obviously, we wanted a win or two, but if you can't, second is the next best thing.  I feel we're as strong as ever.  These short tracks aren't always our forte, and to have a chance to win two of the three nights was great.
It's good momentum for the team heading into the Outlaw shows this weekend.
We're looking forward to Spencer and Deer Creek.  We've got some FVP employees and customers coming out.  We've been good at Spencer before, and we're looking forward to running with the Outlaws again.
Follow Brian on the Web, Twitter and Facebook!
Follow Brian at his website located at www.BrianBrownRacing.com!
Also keep up with FVP, Casey's and Brian on Facebook and Twitter at the following links…
Twitter Links – @BrianBrown21, @FVPRacing, @CaseysGenStores
Facebook Links
Brian Brown Racing – www.facebook.com/pages/Brian-Brown-Racing/200630163294222
Casey's General Stores – www.facebook.com/pages/Caseys-General-Stores/112073528804354
FVP Racing –  http://www.facebook.com/FVPRacing?ref=ts&fref=ts
Other Web site info
Casey's: www.caseys.com
FVP: www.fvpparts.com
Brown's Bits
Brian's best run with the World of Outlaws at the Clay County Fair Speedway came five years ago when he finished fifth.  Donny Schatz won, ahead of Kraig Kinser, Joey Saldana and Jason Meyers.
About Casey's General Stores
Casey's General Stores is a Fortune-500 company (NASDAQ CASY) operating nearly 1700 convenience stores in 11 states through the Midwest. Known for its "Homemade-To-Go" pizza, sandwiches, donuts and bakery items, Casey's strives to consistently deliver quality gas, fresh kitchen-prepared food, clean environments and friendly service at every retail location.  Casey's is currently the 12th largest c-store chain and sixth largest pizza chain in the United States.
About FVP
We are very excited to introduce our new line of automotive chemicals, oils and fluids to our product offering.  These new products will be available at many retailers across the country.  We continue to offer a full line of high quality oil, air, cabin air and fuel filters, plus a complete line of high quality batteries for multiple applications including cars, trucks, SUV's, commercial and other specialty vehicles.  All products are made to OE manufacturer fitment specifications.  FVP products are engineered to provide our customers with quality products that are equal or superior in performance to the major national brands at a competitive price.  To learn more about our FVP products or to find out where you can have FVP products installed in your vehicle, visit us at www.FVPparts.com!  FVP…The Confident Solution
SPLASH
In addition to our line of seasonal safety products, we are very excited to introduce a full line of SPLASH Wiper Blades.  Our SafeView Performance Blades fit 95% of the vehicles on the road with quick and easy installation for everyone.   The AccuVision Beam Blade offers memory curve steel, which provides uniform pressure for a clear wipe, without the streaks.  Look for these great new SPLASH products!  Whether it's keeping your windshield clean or free of ice, protecting your RV, boat or pool from freezing in the winter, or your sidewalk safe to walk on, SPLASH Products are what you need!  Check out our new SPLASH website at www.SPLASHWash.com!  SPLASH…SEE SAFELY!
Marketing Partner of the Week – Housby Trucks
Brian says, "Jack, Kelly and Kevin Housby have been great to me since I was in the Casey's car.  They have provided our truck, and they do great service on trucks in the Des Moines area."
Since 1969, Housby has been known for the quality of new and used trucks they sell and their excellent customer service. What started out primarily as a Mack Truck dealership has grown into a conglomerate of vertically integrated businesses that share synergy by bringing multiple services to their customers.  Businesses include Housby Mack, Inc., Housby Mixer Group, Housby Truck Lube, Vocon Remarketing, Second Generation and Housby Motorsports.  Visit www.Housby.com for more information!
Associate Marketing Partner of the Week – FSR Race Products
Brian says – "Garry (Bell) and his family have been a big supporter of Brian Brown Racing since its inception.  We use a lot of their products that I feel racers should be using like their engine mount radiators, block heaters, toe plates and their hot water heater.  They make a lot of great products, and it's great to represent them."
This is Brian's second year being involved with Four Seasons Radiator (FSR) Race Products. The products used from FSR include engine mount radiators and an engine block heater that runs off 110 volts. FSR Radiator wants to insure the highest level of customer service by meeting your product needs. They are dedicated to Ground Support Equipment and understand the high demands of the industries they are involved in. They specialize in building radiators and fuel tanks for tug and beltloader applications. They also build forklift, push-back and other GSE radiators. Their radiators are designed to fit! No Universal Applications! Plus, all of their radiators come with a ONE YEAR WARANTY! Visit them on the web at www.fsrradiator.com!
Brian Brown Racing would like to thank Casey's General Stores, FVP, Searsboro Telephone Company, Impact Signs Awnings Wraps / impact4800.com, Champion Brands, SPLASH, Ditzfeld Transfer, Maxim Racing, Smiley's Racing Products, Weld Wheels, Housby Trucks, www.RateWin.com, Arctic Cat, K&N Filters, Hostiowa.net, FSR Race Products, TI64, Fuel-Safe Tanks, Awesome Racewear, Wolfe Eye Clinic, Bell Helmets, CP Pistons, Carrillo Rods,  Vortex Wings, Penray, All Pro Cylinder Heads, Butler Built Seats, AkzoNobel Sikkens, AllDayParts.com, Tru Square, Jack Links, Deli Express, Snap-On Tools, Rod End Supply, KSE Racing Products, Winters Performance Products, Santomauro Racing Products, Cometic Gaskets, Kaeding Performance, Donovan, Magtech, ISC Racers Tape, Kinsler Fuel Injection, Racing Optics, Mothers Wax, Don's Truck Wash, Gardner Farms, Hoosier Tires, GoPro, XYZ Machining, Brown and Miller Racing Solutions, Peterson Fluid System, Red Devil Brakes, Schoenfeld Headers, ADD, 6B Apparel, Zips Energy Seeds, Bosch, NGK, Garrett Racing Engines, MSD and WSIB Insurance for all their support!