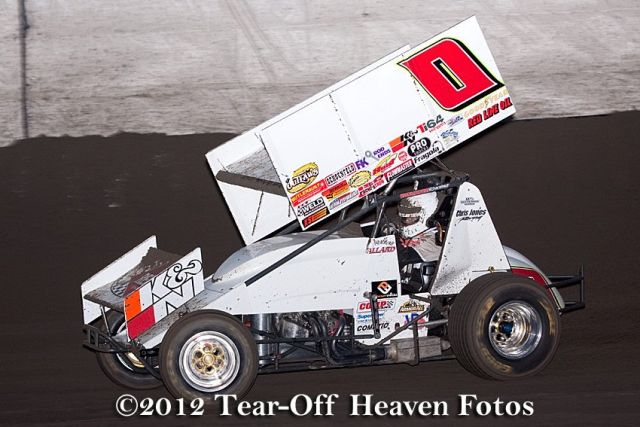 A frustrating week for Jonathan Allard did a complete 180 on Saturday and Sunday night as the Chico, CA closed out the World of Outlaws Gold Rush Tour with a third place run at the Gold Cup Race of Champions, and a second place run at the Antioch Speedway.
"It was a tough week for our entire team, but everyone persevered, and kept digging, and we scored two huge finishes to redeem ourselves," Allard said.
Following a cut tire during the opening night of the Gold Cup Race of Champions, Allard returned on Saturday night and looked to score a win for his hometown crowd.
Timing in 16th fastest against the 54 cars checked in, Allard was able to score a heat race win, and put his Williams Motorsports entry into the night's Dash.
Starting eighth in the Dash, JA finished in the seventh spot, putting his machine in the fourth row of the 40-lap feature event.
Allard had a fast car, and showed it off early, as he wasted no time moving up into the second spot chasing after Daryn Pittman, the race leader.
On the 17th lap, JA made a bid for the lead heading down the back stretch, but Pittman was able to keep him at bay, until the red flag flew on the 20th lap.
On the restart, Allard was able to get around Pittman, but as he did, Jason Meyers was able to get under Pittman, and take the lead, and Allard found himself still in second.
Chasing after Meyers, Allard did everything he could to catch the leader, and came up short, and actually slipped to the third spot on the last lap.
"I made a couple of mistakes going for the win," he said. "The car was awesome, and I was just searching for something to get around Meyers, and by doing so, Andy Forsberg got past us, but we can't hang out heads, we had a strong showing."
Sunday night, Allard followed the series back to the Antioch Speedway, a track he has had success at all year long, and has had success at with the World of Outlaws before.
Timing in ninth fastest, Allard won his heat, and ran second in the Dash, putting him on the front row, alongside Kyle Larson for the 30-lap feature event.
With Larson getting the jump on the extremely slick, and abrasive track, Allard chased after the NASCAR Nationwide driver, hoping for an opening.
With passing being at a premium on this night, Allard settled for second, closing out his week on a high note.
"The track was a lot different that it's been all year, which is unfortunate, but we put ourselves in good position all night, and we came out with a second place finish."
2013 BY THE NUMBERS: Races-51, Wins-13, Top 5's-27, Top 10's-30.
ON TAP: Jonathan will return to action this Saturday with the King of the West Series as they return to the Reno Tahoe Fernley Raceway in Fernley, NV.
STAY CONNECTED: For more information on Jonathan, including upcoming events, pictures, and news please check out www.allardmotorsports.com, or follow JA on twitter @Allard0.