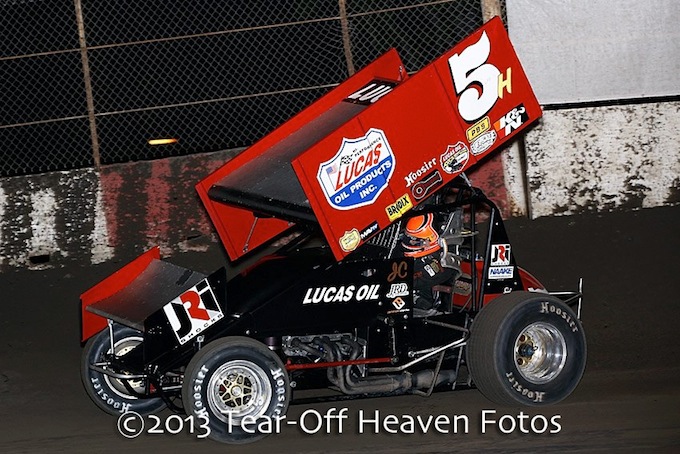 PETERSEN MEDIA
In action in his native California for the first time in nearly a month, Justyn Cox was battling for the lead for mechanical gremlins sidelined his late in the feature Wednesday night at the Silver Dollar Speedway.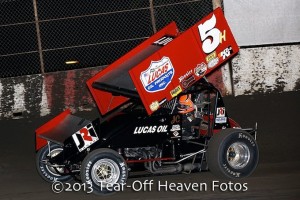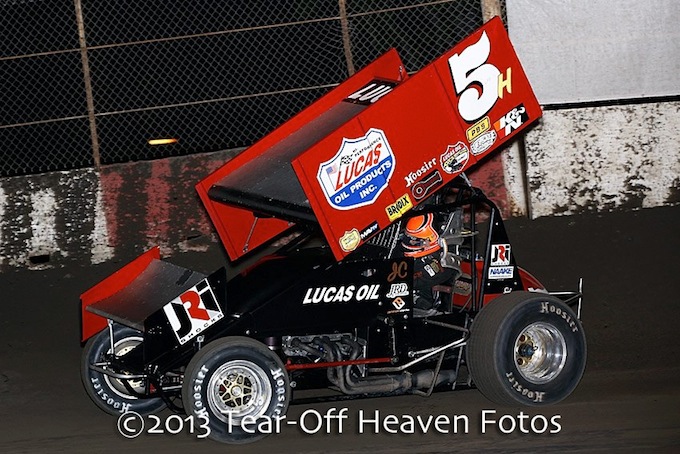 "We had a fast car, and were right there fighting for the win, but broke an exhaust valve with just four to go, ending our night," he said.
Timing in 7th fastest against the star studded field, Cox won his heat race from the fifth spot, putting him in the third row for the feature event.
When the green flag waived, Cox was able to jump into the fifth spot as he chased after the lead pack.
Inheriting the fourth spot via a Matt Peterson spin, Cox took the third spot from Dominic Scelzi as he was able to dive under him for the spot.
Andy Gregg found the rubber before Cox ,and put him back into the fourth spot, but Cox answered back with a move of his own, and reclaimed the third spot as he chased after Justin Sanders, and Kyle Hirst.
As laps clicked down, Cox was able to get under Kyle Hirst for the second spot, and as he reached Sanders, he dropped the valve, and pulled off.
"It is disappointing to say the least," Cox said. "The Wednesday night show at Gold Cup is a huge deal, and I think we had a shot to win it. We have been extremely fast recently and I hope we can grab a couple more wins before the season ends."
Justyn and his Van Dyke Motorsports team would like to thank Lucas Oil,  K&N Products, JRI Shocks, Rodgers Racing Engines, K1 Safety Gear, JRD Endeavors, Sacramento Theatrical Lighting, Worton Designs, and College Cyclery for their support during the 2013 season.
2013 BY THE NUMBERS: Races-44, Wins-3, Top 5's-14, Top 10's-21
ON TAP: Cox and the Van Dyke Motorsports team will be at the Petaluma Speedway on Saturday night.
STAY CONNECTED: For the latest news on Justyn become a fan of his on facebook at www.facebook.com/JustynCoxRacing or follow him on twitter @justyncox_jc.