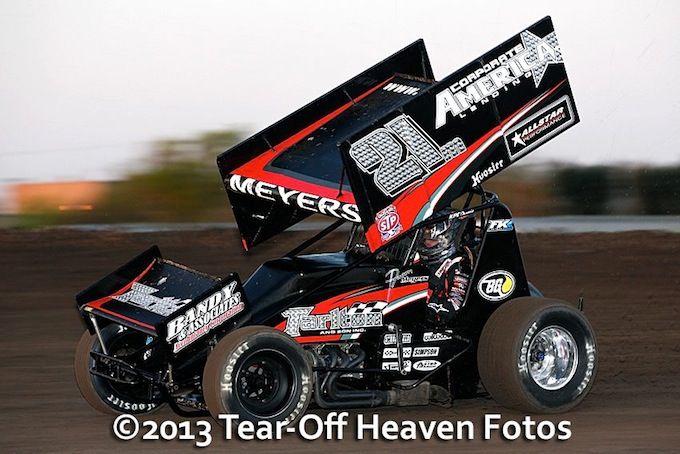 PETERSEN MEDIA
 Though he had not been behind the wheel of a sprint car since June, Jason Meyers returned to action over the weekend and pocketed his second career Gold Cup Race of Champions win, putting Tarlton Racing in the winner's column for the first time in a World of Outlaw points show.
"I haven't had the chance to race all summer, and I really have to thank Tom and Tommy Tarlton for letting me come out here and race all weekend," Meyers said. "This is a very prestigious race, and to win it twice, now, and keep in home in California for the fourth year is awesome."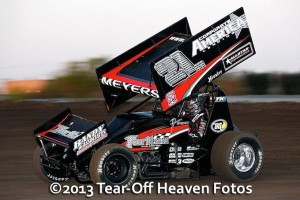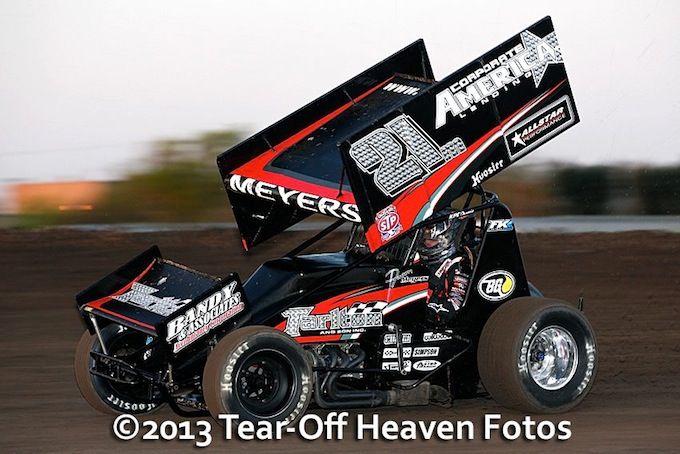 Qualifying his Corporate America Investments/Tarlton and Son/Bandy and Associates No. 21M in 12th quickest of the 54 entries, 'Hotfoot' went on to score a second place finish in his heat race, earning a spot in the Dash.
A fifth place finish in the Dash, put the Pro Signs/BG Lubricants/All Star Performance backed entry in the third row for the 40-lap feature event, and Meyers showed he had a strong car.
Getting off to a strong start, Meyers battled with the leaders early in the feature event, as he navigated around the tricky ¼ mile bullring chasing after Darryn Pitman.
After a red flag on lap 20, Meyers was able to utilize a double file restart to his advantage as he jumped from the inside second row, to the lead, as the crowd showed their appreciation to the Two-Time World of Outlaws Champion.
Out in front, Meyers was flawless as he kept a trio of California running mates at bay, as he drove to his second Gold Cup title.
"We had a great car, and I can't thank all the people who work on this for their efforts all weekend," he explained. "We have a couple more races scheduled together this year, and I'm hoping we can continue to be strong."
Meyers opened up the Gold Cup on Friday night timing in 23rd fastest, and charging form 5th to third in his heat race.
Starting 21st in the feature, the Clovis, CA driver marched his way all the way up to an impressive 11th place finish.
Tarlton Racing would like to thank Corporate America Investments, Tarlton and Son, Bandy and Associates, Pro Signs, BG Lubricants, All Star Performance, Winters Performance, XYZ Machining, Factory Kahne, Carillo Rods, Victory Valves, Kinser, Fel Pro, Bosch, Brown and Miller, and Astro Titanium for their continued support.
2013 BY THE NUMBERS: Races-18, Wins-3, Top 5's- 4, Top 10's-8.
STAY CONNECTED: Stay connected with Jason by visiting www.eliteracing.net or follow @Tarlton_Racing on Twitter.