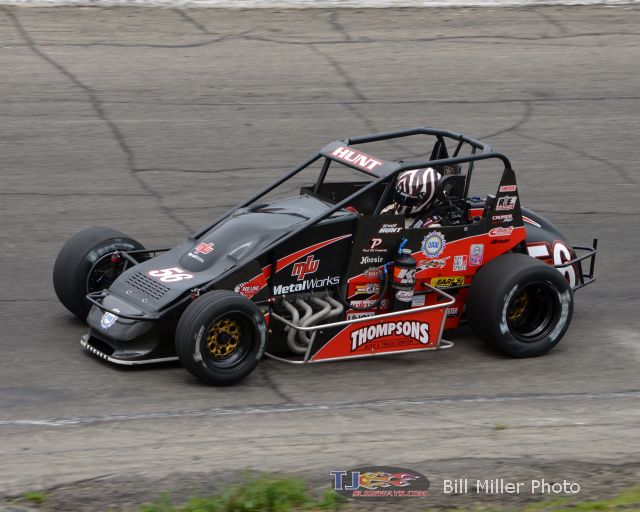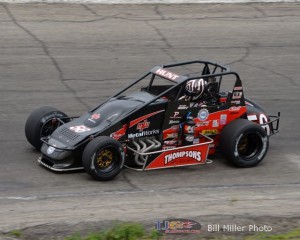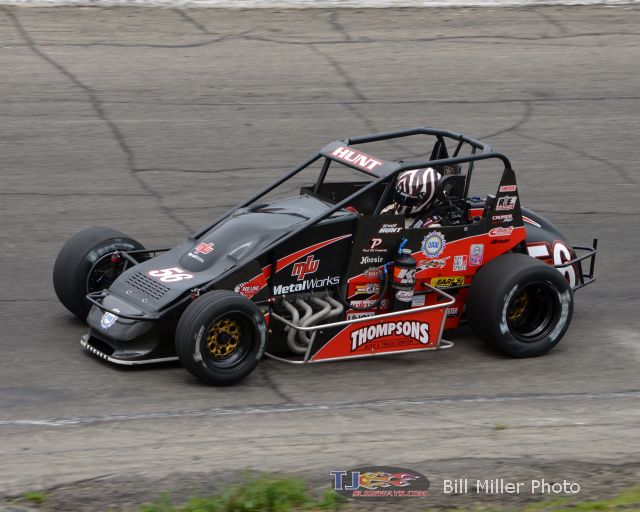 From Eric Bunn
Lebanon, IN — (September 17, 2013) — Tony Hunt and his UAW/Thompson Buick/GMC Beast Chevrolet LS3 will be looking to add to his point lead when the USSA Sprint Car Challenge Series Built by the UAW hits the High Banks of Anderson Speedway on Saturday Night.
The Sprint Car Challenge Series Built by the UAW 50-lap feature will highlight the nights feature events.  California driver Hunt currently sits on top of the point standings.  Hunt is separated by only 36 points from Daleville (IN) native Aaron Pierce, fellow Californian Jo Jo Helburg and Florida's Brian Gringras.  Floridian Garrett Green holds the 5th spot and leads the Simpson World Indy Rookie of the Year standings.
"Our Team always looks forward to coming back to Indy and racing at Anderson Speedway," Hunt said. "Having a chance to race on pavement with USSA Sprint Car Challenge Series has been a real value to our team," the California native continued.
Hunt will join USSA Mel Kenyon Midget Series driver Jessica Bean at the GM Truck Assembly Plant in Ft. Wayne from 11:30 to 1 PM to meet with and sign autographs for the men and women of UAW Local 2209.  The GM Truck Assembly Fort Wayne in Fort Wayne (IN) covers 2.85 million square feet and employs more than 3,600 people.  UAW Local 2209 builds the award-winning Chevrolet Silverado and GMC Sierra trucks.  There is a delivery to the plant's shipping docks every 2.57 minutes.
""I'm privileged to be a part of the UAW's efforts to build awareness and thrilled to join them at the Fort Wayne Plant.  This year's support of the UAW and the charities they support continues to be encouraging for the future of non-wing pavement sprint car racing," Hunt explained.
Sprint Car Challenge Series Built by the UAW qualifying will begin at 6:30, with racing starting at 8:00 PM.  The night's action will also be highlighted by the fan favorite Bicycle Races for the kids.
Sprint Car Challenge Series Built by the UAW top 10 Point Standings:
1 Tony Hunt, 2 Aaron Pierce, 3 Brian Gringras, 4 Jo Jo Helberg, 5 Garrett Green, 6 Joe Swanson, 7 Bobby East, 8 Chris Neunschwander, 9 Travis Welpot, 10 Jim Sheets