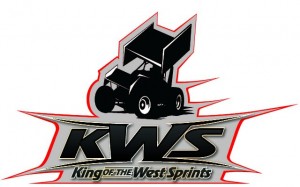 From Ocean Speedway
Watsonville, CA — (September 16, 2013) — Ocean Speedway, Inc. Board of Directors, led by promoter John Prentice have reached an agreement with Dan Simpson to take over operations of the King of the West 410 Sprint Car series for the 2014 season.  Prentice promotes the Ocean Speedway in Watsonville at the Santa Cruz County Fairgounds featuring the Ocean Sprints presented by Taco Bravo.
In a partnership with Hall of Fame driver Brent Kaeding, a new organization will be formed titled Sprint Car Management Group, LLC to manage the series.
Simpson will continue operations and promotions at Reno Tahoe Fernley Speedway moving forward and Ocean Speedway, Inc. would like to wish Simpson well in that endeavor.
"I'm exited for the challenge of operating a traveling series," Prentice said.  "I'm still very much a rookie promoter with much more to learn.  I look forward to the challenges ahead that will come my way."
"I could not have had this opportunity without all the support from the drivers and car owners and for that I thank you very much for putting the trust in me to take Sprint Car racing to the next level."
The new KWS management looks to bring the series back to California for a more extensive schedule in the Golden State, with more details to come by year's end.  A small board of directors consisting of prominent car owners and drivers will be formed to try to continue the growth of 410 Sprint Car racing in California.
The series will work in the next few months to establish a new operations office and hire new staff as it strives to improve the series.
Sponsors, competitors, and promoters with business interest in the series are encouraged to contact oceanspeedway@aol.com for more information.