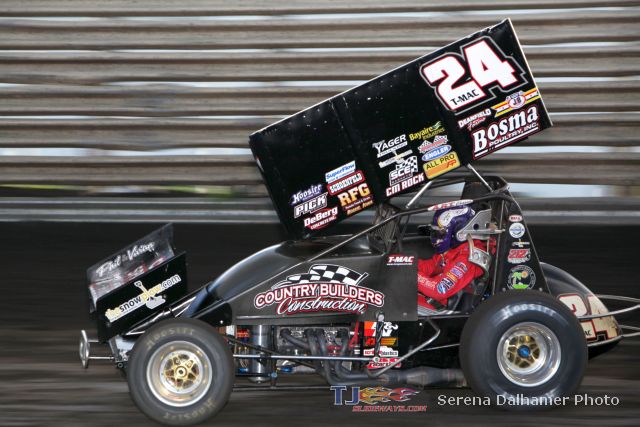 By Bill W
September 17, 2013 – Terry McCarl will be running the Fall Brawl at I-80 Speedway near Greenwood, Nebraska.  A sweep of all events could net a driver $27,500.  Last weekend was spent with the World of Outlaws at the Clay County Fair Speedway in Spencer, Iowa and the Deer Creek Speedway near Spring Valley, Minnesota on Saturday.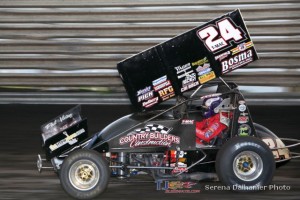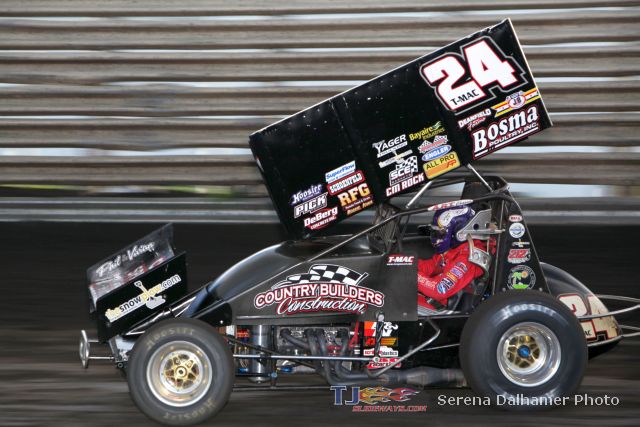 Things were very slow to get going at Spencer on Friday.  "I don't know what happened; I'm not a track guy," says TMAC.  "Obviously, it was watered a lot.  But it actually came out really nice when we got out there."
The Altoona, Iowa driver was racing in front of many friends and partners.  "We had a special car going for SCE Gaskets and Justice Brothers," says TMAC.  "It was actually a big race for me.  About 70% of my sponsors live within an hour of Spencer.  We really like to run there.  We got to hang out with the folks from Rossie Feed & Grain.  They threw a little party for us."
TMAC timed in 16th quick.  "I don't know why we struggled," he says.  "I really felt the second lap was a good one.  I really have no excuses.  We were just off qualifying and I don't know why.  It's a unique racetrack.  It's kind of like a paperclip."
After running fifth in his heat, TMAC lined up outside of row eight for the main event.  "We weren't very good," he says.  "There was a late race red, and Austin made some suggestions and some changes.  It was a lot better.  We were able to pass a few cars and we were on (Craig) Dollansky's bumper at the checkered.  The car felt really good.  It was a little late.  Thirteenth isn't what we were looking for, obviously."
With things being sped along for rain on the horizon Saturday night at Deer Creek Speedway, TMAC timed in 5th quick.  "We're fast, we just can't quite get qualified in the right spot," he says.  "I think Paul (McMahan) was quick time about eight-hundreths quicker than us.  In shows like that, the top four qualify for the Dash, so we would have been better off being 7th quick through 12th quick and on the front row of the heat.  It's a fun track.  We've always been able to qualify well there.  It reminds me of Huset's a little bit."
TMAC would run fifth in his heat and line up in row six of the feature.  He would finish 12th.  "I had a great start, getting by Joey (Saldana) and the whole row in front of me," he says.  "Then I went down to try and stick the bottom, but the top was just too fast.  All the guys I passed at the start, passed me back and then some.  The track has some banking on it, so you really need to get back on top.  By the time I was back up there, the car felt pretty good."
Fellow Knoxville regular, Ian Madsen, joined TMAC as a WoO winner this season.  "We were really happy to see Ian win," he says.  "It's a good team with good guys and they're friends of ours.  We like seeing the Knoxville boys beat the Outlaws once in a while."
Good money is on the line at this weekend's "Fall Brawl".  "I'll be driving Jerremy Scadden's #6 at I-80 Speedway," says TMAC.  "I'm really looking forward to it.  It's a big money race, and we could use some of that."
To check out opportunities to partner with TMAC Motorsports on a nightly basis, visit www.TerryMcCarl.com or call 515 957-0020!
Websites for the McCarl Gang!
Driverwebsites.com develops the websites for the McCarl boys. Check out www.TerryMcCarl.com, as well as www.AustinMcCarl.com and www.CarsonMcCarl.com!
This Month in TMAC History!
TMAC won the 17th Annual Tom Knowles Memorial on Setember 16, 2000 at the high-banked 3/8 mile Spoon River Speedway near Canton, Illinois.  He was followed to the line by Ryan Jamison, the late great Kevin Doty, Terry Babb and Chris Urish.  In 1994, he topped a field at I-80 Speedway that included Vance Peterson, Todd Splain, Patrick Bourke and Chad Mellenberndt.
"Tuesdays with TMAC"!
"Tuesdays with TMAC" is an up close and personal look at colorful sprint car veteran Terry McCarl. To receive "Tuesdays with TMAC", send an e-mail to sprntcar@iowatelecom.net with "TMAC" in the subject line.
TMAC Motorsports would like to thank sponsors Country Builders Construction, Rossie Feed and Grain, "Lord I Apologize BBQ Sauce", Deanfield Farms, Bosma Poultry, SnowPlow Snow Pushers – www.TheSnowPlow.com, DeBerg Concrete, Colin Bulmer – Bayaire Industries, Berryhill Racing, Phil and Vivian, SCE Gaskets, Justice Brothers, 212 The Boiling Point Bar & Grill, Vortex Racing, Hoosier Tire, Chris Spaulding – Attorney at Law, Schoenfeld Headers, K&N Filters, Rens Trucking, Pick Farms, NutriShop – Maple Grove, MN, HRP, All Pro Cylinder Heads, Bob and Beulah Elder, Engler Injection, Superflow Technologies, T&P Brothers, Mediacom, Larry Fleck Trucking, Winters, DriverWebsites.com, CM Rock, Jocko's Sprint Parts, Sander, Brown and Miller, Pro Shocks, Ben Cook, Bell Helmets, Burnett's Rock and Landscaping, Van Der Brink Designs, Morgan Strawberry Farms, Aurora Rod Ends, Crow Safety, Justice Brothers, KSE Steering, Strange Performance, Saldana Racing Products, Scribner Plastics, Waterman Fuel Pumps, Weiland Racing, Butlerbuilt, PBS Bushings and Mote Fasteners.