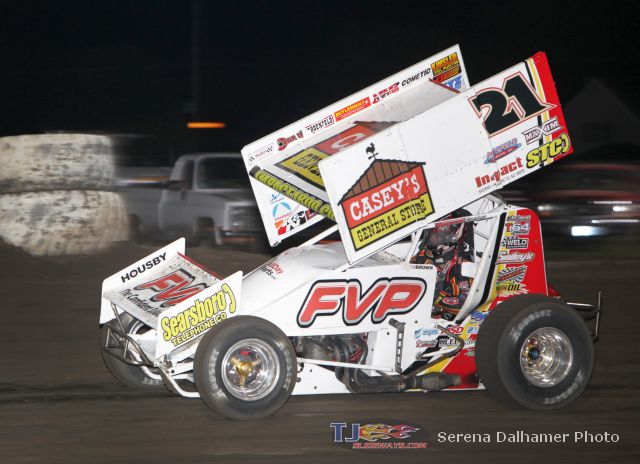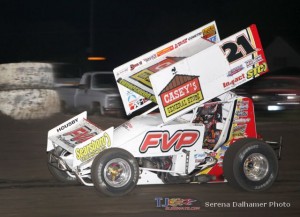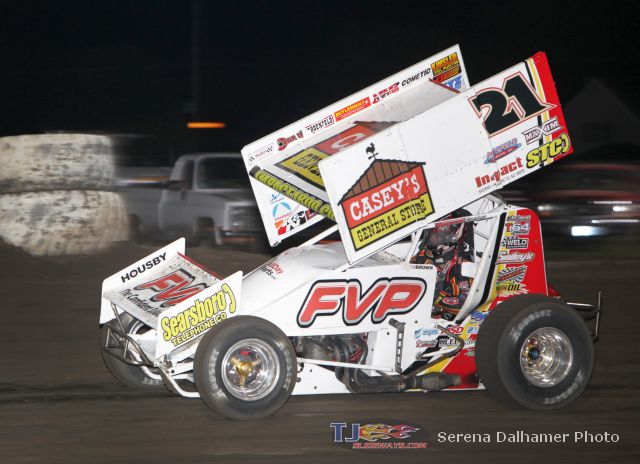 From Bill W
September 17, 2013 – Brian Brown and the Casey's General Stores/FVP #21 team are hoping that the "Fall Brawl" at the I-80 Speedway near Greenwood, Nebraska can make up for an uncharacteristic tough weekend with the World of Outlaws.  The highlight was a hard-charging run from 20th to 9th on Friday night at the Clay County Fair Speedway in Spencer, Iowa.  Over $25,000 could be claimed this weekend in Nebraska at a track the Grain Valley, Missouri driver excels at.
It sounded like things were slow getting going in Spencer.
We got there and they had a little too much water on it, and it took a while to run in.  Once we got on it though, it was a great racetrack.  Qualifying has been our strong suit the last couple years, but it's something we struggled with all weekend long.  22nd is unacceptable in our eyes.
You got through the heat by moving up a couple of spots, and it seems you were one of the fastest cars in the feature.  Too bad you had to start 20th.
We actually got going really well in the feature.  We were up to eighth at one point and ended up finishing ninth.  Really, that was a win for us the way the night started.  We definitely didn't know we'd end up garnering a top ten.  Our guys never give up, no matter how high the mountain is to climb.
The qualifying seemed to be off at the Deer Creek Speedway in Minnesota on Saturday too.
We were just off a bit.  I don't think I cut as good a laps as I should have.  That's what you get at that point is 19th quick.  We weren't able to transfer through the heat (finishing 7th), so we had to run the B.  We were able to win that.
You moved up to 15th in the feature.
There wasn't a ton of passing and there were a lot of guys going hard for 15th or 16th.  There wasn't a lot of give and take.  It definitely isn't what we wanted, but you're going to have weekends like that, especially with the Outlaws.
It was neat to see a fellow Knoxville local beat the Outlaws.
I really want to congratulate my buddy Ian Madsen on his first Outlaw win.  I know how hard those things are to win, and for he, Brett Nehring, Matt Barbara and Doug Rankin…it's a huge accomplishment.  It was great to see.
There is the possibility of big money this weekend at I-80.
It's no secret that I-80 is up there with Knoxville as my favorite track.  We've had a lot of success there, and we can't get there quick enough.  It's awesome that Durst Motorplex and Zoz Farms put up the money for the challenge to win both races ($20,000), and all the other sponsors that are a part of the event.  There's a lot of money on the line.  We figured out the other day that a guy could make $30,000 if everything went his way.  Our elbows will be up and anything less than a win will be a disappointment.  Hopefully, the fans come out and support it like the racers are and it becomes a big event every week.
Follow Brian on the Web, Twitter and Facebook!
Follow Brian at his website located at www.BrianBrownRacing.com!
Also keep up with FVP, Casey's and Brian on Facebook and Twitter at the following links…
Twitter Links – @BrianBrown21, @FVPRacing, @CaseysGenStores
Facebook Links
Brian Brown Racing – www.facebook.com/pages/Brian-Brown-Racing/200630163294222
Casey's General Stores – www.facebook.com/pages/Caseys-General-Stores/112073528804354
FVP Racing –  http://www.facebook.com/FVPRacing?ref=ts&fref=ts
Other Web site info
Casey's: www.caseys.com
FVP: www.fvpparts.com
Brown's Bits
Brian's last win at I-80 Speedway was April 7, 2012, so he is due.  That was his 11th win there.  2008 was the last year he didn't get at least one victory at the 4/10-mile banked oval, and that was because his only two efforts that season were rained out.