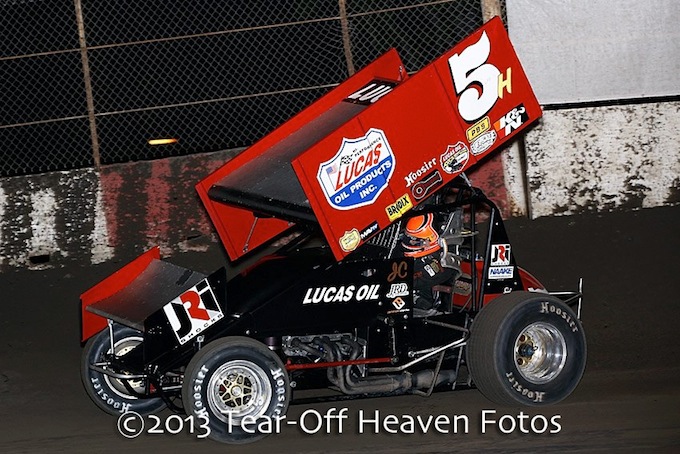 PETERSEN MEDIA
Justyn Cox spent his weekend competing in Central California as he took on the Rebel Cup Series on Friday night, where he finished fifth, before taking on the King of the West Series on Saturday night, where he finished in the 11th spot.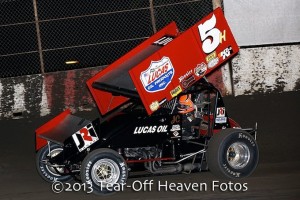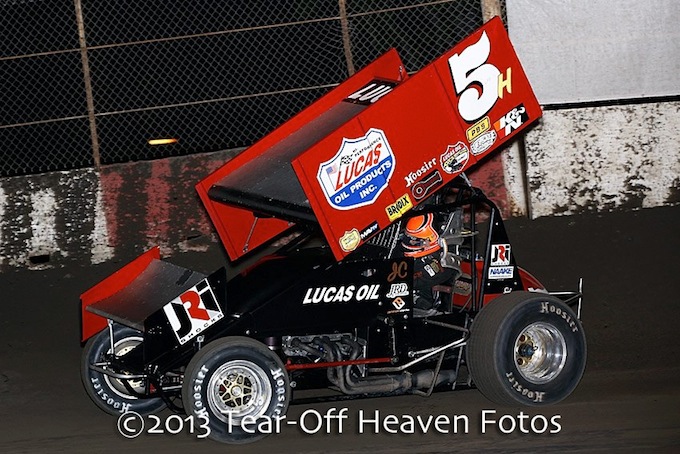 "It was a decent weekend for our team," Cox said. "We had a fifth place car on Friday night, and that's where we ran, and unfortunately we got into a couple of incidents on Saturday night with the 410."
Setting the standard in time trials on Friday night, Cox started in the second row of the 30-lap feature aboard his Lucas Oil/K&N Products/JRI Shocks No.5h.
On what was a relatively narrow track, Cox slipped back to the fifth spot on the start of the race, and did everything he could to get moving forward.
Running really strong laps, Cox was looking for someone ahead of him to make a mistake, but on this night, the top-five was very strong, and Cox scored a fifth place finish.
"The way the track was, you really had to rely on someone in front of you making a mistake, and that did not happen," he said. "We had a great car, and ran great laps, so we will look forward to some more 360 races."
Saturday night, Cox was in action with a 410ci engine bolted in his Van Dyke Motorsports machine for the first time since the beginning of the season, as he took on the King of the West Series.
Timing in 11th fastest against the 28 cars in action, Cox lined up on the front row of his heat race, but his fellow front row started jumped, and both cars were sent to the second row, and Cox would score a third place finish, putting him in the feature event.
Lining up in the sixth row, of the feature, Cox got some damage to the right-rear of his car as he made contact with a car sliding down the track in what was a 10-car wreck.
Restarting with a broken jacobs-ladder, and a damaged nose-wing, Cox looked to just make laps in the final visit to the track until the Trophy Cup.
Running near the back of the back most of the night with a battered machine, Cox got caught up in a lap-10 wreck, but there was no damage to his machine and he continued on.
When the bizzare feature finally came to a close, Cox wound up with an 11th place finish.
"It was  a crazy night," Cox said. "We got a piece of the opening lap wreck, and just hoped we could hang on for the entire feature and just get some laps. In the end we were one of the few cars still racing, so that was a good thing."
Justyn and his Van Dyke Motorsports team would like to thank Lucas Oil,  K&N Products, JRI Shocks, Rodgers Racing Engines, K1 Safety Gear, JRD Endeavors, Sacramento Theatrical Lighting, Worton Designs, and College Cyclery for their support during the 2013 season.
2013 BY THE NUMBERS: Races-47, Wins-3, Top 5's-15, Top 10's-22
ON TAP: Cox and the Van Dyke Motorsports team are hoping to be in action this week for three night's of action kicking off Wednesday night at the Placerville Speedway before heading to Chico, CA for events on Friday and Saturday night.
STAY CONNECTED: For the latest news on Justyn become a fan of his on facebook at www.facebook.com/JustynCoxRacing or follow him on twitter @justyncox_jc.