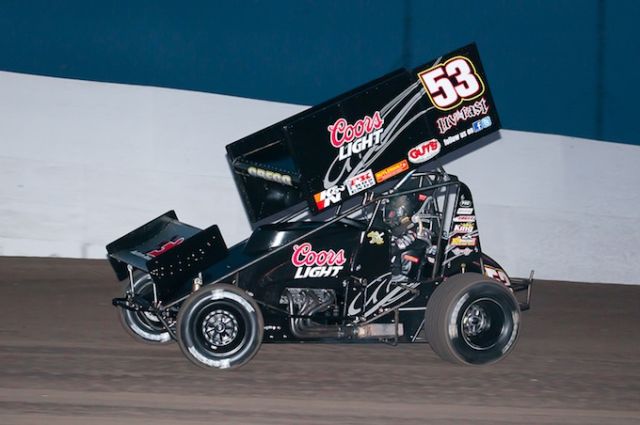 PETERSEN MEDIA
 Climbing aboard the Scott Russell owned No. 14R for the Tribute to Al Hinds Civil War Finale, Andy Gregg overcame a rough qualifying effort to do what many couldn't do in the feature and pass cars, as he charged his way to an 11th place finish.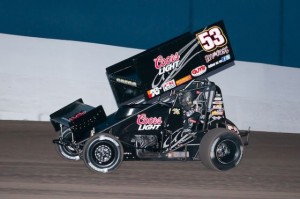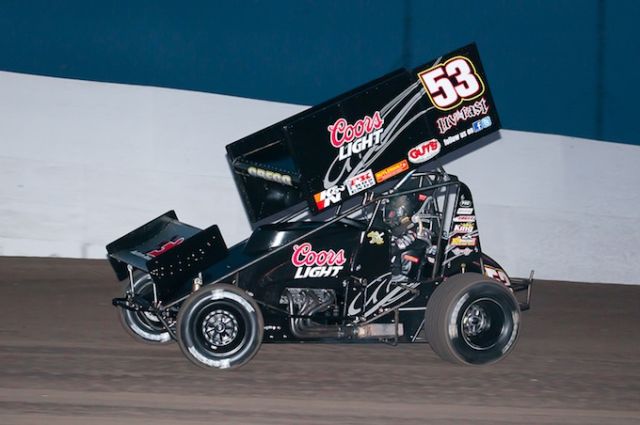 With 28cars taking to the Placerville Speedway for the rare Wednesday night show, Gregg's night got off to a tricky start as he timed the No. 14R machine in 24th fastest.
Starting on the pole of his heat race, the only multi-time winner with the Civil War Series in 2013 was able to get the jump on Sean Becker and precede to win his heat, giving him a berth in the feature event, though it was in the back of the pack.
With rain in the area the previous weekend leaving the racetrack extremely wet all week as crews got it in race shape, the surface was very hooked up, and made for a lightening fast track, putting passing at a premium.
Starting in the 10th row, Gregg did not let that phase him, as he worked the middle of the speedway, fighting for every position he could get.
Moving up to the gnarly cushion, Gregg continued to slowly fight forward. Taking advantage of a couple of cautions, the Placerville, CA wheelman was able to sneak up into the 11th spot, earning the night's hard charger honors.
"It was a tough track, but it was a fun night at Placerville," Gregg said. "I have to thank all of the guys who helped me on my car all year, and all of the guys who help on the 14r car for coming together and working hard to give us a very good racecar."
Andy would like to thank Coors Light, LivFast Clothing Co., GUTS Racing, Meyers and Son Drywall, Ervin Sales Group, K&N Products, FK Rod Ends, Eagle Motorsports, King Racing Products, BR Motorsports, Hinchman, Brown and Miller Racing Solutions, and 103.5 The Blaze for their support in 2013.
2013 BY THE NUMBERS: Races-44, Wins-7, Top 5's-22, Top 10's-27
ON TAP: Gregg will be back in action at the Silver Dollar Speedway this Friday and Saturday night for the Fall Nationals.
STAY CONNECTED: Stay up to speed with Andy by following him on twitter @andygregg16x.