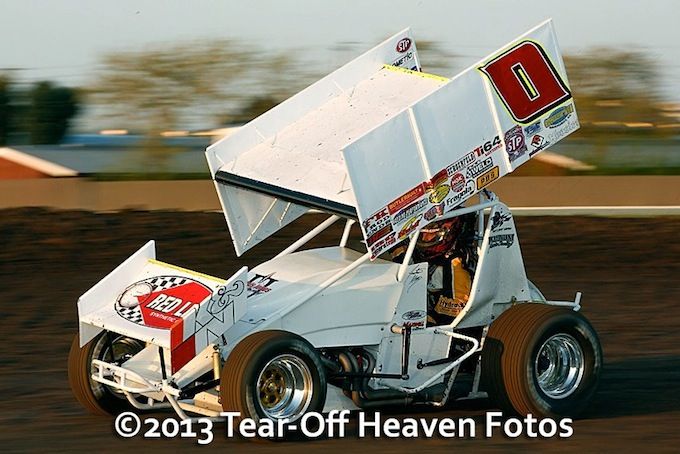 PETERSEN MEDIA
Competing at the Silver Dollar Speedway for a pair of events over the past weekend, Jonathan Allard charged form 24th to eighth on a heavy and fast track on Friday night, before scoring a 10th place finish on a rubber down track on Saturday night.
With 46 cars on hand for Friday's opener, Allard went out early for time-trials, and with grease still on the track, Allard ended up timing in 35th fastest.
Starting ninth in his heat, the Chico, CA driver was able to work up to the fifth and final transfer spot on a very narrow race track, and make his way into the feature event.
Lining up in the 24th spot, the track remained pretty heavy for the early part of the race, before starting to slow-down around the halfway point.
Simply running on the ragged edge, Allard did what he had to do to move forward, as he carried a full head of steam around the Silver Dollar Speedway getting inside the top-10 with just a few laps to go.
Over the final few laps, Allard was able to work into the eighth spot as he took the checkered flag.
Racing on a completely opposite surface on Saturday night, Allard timed in much better as he laid down the fastest lap during time trials, putting him in the second row of the first heat.
Having a couple of issues in his heat, Allard failed to make a transfer spot, and was forced to run the B main, with rubber already being built up on the speedway.
Picking up the win in the B, Allard lined up in the seventh row for the feature event, that saw a tremendous amount of rubber down on the speedway, setting up for a freight train around the bottom.
Taking advantage of a couple of miscues, Allard was able to score a 10th place finish when the night came to a close.
"Friday night was a decent night for us, after time trials," he said. "The track was pretty locked down, and we were able to gain some spots, so we were happy with that. On Saturday I should have made it out of my heat, but didn't and was forced to run for the B and we started deep on a rubbered up race track."
2013 BY THE NUMBERS: Races-55, Wins-13, Top 5's-29, Top 10's-34.
ON TAP: Jonathan will be in action this Friday night at the Ocean Speedway in Watsonville, CA before heading to the Marysville Raceway Park in Marysville, CA on Saturday.
STAY CONNECTED: For more information on Jonathan, including upcoming events, pictures, and news please check out www.allardmotorsports.com, or follow JA on twitter @Allard0.