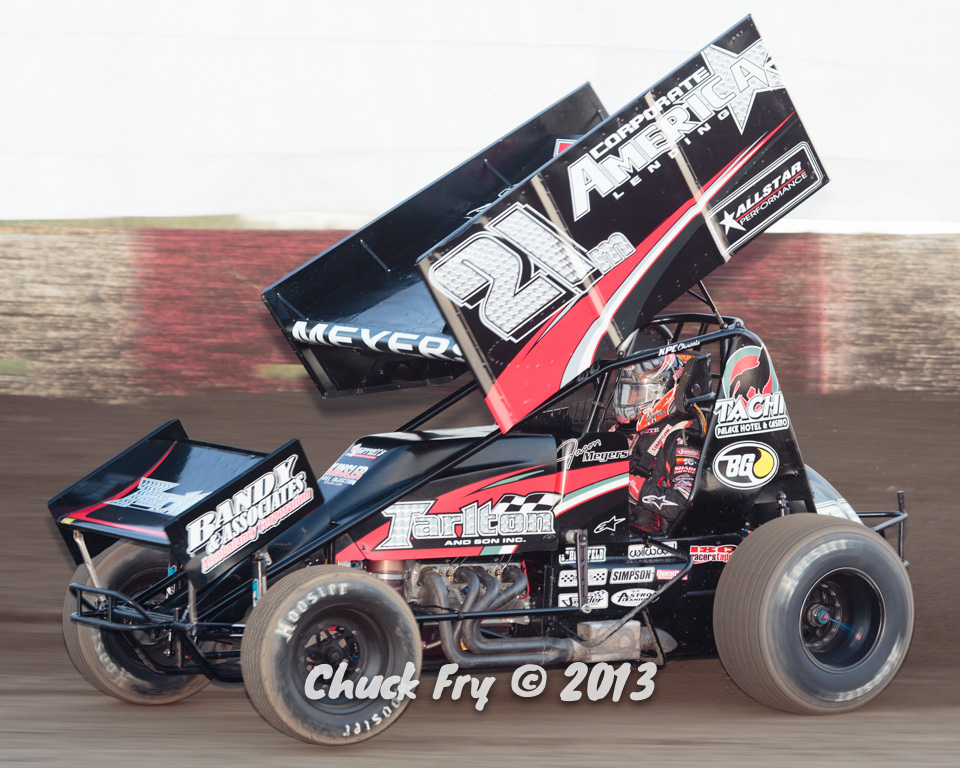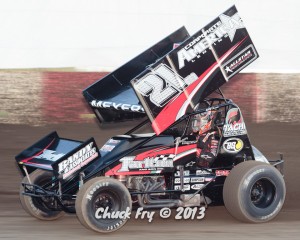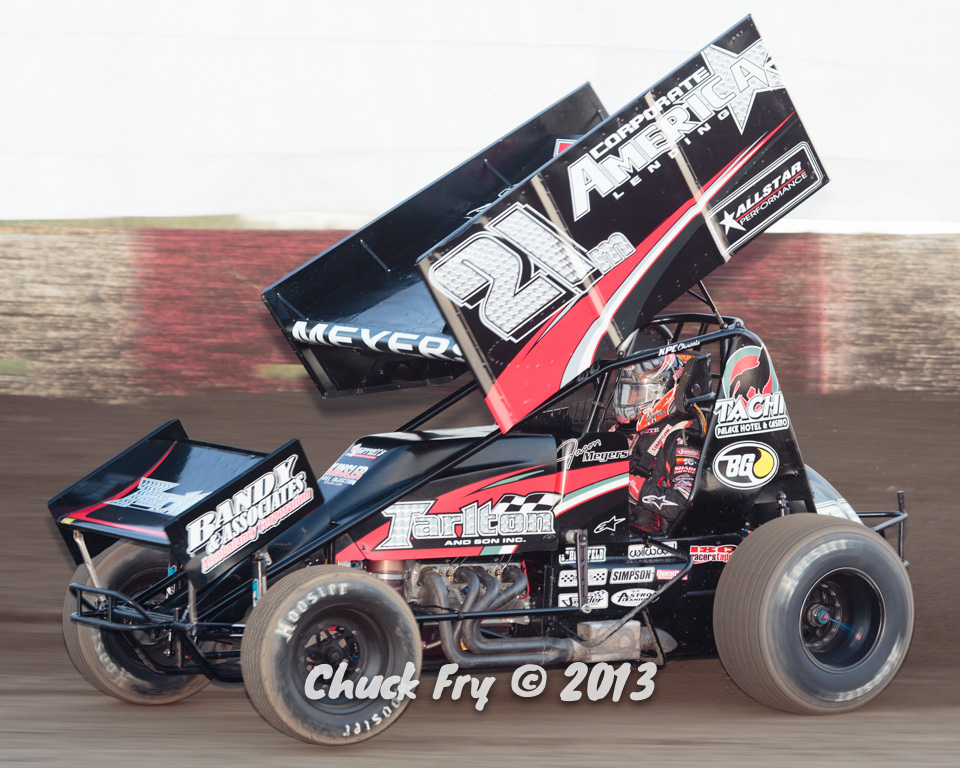 From Gary Thomas
Hanford, CA – (October 8, 2013) – Two-time World of Outlaws champion & 2006 "Cotton Classic" winner Jason Meyers is set to make his fourth King of the West 410 Series start of the season aboard the Corporate America Lending, Tartlon & Son Inc. No. 21m machine on Saturday. The Clovis, CA native has scored a pair of wins so far this year with the series and was leading the most recent event until a flat tire cost him a shot at number three.
Meyers recently claimed his second career "Gold Cup" victory at the Silver Dollar Speedway in Chico when he topped a stout World of Outlaws field in September. It was also recently announced that he will be aboard a Kasey Kahne Racing Sprint Car during the World of Outlaws "World Finals" in November at the Charlotte Dirt Track. The driver known as "Hotfoot" has claimed 14 Golden State/ King of the West wins in his career, which places him in a tie for sixth on the all-time list with former series champ Tyler Walker.
The pit gate this Saturday at Kings Speedway will open at 2:00pm, ticket booth will open at 2:00pm and the front gate will open at 5:00pm, with qualifying around 6:30pm and racing around 7:00pm. Grandstand reserved tickets cost $28 for the "Cotton Classic" with general admission bleachers being $25. Tickets are on sale now and to reserve your seats simply contact (559) 584-7223.
The King of the West pre-race autograph session/ meet & greet on Saturday will include Tim Kaeding, Carson Macedo and DJ Netto. The trio will be just inside the front gate when it opens at 5pm so please stop by to say hi and get an autograph.
The Kings Speedway is a 3/8 mile clay oval and is located on the Kings County Fairgrounds in Hanford, California. The physical address is 801 S. 10th Ave. Hanford, Ca 93230. More information can be found at http://www.kingsspeedway.net/ or by contacting (559) 584-7223.
The King of the West 410 Sprint Car Series will then conclude the 2013 season at the Stockton Dirt Track on Saturday November 2 during the 30th annual "Tribute to Gary Patterson." The exciting conclusion to the campaign will also be a double-header during the night with Winged 360 Sprint Cars also competing. A large firework show will also take place to send off the 2013 year with a bang.
Be sure to like us on the KWS Facebook Page at http://www.facebook.com/kingofthewestsprints and become a member of our Twitter community at https://twitter.com/KwsSprintRacing along with visiting our official website www.kwssprints.com