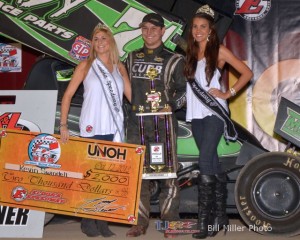 By T.J. Buffenbarger
Rossburg, OH – (October 12, 2013) – Kevin Swindell grew up going to Eldora Speedway but had yet to visit victory lane as a driver during his racing career. Swindell finally picked up that elusive win Saturday night with the K&L Ready Mix National Racing Alliance Sprint Invaders. Swindell passed Butch Schroeder and held on through multiple restarts for the victory driving the Indy Race Parts car.
"This is one to cross off the bucket list," remarked Swindell in victory lane. " I was just running a little higher than (Schreoder) was. For a while I thought I was never going to get to him, so I just waited for traffic. He got messed up running the bottom. It was close, but I had to take it while I could."
Bernie "Bernie does a great job with these things and takes care of them when we are not running. I can kind of go home happy because I actually ran higher than Haud for about four laps."
The feature got off to an ugly start with Brady Bacon getting sideways and Beau Stewart making heavy contact. Dustin Daggett also sustained damage to his car as well. Daggett was the only driver from the incident able to restart.
The second attempt to start the feature saw Horstman take the lead with Dancer on his back bumper. Then on lap two Dancer broke a rear axle between turns three and four and shot up the race track. Dancer collected Randy Hannagan and turned over. Ryan Ruhl also got caught up in the incident and got upside down as well. All the drivers involved were uninjured.
Horstman lead after the restart with Schroeder on his back bumper. Schroeder drove to the inside off turn four and took the lead on lap three. One lap later Swindell drove around the outside of Horstman and set sail after Schroeder.
Schroeder continued to lead with Swindell on his back bumper as the duo approached slower traffic. On lap 13 Swindell made his move diving under Schroeder to take the lead in three and four. Schroeder crossed over as Swindell moved down the track, making slight contact with Swindell holding onto the lead.
After a lap 17 caution for Shane Stewart blowing a tire in turn three while running in the top five Devon Dobie brought out the red flag after riding the wall through turns three and four and flipping hard. Dobie emerged from his car uninjured.
Swindell pulled away again on the restart away from Schroeder and held on for the victory. Hebing was able to pass Horstman on the final restart to round out the podium in his first Eldora start. Horstman and Bryan Sebetto rounded out the top five.
NRA Sprint
TIME TRIALS – 1. 22H-Randy Hannagan [14.141]; 2. 22D-Brady Bacon [14.268]; 3. B20-Butch Schroeder [14.278]; 4. 45-Chuck Hebing [14.287]; 5. 49-Shawn Dancer [14.311]; 6. 17-Jared Horstman [14.328]; 7. 71-Kevin Swindell [14.339]; 8. 2MD-Dustin Daggett [14.347]; 9. 16-Ryan Ruhl [14.376]; 10. 11-Tim Allison [14.411]; 11. M1-Mark Smith [14.459]; 12. 29-Shane Stewart [14.470]; 13. 7C-Hud Horton [14.506]; 14. 35-Ron Blair [14.582]; 15. 2MS-Bryan Sebetto [14.583]; 16. 27-Beau Stewart [14.601]; 17. 6S-Max Stambaugh [14.642]; 18. 12R-Nick Roberts [14.658]; 19. 220Z-Aaron Shaffer [14.805]; 20. 6-Tim Shaffer [14.844]; 21. 22R-Kevin Roberts Jr [14.863]; 22. 9W-Lucas Wolfe [14.943]; 23. 23-Devon Dobie [15.167]; 24. 23P-Nick Patterson [15.167]; 25. 19-Jimmy Snead [15.213]; 26. 10S-Jay Steinebach [15.591]; 27. 1A-Mark Aldrich [15.687]; 28. 10J-Cj Jones [16.151]; 29. 2W-Chad Mcinturff [99.999];
HEAT 1 – 1. 16-Ryan Ruhl [4]; 2. 27-Beau Stewart [2]; 3. 22H-Randy Hannagan [6]; 4. 49-Shawn Dancer [5]; 5. 6-Tim Shaffer [1]; 6. 7C-Hud Horton [3]; 7. 19-Jimmy Snead [7]; 8. 2W-Chad Mcinturff [8];
HEAT 2 – 1. 11-Tim Allison [4]; 2. 17-Jared Horstman [5]; 3. 22D-Brady Bacon [6]; 4. 6S-Max Stambaugh [2]; 5. 35-Ron Blair [3]; 6. 22R-Kevin Roberts Jr [1]; 7. 10S-Jay Steinebach [7];
HEAT 3 – 1. 71-Kevin Swindell [5]; 2. B20-Butch Schroeder [6]; 3. 12R-Nick Roberts [2]; 4. 2MS-Bryan Sebetto [3]; 5. 1A-Mark Aldrich [7]; 6. M1-Mark Smith [DNF]; 7. 9W-Lucas Wolfe [DNS];
HEAT 4 – 1. 23-Devon Dobie [3]; 2. 29-Shane Stewart [4]; 3. 2MD-Dustin Daggett [5]; 4. 45-Chuck Hebing [6]; 5. 23P-Nick Patterson [1]; 6. 10J-Cj Jones [7]; 7. 220Z-Aaron Shaffer [DNF];
B-FEATURE – 1. M1-Mark Smith [1]; 2. 7C-Hud Horton [2]; 3. 35-Ron Blair [3]; 4. 6-Tim Shaffer [5]; 5. 22R-Kevin Roberts Jr [6]; 6. 23P-Nick Patterson [8]; 7. 19-Jimmy Snead [9]; 8. 10S-Jay Steinebach [10]; 9. 10J-Cj Jones [12]; 10. 1A-Mark Aldrich [11]; 11. 2W-Chad Mcinturff [13]; 12. 220Z-Aaron Shaffer [4]; 13. 9W-Lucas Wolfe [DNS];
A FEATURE – 1. 71-Kevin Swindell [7]; 2. B20-Butch Schroeder [4]; 3. 45-Chuck Hebing [3]; 4. 17-Jared Horstman [1]; 5. 2MS-Bryan Sebetto [12]; 6. M1-Mark Smith [17]; 7. 6S-Max Stambaugh [15]; 8. 7C-Hud Horton [18]; 9. 35-Ron Blair [19]; 10. 11-Tim Allison [10]; 11. 6-Tim Shaffer [20]; 12. 23-Devon Dobie [13]; 13. 2MD-Dustin Daggett [8]; 14. 29-Shane Stewart [11]; 15. 12R-Nick Roberts [16]; 16. 49-Shawn Dancer [2]; 17. 22H-Randy Hannagan [6]; 18. 16-Ryan Ruhl [9]; 19. 22D-Brady Bacon [5]; 20. 27-Beau Stewart [14];