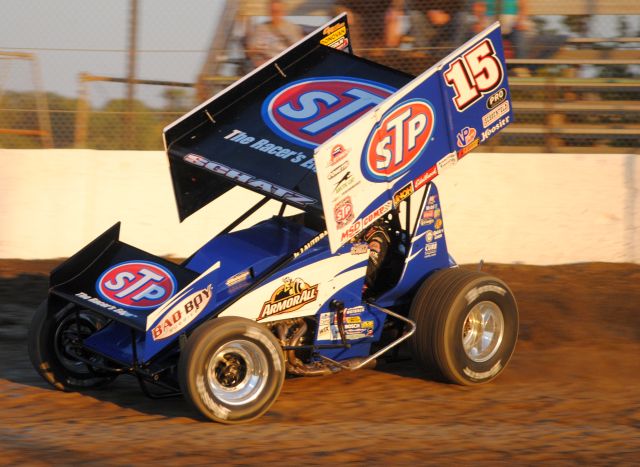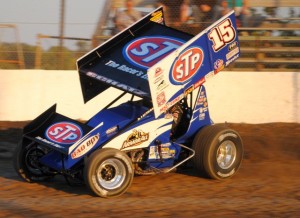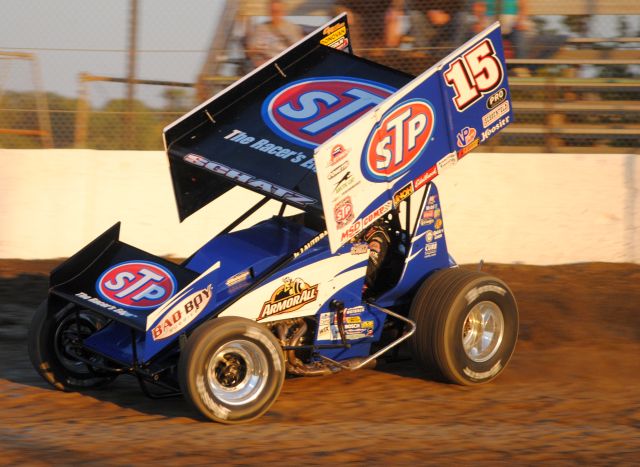 From the World of Outlaws
Elbridge, N.Y. — (October 12, 2013) — Oct. 12, 2013 – In the 71st night of World of Outlaws STP Sprint Car Racing in 2013 on Saturday night at Rolling Wheels Raceway Park, the dominant Donny Schatz collected his 22nd feature win of the season.
Paul McMahan took the second spot on the podium and held off third place finisher and charging Craig Dollansky. Championship leader, Daryn Pittman, brought home a fourth place finish to minimize the damage in the championship standings as he continues to hold off five-time champion Schatz. Kraig Kinser rounded out the top five after starting third in the feature event.
World of Outlaws STP Sprint Car Series Statistical Report; Rolling Wheels Raceway Park; Elbridge, N.Y.; Oct. 13, 2013
A-Main – (25 Laps):1. 15-Donny Schatz[1][$10,000]; 2. 51-Paul McMahan[2][$5,500]; 3. 7-Craig Dollansky[7][$3,200]; 4. 9-Daryn Pittman[5][$2,800]; 5. 11K-Kraig Kinser[3][$2,500]; 6. 29-Kerry Madsen[8][$2,300]; 7. 4-Cody Darrah[18][$2,200]; 8. 63-Chad Kemenah[12][$2,100]; 9. 17B-Steve Buckwalter[14][$2,050]; 10. 65-Dave Ely[9][$2,000]; 11. 11-Steve Kinser[11][$1,500]; 12. 1-Sammy Swindell[6][$1,200]; 13. 7S-Jason Sides[13][$1,100]; 14. 5-Justin Barger[17][$1,050]; 15. 2X-Ryan Bohlke[10][$1,000]; 16. 1Z-Jessica Zemken[21][$900]; 17. 747-Davey Sammons[15][$800]; 18. 69-Ryan Smith[19][$800]; 19. 6-Bill Rose[23][$800]; 20. O-Glenn Styres[20][$800]; 21. 71M-Joey Saldana[16][$800]; 22. 28F-Davie Franek[24][$800]; 23. 8-Blake Breen[4][$800]; 24. G6-David Gravel[22][$800]
Lap Leaders: Donny Schatz 1-25
KSE Hard Charger Award: 4-Cody Darrah[+11]
Qualifying – 1. 65-Dave Ely, 16.477; 2. 9-Daryn Pittman, 16.491; 3. 8-Blake Breen, 16.524; 4. 11K-Kraig Kinser, 16.568; 5. 15-Donny Schatz, 16.589; 6. 11-Steve Kinser, 16.676; 7. 51-Paul McMahan, 16.682; 8. 63-Chad Kemenah, 16.695; 9. 29-Kerry Madsen, 16.722; 10. 1-Sammy Swindell, 16.752; 11. 7-Craig Dollansky, 16.787; 12. 2X-Ryan Bohlke, 16.819; 13. 7S-Jason Sides, 16.819; 14. 17B-Steve Buckwalter, 16.831; 15. 747-Davey Sammons, 16.834; 16. 71M-Joey Saldana, 16.868; 17. 5-Justin Barger, 16.892; 18. 4-Cody Darrah, 16.924; 19. 6-Bill Rose, 16.995; 20. 69-Ryan Smith, 17.003; 21. O-Glenn Styres, 17.005; 22. 1Z-Jessica Zemken, 17.085; 23. 49-Todd Hoddick, 17.092; 24. G6-David Gravel, 17.418; 25. X-Dan Mazy, 18.007; 26. 24K-Devin Caron, 18.459; 27. 28F-Davie Franek, nt
Heat 1 – (8 Laps – Top 6 finishers transfer to the A-feature):1. 1-Sammy Swindell[1] ; 2. 51-Paul McMahan[2] ; 3. 11K-Kraig Kinser[3] ; 4. 7S-Jason Sides[5] ; 5. 65-Dave Ely[4] ; 6. 71M-Joey Saldana[6] ; 7. 1Z-Jessica Zemken[8] ; 8. 6-Bill Rose[7] ; 9. X-Dan Mazy[9]
Heat 2 – (8 Laps – Top 6 finishers transfer to the A-feature):1. 7-Craig Dollansky[1] ; 2. 15-Donny Schatz[3] ; 3. 9-Daryn Pittman[4] ; 4. 17B-Steve Buckwalter[5] ; 5. 5-Justin Barger[6] ; 6. 69-Ryan Smith[7] ; 7. 49-Todd Hoddick[8] ; 8. 63-Chad Kemenah[2] ; 9. 24K-Devin Caron[9]
Heat 3 – (8 Laps – Top 6 finishers transfer to the A-feature):1. 2X-Ryan Bohlke[1] ; 2. 29-Kerry Madsen[2] ; 3. 11-Steve Kinser[3] ; 4. 8-Blake Breen[4] ; 5. 747-Davey Sammons[5] ; 6. G6-David Gravel[8] ; 7. 4-Cody Darrah[6] ; 8. O-Glenn Styres[7] ; 9. 28F-Davie Franek[9]
Dash – (6 Laps, finishing order determined first 10 starting positions of A-feature:1. 15-Donny Schatz[2] ; 2. 51-Paul McMahan[1] ; 3. 11K-Kraig Kinser[3] ; 4. 8-Blake Breen[4] ; 5. 9-Daryn Pittman[5] ; 6. 1-Sammy Swindell[8] ; 7. 7-Craig Dollansky[9] ; 8. 29-Kerry Madsen[7] ; 9. 65-Dave Ely[6] ; 10. 2X-Ryan Bohlke[10]
B-Main – (12 Laps – Top 6 finishers transfer to the A-feature:1. 4-Cody Darrah[2] [-]; 2. 1Z-Jessica Zemken[5] [-]; 3. O-Glenn Styres[4] [-]; 4. 63-Chad Kemenah[1] [-]; 5. 6-Bill Rose[3] [-]; 6. 28F-Davie Franek[9] [-]; 7. X-Dan Mazy[7] [$200]; 8. 49-Todd Hoddick[6] [$180]; 9. 24K-Devin Caron[8] [$175]