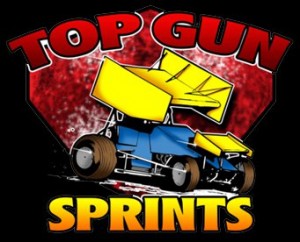 From Curtis Whalin
Eagle Jet Top Gun Sprints will return for their final appearance at East Bay Raceway Park in 2013 on Saturday, December 7th. Buddy's Home Furnishings will be the presenting sponsor for the $1,000.00 to win feature event.
Danny Martin Jr. is leading the point race with three events left in the 2013 season.  Shane Kreidler is second followed by AJ Maddox in third. Fourth is Johnny Alexander and rounding out the top five is Tim George.  Other drivers trying to move up in the point standings are Tony Agin, Gene Lasker, Rebecca George, Kyle Pitts, Mike Schroeder, Tyler Godwin, Rich Alexander, Brandon Grubaugh, Mark Ruel Jr., Kerry Gilbert, Darren Orth, Ken Laureno, Billy Boyd, Sean Clark, Clint Reynolds, DJ Peeples, Lorenzo Capitano, Joe Metcalf, Sport Allen and Frank Beck. Also expected to compete with the Eagle Jet Top Gun Sprints for the first time this season will be Keith Butler and David Steele.
An action packed night of racing with the Limited Late Models, Street Stocks, 4 Cylinder Bombers and V8 Warriors will be joining the Sprint cars.  Racing starts at 6:30pm.