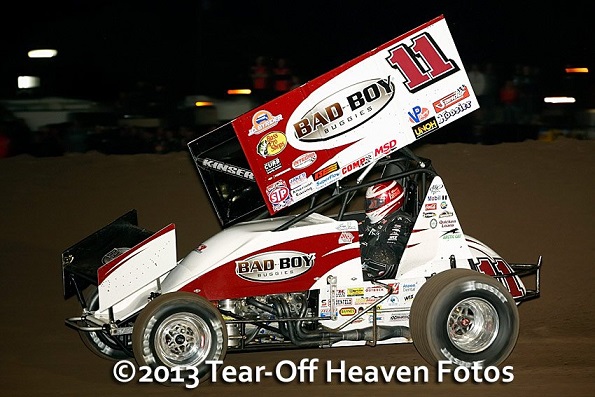 What would make a better Christmas gift than getting your Stockton Dirt Track "Western Racing Classic" weekend tickets, which includes the return of 20-time World of Outlaws STP Sprint Car champion Steve Kinser on Saturday March 22! Last season's grand opening event was a standing-room-only affair, so be sure & get your tickets early for the seats you want.
Kinser, a living legend in the sport & a National Sprint Car Hall of Famer, won his heat race & finished eighth in the main event during the WOO debut at the 3/8 mile clay oval last season. The wheel-man of the Tony Stewart Racing/ Bad Boy Buggies No. 11 mount ended last year eighth in the World of Outlaws STP Sprint Car Series standings with two victories on the season. The upcoming season will be his final championship run & is being dubbed "Salute to the King."
"Steve Kinser is definitely one of the guys that you consider to be royalty in the sport of Sprint Car racing," said George Hague of the Stockton Dirt Track. "His records are un-matched and people have been coming out to see him race for so long that he's without a doubt an icon. With this being his final season chasing the title it's going to be a special one and fans are not going to want to miss it. We're looking forward to having him back at the Stockton Dirt Track in March."
Last season's World of Outlaws event at the track was claimed by Elk Grove native Kyle Larson, who picked up the win over two-time Golden State/ King of the West 410 champion Tim Kaeding from San Jose and five-time WOO titlist Donny Schatz of Fargo, North Dakota. Eventual World of Outlaws champ Daryn Pittman of Owasso, Oklahoma came home fourth, with California native and current Nashville, Tennessee resident Paul McMahan rounding out the top-five.
The Stockton Dirt Track is a lightning fast 3/8 mile clay oval and is located on the San Joaquin County Fairgrounds in Stockton, California. Defending World of Outlaws champion Daryn Pittman set the track record on opening night last season with a clocking of 13.278 aboard the Kasey Kahne Racing/ Great Clips No. 9 machine.
World of Outlaws A-Main Results from last year at the Stockton Dirt Track – (30 Laps) – 1. 57-Kyle Larson [3] [$10,000]; 2. 83-Tim Kaeding [2] [$5,500]; 3. 15-Donny Schatz [13] [$3,200]; 4. 9-Daryn Pittman [6] [$2,800]; 5. 51-Paul McMahan [1] [$2,500]; 6. 63-Chad Kemenah [9] [$2,300]; 7. 29-Kerry Madsen [24] [$2,200]; 8. 11-Steve Kinser [7] [$2,100]; 9. 14-Tony Stewart [4] [$2,050]; 10. 1-Sammy Swindell [11] [$2,000]; 11. 71M-Joey Saldana [20] [$1,500]; 12. 4-Cody Darrah [21] [$1,200]; 13. 6-David Gravel [15] [$1,100]; 14. 83JR-Kyle Hirst [16] [$1,050]; 15. 21X-Carson Macedo [10] [$1,000]; 16. 7-Craig Dollansky [25] [$100]; 17. OO-Jason Statler [23] [$800]; 18. 24A-Rico Abreu [8] [$800]; 19. 21-Brian Brown [12] [$800]; 20. 26-Sam Hafertepe Jr [18] [$800]; 21. 44W-Austen Wheatley [5] [$800]; 22. 88-Terry McCarl [14] [$800]; 23. 21M-Jason Meyers [22] [$800]; 24. O-Jonathan Allard [17] [$800]; 25. 3C-Willie Croft [19] [$800]; 26. 11K-Kraig Kinser [26]