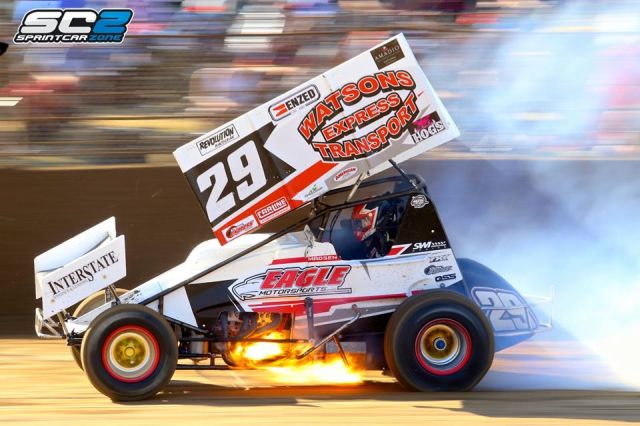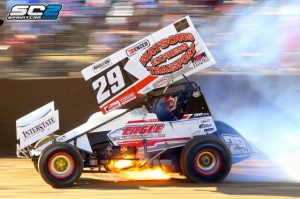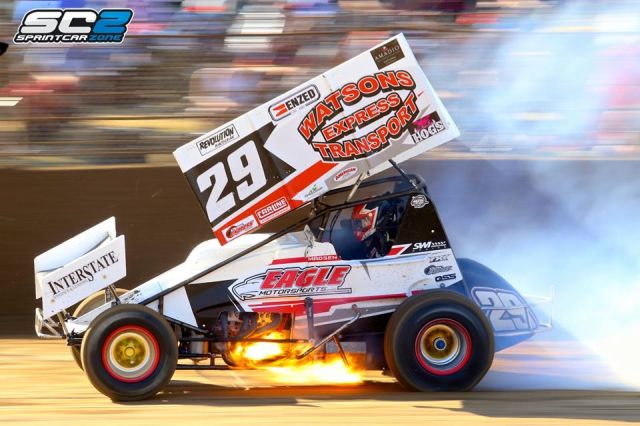 From Peterson Media
With the Holidays coming and going, Ian Madsen was a busy man in Australia competing in World Series Sprint Car Speedweek that kicked off on Boxing Day, but unfortunately for Madsen, it was a week that he would soon like to forget.
"It was definitely not what we had planned," Madsen said. "We had some issues, and we also got caught up in some wrecks from having to start in the back, so in the end it really didn't mix well for our Watson's Express Transport/Eagle Motorsports/East Coast Logistics team,."
Kicking the busy week off on Boxing Day in Speedway City, Madsen got off to a rough start as he timed in 34th out of 38th fastest, putting him behind the eight ball from the get go.
Starting up front in both of his heats, the St. Mary's, NSW driver did what he had to do, and win both heat's but do to his qualifying effort, he found himself in the B Main, where he managed to salvage a fifth place finish, and earn a spot in the B.
In the feature, Madsen got caught up in a wreck, and his night was over in just five laps, as he was scored 20th.
The second night of speedweek saw the series invade Murray Bridge, and Madsen again got off to a shaky start in time trials, as he timed in 29th fastest against the 36 cars checked into the pit area.
Again picking up two heat wins, Madsen found himself back in the B main due to his qualifying time, and was able to pick up that race win as well, putting him into the feature event, where he would again be buried deep in the starting line up.
Doing what he could from the back, and avoiding a couple of near disasters, Madsen was able to rally his way up to a 13th place finish, still leaving the track a little disappointed with his result.
The third stop of the hectic week came on the 28th of December as the series rolled into Mt. Gambier.
Madsen looked to turned his week around early in the night, as he timed his Lucas Oil/Interstate Finance and Leasing/Gin Gin Diesel machine in seventh fastest against a stacked field of 47 cars.
Starting in the rear of his heat races due to the inversion, Madsen recorded eighth and ninth place finishes again putting him in the B main for the third consecutive night.
A third place finish for the hot-shoe put him in the rear of the feature event, but Madsen had plenty of speed in the 35 lap contest.
In what was the team's best night of the week, Madsen went toe-to-toe with some of the best drivers in the world as he carved his way up to an eighth place finish, turning the fastest lap of the race.
Taking a night off, the series resumed to action on the 30th of December, the last race of 2013, at the Avalon Raceway.
With a hefty 48 cars on hand, Madsen went 18th fastest in time trials, giving him a nice heat race position, and nice shot of advancing directly into the feature event.
Struggling in heat race action, Madsen found himself in the B main, where his bad luck continued and he did not finish the race, and he closed 2013 without making the feature event.
As 2013 closed, Madsen was in action 71 times, recording 13 wins, 28 top-five's and 39 top-10's between the USA and Australia.
With rain in the forecast for the speedweek finale, Madsen and his team opted to go to the Valvoline Raceeway in Sydney to ring in 2014, a track where the team won earlier in the season.
With 41 cars on hand in Sydney, Madsen's qualifying woes continued as he timed in 25th fastest.
Starting 7th in his heat, Madsen would go on to finish in the sixth spot, putting him in the second row of the B main.
Tallying a third place finish, Madsen transferred to the feature event where he gridded the field in the 23rd spot.
In the feature event, Madsen came alive, as he began working the Valvoline Raceway cushion to perfection, as he passed cars at will.
Getting up inside the top-10, Madsen's night came to an end as he suffered a right-rear flat and wound up with a 22nd place finish.
"It was just a rough week for us, but it wasn't because of lack of effort," Madsen said. "We seemed to time bad all week, and that really put us in harms way, and unfortunately we got bit more than we would have liked to. We had great speed when we raced almost every night if we could keep our noses clean. I have to thank everyone for sticking with us, and hopefully we can right the ship this weekend."
None of this would be possible without a ton of support, and Madsen would like to thank Watson's Express Transport, Eagle Motorsports, East Coast Logistics, Lucas Oil , Interstate Finance and Leasing, Gin Gin Diesel, Adornato Sand and Gravel, QSS Spares, Oval Express, Inglis Race Engines, and Factory Kahne Shocks for everything they will be doing for this team.
2013 BY THE NUMBERS: Starts-1, Wins-0, Top-5's- 0, Top 10's-0
ON TAP: Madsen and his McDonald Motorsports team will stay in Sydney, AU, and will be in action at the Valvoline Raceway on the 3rd and 4th.
STAY CONNECTED: To keep up with Ian make sure you follow him on twitter by clicking over to www.twitter.com/IanMadsen.