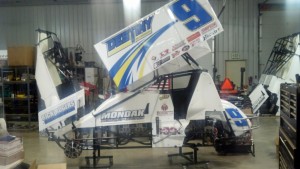 From Peterson Media
Just weeks away from opening night, Rick Rogers and his Destiny Motorsports team are excited to welcome Renegade Rentals and Champion Oil aboard as the team's newest marketing partner for the 2014 season.
"I couldn't be more pleased with how our offseason has gone, and what we've been able to put together with all of our partners, as well as all of our equipment heading in 2014," Rogers said. "Our entire organization is really excited about the addition of Renegade Rentals and Champion Oil, and we are very antsy about finally getting down to Florida."
Renegade Rentals is located in Williston, ND and specializes in Oilfield equipment. Renegade Rentals thrives on customer service, and strive to simplify your success in the oilfields.
"Having a local company based out of Williston, ND where we are from is pretty special," Rogers added. "Our community is beginning to take pride in what we are doing, and it is awesome to see some local businesses step up, and join our team."
Also joining Destiny Motorsports is the previously mentioned, Champion Oil. Located in Clinton, MO, Champion also produces and blends more than 300 products including fuel, oil and engine additives and lubricants for the automotive, heavy truck, agricultural and specialty markets.
"We are also excited to welcome Champion Oil to Destiny Motorsports for the 2014 season," Rogers said. "It is going to be a grueling season, so to have one of the best brands of lubricants on our side is huge, and we are confident it will help our equipment's longevity as we chase after the 2014 All Star Championship."
Though the team is excited to welcome new partners, they are also very thankful and appreciative that many of their partners from 2013, and earlier, are returning.
"It's always great to build new partnerships, but it is equally as valuable to have partners return to your organization, as to me it means they are happy with what we have done, and believe in us," Rogers said. "We have some great companies returning to the side of our car, and I'm hoping that with a great driver like Jac Haudenschild, and a great crew, we can get all of our partners some well deserved wins."
Destiny Motorsports would like to thank MonDak Portables, Benic Enterprises, Rick Rogers Construction, Renegade Rentals, Triple X Race Components, Boss Signs and Graphics, Driver Websites, Petersen Media, Tony Stewart Racing, GME Manufacturing, ButlerBuilt, Simpson Race Products, Kistler Engines, Keizer Wheels, DMI, Red Devil Brakes, Champion Oil, and Hoosier Tire for their support in 2014.
ON TAP: Up next for Jac Haudenschild and the Destiny Motorsports team will be a season opening trip to the sunny state of Florida to compete with the All Stars, the World of Outlaws, and for the King of the 360 Championship. Opening night will be February 6th, at Bubba Raceway Park.
2014 DESTINY MOTORSORTS BY THE NUMBERS: Starts-0, Wins-0, Top 5's-0, Top 10's-0
STAY CONNECTED: Stay updated with Destiny Motorsports by connecting via social media, www.facebook.com/destinymotorsports, and on Twitter, @DestinyMS9. You can also check us out on the web at www.destinymotorsportsinc.com.