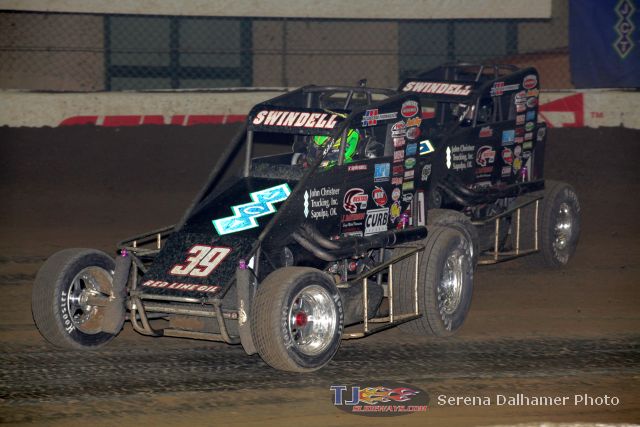 Inside Line Promotions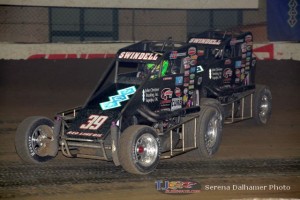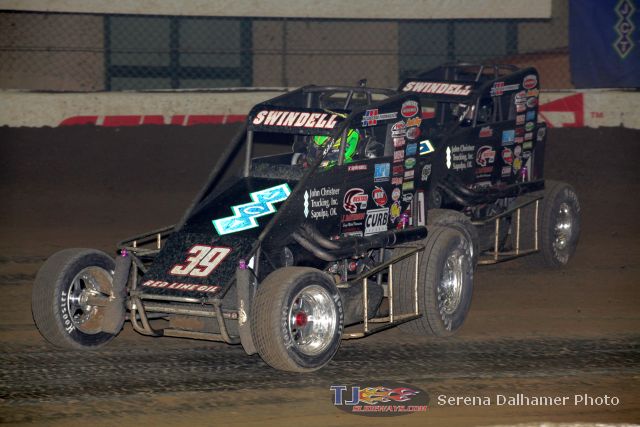 TULSA, Okla. (Jan. 24, 2014) – While his unprecedented run at the Chili Bowl was stymied last weekend, Kevin Swindell showed once again that he is the driver the Golden Driller runs through.
Swindell, the four-time defending champion of the premier midget event at Tulsa Expo Raceway, passed the most cars out of the nearly 300 drivers the entire week at the 28th annual Lucas Oil Chili Bowl Nationals presented by General Tire to end with a runner-up finish after enduring a tough break during his heat race of Thursday's qualifying night.
Swindell led from the start of his heat race before a flat tire forced him to the work area during a caution near the midpoint of the eight-lap race. His crew was unable to get the tire fixed before the race resumed and Swindell was relegated to a seventh-place result.
"My head was down as soon as that heat race happened," he said. "The fight in me was still there to battle back though."
And that he did.
Swindell rallied from 13th to win a C Main and then duplicated that performance during a B Main, charging from 13th to win the consolation and transfer to the back of main event. Swindell continued to put on a show by hustling his car from 17th to finish fourth, which was only one spot out of a lock-in position for Saturday's 55-lap main event.
Based on qualifying results, Swindell started on the pole of a B Main on Saturday and he cruised to an easy victory to transfer to the main event, which was broadcast live on MAVTV.
"I think that we were really good," he said. "I think the B (Main) proved how good we really were, being able to get away from those guys."
Swindell's march toward the front continued from the drop of the green flag as he powered toward the top 10 in the opening laps.
"I was really good through the middle there at the beginning like the first four laps and then I guess it blew the slime off the bottom where everybody was," he said. "When I tried to get down there it just was no good. I think I was the first guy to go all the way to the fence there at the beginning."
Swindell advanced into the top five near the midpoint of the race and he picked up a pair of positions on Laps 30 and 31 to move into third place. Swindell and Christopher Bell then had an epic battle for the runner-up position with a variety of slide jobs around the quarter-mile track before Swindell took the position for good in the final laps.
Eventual winner Bryan Clauson was able to gain a sizeable advantage while Swindell and Bell competed, forcing Swindell to settle for the second-place finish – marking the fifth consecutive year with at least a top-two result.
"It's frustrating," he said. "It proves how tough this race is."
Swindell, who opened the event a week ago Tuesday by finishing 11th in the Vacuworx Invitational Race of Champions after air in his steering forced him to spin out while racing inside the top five, capped the Chili Bowl by garnering a $2,500 bonus from Excel Therapy for passing the most cars all week. Swindell ended with 49 official passed cars – 15 more than any other driver.
He is currently competing in Australia at the 42nd annual Lucas Oil Grand Annual Sprintcar Classic at Sungold Stadium Premier Speedway in Warrnambool, Victoria, Australia.
QUICK RESULTS –
Jan. 14 – Tulsa Expo Raceway in Tulsa, Okla. – Race of Champions: 11 (9).
Jan. 16 – Tulsa Expo Raceway in Tulsa, Okla. – Heat race: 7 (1); C Main: 1 (13); B Main: 1 (13); Feature: 4 (17).
Jan. 18 – Tulsa Expo Raceway in Tulsa, Okla. – B Main: 1 (1); Feature: 4 (14).
SEASON STATS –
3 races, 0 wins, 2 top fives, 2 top 10s, 3 top 15s, 3 top 20s
UP NEXT –
Sunday at Sungold Stadium Premier Speedway in Warrnambool, Victoria, Australia, for the 42nd annual Lucas Oil Grand Annual Sprintcar Classic
MEDIA LINKS –
Website: http://www.SwindellMotorsports.citymaker.com
Twitter: https://twitter.com/KevinSwindell
Facebook: https://www.facebook.com/KevinSwindellRacing
SPONSOR SPOTLIGHT – John Christner Trucking
Established in 1986, John Christner Trucking has grown into a giant in the trucking industry. For more information, visit http://www.JohnChristner.com.
"John Christner Trucking has been an integral part of our program at the Chili Bowl for a long time," Swindell said. "We appreciate the support and partnership that John and his team bring to our program."
Swindell would also like to thank Biagi-DenBeste Racing, Mike Curb and Curb Records, Spike, Esslinger, Big Game Treestands, Aggressive Hydraulics, Rossie Feed & Grain, South Bay Partners and all of the various sponsors for their continued support.