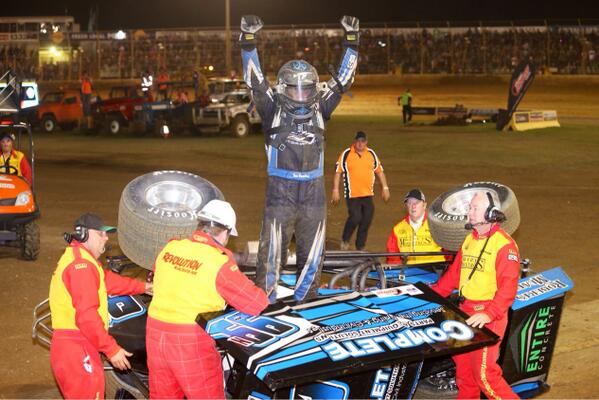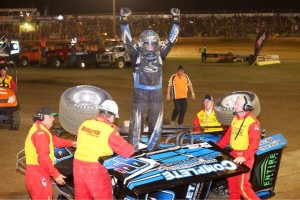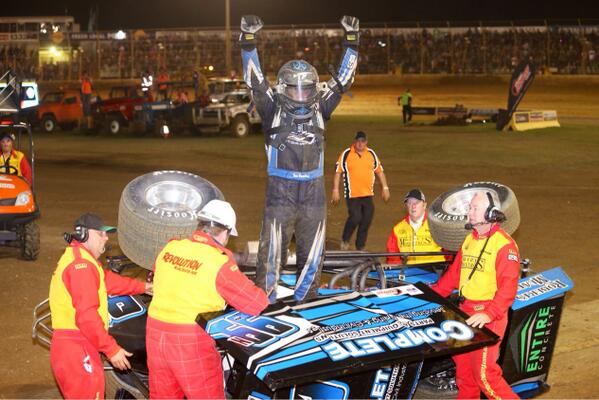 Warrnambool, AU — (January 25, 2014) — Tim Kaeding dominated Saturday night's finale of the Lucas Oil Grand Annual Sprintcar Classic at Premier Speedway. Kaeding started on the outside of the front row with Jamie Veal and took the lead at the on lap five and dominated the remainder of the event.
During the ensuing victory lane celebration Kaeding did some spectacular doughnuts before flipping his car during the celebration, much to the crowd's delight. The win was Kaeding's first in what is regarded as the biggest sprint car race in Australia.
Max Dumesney moved up from the fourth starting spot to take the runner up position. Veal, Scott Darley Memorial winner Trevor Green and Kerry Madsen rounded out the top five.
1. Tim Kaeding, 2. Max Dumesny, 3. Jamie Veal, 4. Trevor Green, 5. Kerry Madsen, 6. Luke Dillon, 7. Jason Meyers, 8. James McFadden, 9. Matt Egel, 10. Robbie Farr, 11. Paul McMahan, 12. Daryn Pittman, 13. Cameron Gessner, 14. Terry McCarl, 15. Brooke Tatnell, 16. Randy Hannagan, 17. Dale Blaney, 18. Steven Lines, 19. Bud Kaeding, 20. Jason Sides, 21. Dave Murcott. DNF: Donny Schatz, Grant Anderson.