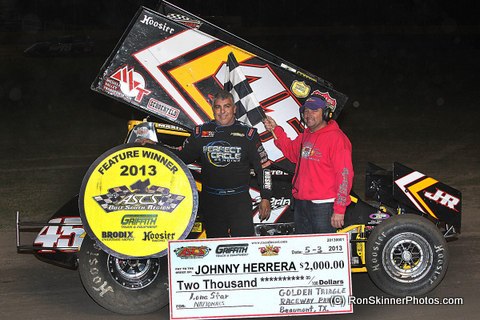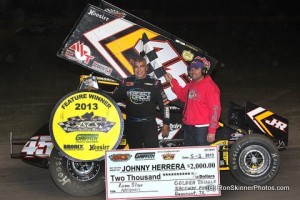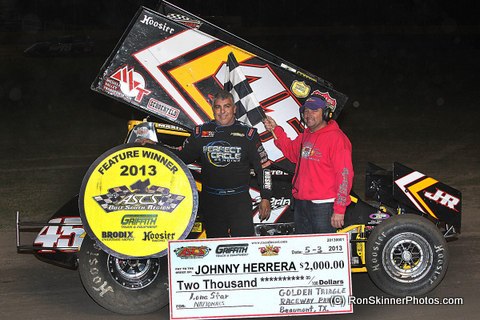 From Bryan Hulbert
Tulsa, OK — (February 7, 2014) — Johnny Herrera has been racing for over 30 years. His résumé reflects his tenacity as a driver with two Knoxville Raceway Championships, 1996 Kings Royal winner despite a collapsed sideboard, 2007 SCOA Champion, and wins that number in the hundreds across nearly every discipline of Sprint Car racing.
Asked after all these years of chasing racing, is there anything that surprises him, Herrera chuckled a bit, "The everyday things with racing, that's the stuff you get used to but is there something every day that I don't take away from, and learn something new? Absolutely I do."
Finishing a single marker behind Shane Stewart in 2011 for the season ending $60,000 check, Herrera suffered through back injuries in 2012 before returning to peak health in 2013.
Coupled with a new partnership with Print Place Motorsports, Herrera's health, along with the backing proved fruitful as Herrera broke through a 72-race drought on May 17, lapping all by one before the checkered flag fell at the U.S. 36 Raceway in Cameron, Mo.
Follow that up with a win at Valley Speedway, the season ultimately saw Herrera exchange the points lead a half dozen times with Jason Johnson before the driver of the Stenhouse, Jr. Racing No. 41 was able to secure his fourth Lucas Oil ASCS presented by MAVTV American Real title.
"We just need to keep our heads down, and keep working hard," commented Herrera on what it's going to take to claim the title of Champion. "We were actually good last year, we just needed to win more races. We had great consistency, but when you only win four races, it just isn't enough when the guy that takes the championship wins 10."
The only full-time driver on the Lucas Oil ASCS National Tour in 2013 without a DNF on the season, Herrera looks to take that same consistency and simply build upon it in 2014, using the same lineup of chassis, engines, and various parts vendors.
"When you have a good thing working, you just need to make small adjustments here and there."
Asked about what he plans to do with some of the time off between ASCS events at the start of the season, the Albuquerque, N.M. shoe plans to use that time to experiment, be it in 410, 360, or 3015cid competition.
"Since that race in Phoenix got cancelled, I'll go run some of the races around there. I'll be at Tucson, and I think I'll go run EL Paso and Las Cruces and support Royal [Jones] with his 305cid ASCS shows because when you're doing different forms of racing, it gives you a chance to try different things where we're not having to contend for a championship. It all helps."
Touching on some of the chances to experiment with his car, the conversation of shocks came up. As one of the many teams with a shock-dyno in the trailer, Herrera is one of the few drivers who consistently builds his own shock combinations.
"The more you know about anything on your racecar, the better understanding you're going to have on the proper changes to make to the car. By no means am I a shock expert, but I know what I'm looking for in the feel of the car."
Herrera's overall season in ASCS competition in 2013 consisted of 54 A-Feature starts in 57 National and Regional events. Four National Tour wins came at the U.S. 36 Raceway on May 17, Valley Speedway on May 22, Devil's Bowl Speedway on June 15, and Lucas Oil Speedway on September 29. Herrera's lone regional victory came in Gulf South competition at the Golden Triangle Raceway Park on May 3.
Johnny Herrera has 10 Lucas Oil ASCS presented by MAVTV American Real victories to his credit along with 35 regional wins. Herrera's first Lucas Oil ASCS National Tour win came November 2, 1996 at the Devil's Bowl Speedway.
Information on Johnny Herrera can be found online at http://johnnyherreraracing.com.
The 2014 Lucas Oil ASCS presented by MAVTV American Real season begins February 28 and March 1 at the Cocopah Speedway in Somerton, Ariz. Tickets for the $10,000 to win event are on sale at http://www.cocopahspeedway.com
2013 ASCS (Regional/National) Record: Events: 57: Wins – 5, Top 5 – 32, Top 10 – 44
Overall ASCS National Tour Record: A-Feature Starts: 145: Wins – 10, Top 5 – 66, Top 10 – 112
The 2014 season marks the twenty-third year of sanctioning Sprint Car racing for the American Sprint Car Series, which brings the best of Sprint Car racing to dozens of different tracks throughout the nation. Anchored by the Lucas Oil American Sprint Car Series, ASCS also consists of ten different Regions throughout the nation.
Lucas Oil Products is the title sponsor of the American Sprint Car Series. More information can be found on Lucas Oil Products at www.lucasoil.com. MAVTV is the presenting sponsor of the American Sprint Car Series. Log onto www.mavtv.com for information regarding availability and listings in your area.
Associate sponsors for the Lucas Oil American Sprint Car Series presented by MAVTV include: Hoosier Racing Tire and Brodix.
Team Lucas Sponsors for the American Sprint Car Series consist of Protect the Harvest, iON Camera, Smokey Mountain Moonshine, C&R Radiator, Hawk Performance Products, Geico, E3 Spark Plugs, and General Tire.
Product and Contingency Sponsorship provided by: K&N Filters, PitstopUSA.com, Engler Machine and Tool, FSR Radiator and Racing Products, Schoenfeld Headers, Driverwebsites.com, Weld Wheels, Fuel Safe, Saldana Racing Products, Maxwell Industries, Print Place, Simpson, The Joie of Seating, Wesmar Racing Engines, Hinchman Indy Racewear, Brown and Miller Racing Solutions, DMI Rear Ends, Rod End Supply, Smiley's Racing Products, Speedway Motors, Speedmart, and Hilborn Injection Systems.
Additional information regarding the American Sprint Car Series is available at www.ascsracing.com as well as Twitter (@LucasOilASCS) and Facebook. News and information can also be sent to you with the ASCS E-News by texting ASCS to 22828 with any mobile device.