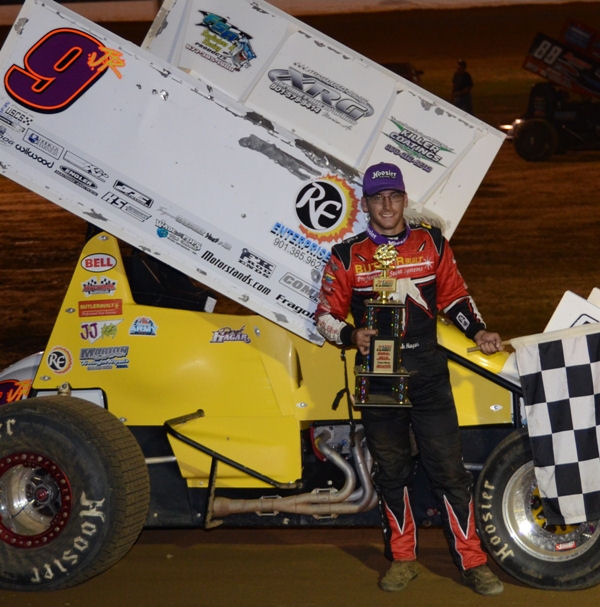 From Inside Line Promotions
Columbus, MS — (March 3, 2014) — Derek Hagar started his 2014 season just as hot as he ended last year.
Hagar led the distance and lapped the entire field on Saturday at Magnolia Motor Speedway during the USCS Outlaw Thunder National Series season opener.
"It was pretty fun," he said. "We didn't have as many cars as we'd like to have, but a win is a win and we had great competition out there. To go out there and lap the whole field really shows how strong we are."
It marked the first time Hagar remembers ever lapping everyone and it one-upped last season, when he scored the victory during the season-opening USCS Frost Buster 250 en route to a season-high 10 victories and his first-ever USCS Outlaw Thunder National Series championship.
After Friday's action was rained out, Hagar started Saturday by winning the dash.
"The dash started off really good," he said. "We had a really, really good race with Terry Gray for the whole six laps. I finally got by him coming to the white flag. It was slide job city and good racing to put on a good show for the fans."
Hagar then finished where he started – second – in his heat race.
"I tried to give (Tim Crawley) a couple of runs for his money," he said. "The car was a little tighter than we wanted so I had to settle for second. That put me fifth for the passing points deal. Terry, being the first heat race winner, drew a six (for the inversion) and that put me starting front row outside for the feature."
Hagar powered into the lead on the opening lap and set sail on the rough track.
"We took the lead coming off turn two and never looked back," he said. "The track was cowboy-up rough. In turns three and four it was hold on and ride it out. I kinda got a little lazy and tired. Crawley showed me his nose around Lap 16 or 18. I had to step my game back up. A lap or two later he had to pull in."
Hagar then passed Gray in the closing laps to put the entire field at least one lap down during his win.
Hagar will return to action on Saturday, March 15, at Tennessee National Raceway in Hohenwald, Tenn., with the USCS Outlaw Thunder National Series.
QUICK RESULTS –
March 1 – Magnolia Motor Speedway in Columbus, Miss. – Dash: 1 (1); Heat race: 2 (2); Feature: 1 (2).
SEASON STATS –
1 race, 1 win, 1 top five, 1 top 10, 1 top 15, 1 top 20
UP NEXT –
Saturday, March 15, at Tennessee National Raceway in Hohenwald, Tenn., with the USCS Outlaw Thunder National Series
SOCIAL MEDIA LINKS –
Website: http://www.DerekHagarRacing.com
Twitter: https://twitter.com/HagarDerek
APPAREL –
Hagar has t-shirts, hats and koozies available for sale at his race trailer at every race he competes at. To see his schedule, visit http://www.DerekHagar.com/schedule.