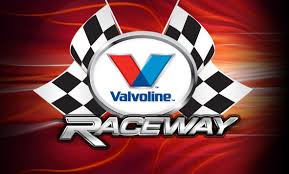 From Sydney Speedway
Sydney, AU — (March 8, 2014) — Former Australian champion Max Dumesny turned in a blinder tonight to win the 30 lap sprintcar track championship at Valvoline Raceway after a last corner dash under Ben Atkinson.
Dumesny, who has led the track premiership almost from the outset, was again in top form tonight as he blasted into the lead of the main event inside two laps.
He continued to pace the race until Atkinson arrived on the outside groove, passed him and ran away from the pack.
The rapid fire chase between Grant Tunks, James Thompson, Toby Bellbowen and Ian Loudoun spiced the event which was yellow flagged down to the 24th lap which brought about a single file re-start.
Atkinson again took off like a firecracker but Dumesny was planning his final surprise.
He closed on the tail of Atkinson as they ran into heavy traffic in the final corner and pulled off a magical pass on Atkinson to virtually rob him of victory.
"It was like someone stealing the chrome off your trophy," Atkinson chuckled.
Dumesny, who drives for Valvoline and the Raceway that carries his sponsor's name, was happy with his win.
"You've got to hang tough in this business and that's what I did all night," he told fans.
Grant Tunks, who drives almost without a lick of sponsorship all season, was a deserving third with James Thompson fourth and one spot clear of Toby Bellbowen and Ian Loudsoun.
The race meeting had a number of wild crashes during the night including a roll cage twister by Clayton Priest while sprintcar rookie Cameron Ware walked away from a bell ringer when his steering snapped and turned him inside out in front of the field.
Clerk of the Course Alan Edwards spent most of the evening directing clean up crews to incidents that became accidents quickly.