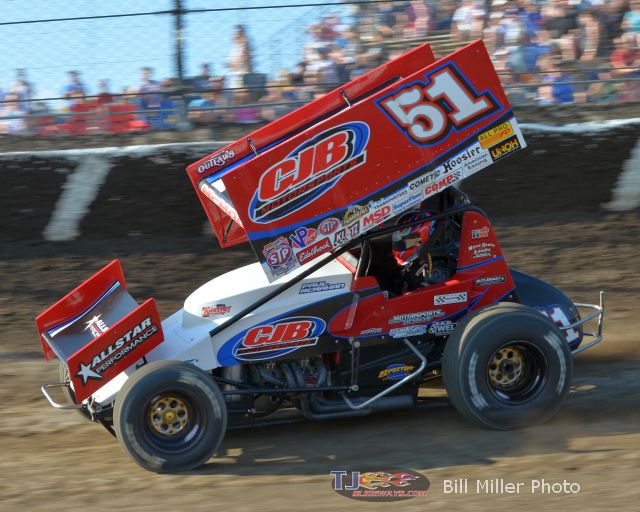 From R&R Media Services
Telford, PA — (March 19, 2014) — Though the 2014 World of Outlaws STP Sprint Car Series season is still young, a serious title contender is emerging.
With nine Top-10's in nine events, Nashville, Tenn. resident Paul McMahan finds himself sitting atop the series standings with momentum at his side.
"It's really early in the season so we're not getting ahead of ourselves here but we're really happy," said McMahan. "The beginning of our season has been a story of success, luck and battling back. We haven't gotten down on ourselves and have salvaged great finishes when we have had trouble."
McMahan's weekend at Thunderbowl Raceway in Tulare, Calif. was a perfect example of both success and battling back. On night number one, the #51 Bairs Tree Service/Nyce, Crete & Landis Block & Concrete/All Star Performance sprinter laid down the second quickest lap in time trials before finishing third in the feature event.
"Friday night was excellent," said McMahan. "We timed in well, had some trouble in the heat race but ended up with a good finish in the dash. The feature was fun as we were in the hunt all night long. A third place finish was solid but we felt as though we had a car capable of winning."
The following night was a testament to the "never give up" attitude that has been instilled in the CJB team.
"Saturday was unusual by the fact that we timed in poorly," explained McMahan. "We were 14th quick and had to fight and claw all night long. The track was tricky on Saturday so a ninth place finish felt like a victory after the hole we came out of. It was also really special to be there to see Rico (Abreu) get his first career World of Outlaws win in front of his hometown crowd. It was an honor to get to go up and congratulate him."
With Thunderbowl in the books, the Outlaws Spring Break tour continues with a stop at The Dirt Track at Stockton in Stockton, Calif.
"Last year was my first year to be at Stockton," said McMahan. "We grabbed a fifth place finish there so I'm excited to return. It's a nice, wide 3/8th's of a mile oval. The California fans are so awesome and I really hope that we can continue this great start and pick up our tenth Top-10 and hopefully our second win."
CJB MOTORSPORTS 2014 STATS:
Starts: 9
Quick Times: 3
Wins: 1
Top-5's: 5
Top-10's: 9
UP NEXT:  The CJB Motorsports team continues the Spring Break tour with a stop at the Stockton Dirt Track in Stockton, Calif.
STAY CONNECTED WITH CJB MOTORSPORTS:
For up to the minute race updates and behind the scenes content from CJB Motorsports, please follow the team on Facebook and Twitter.