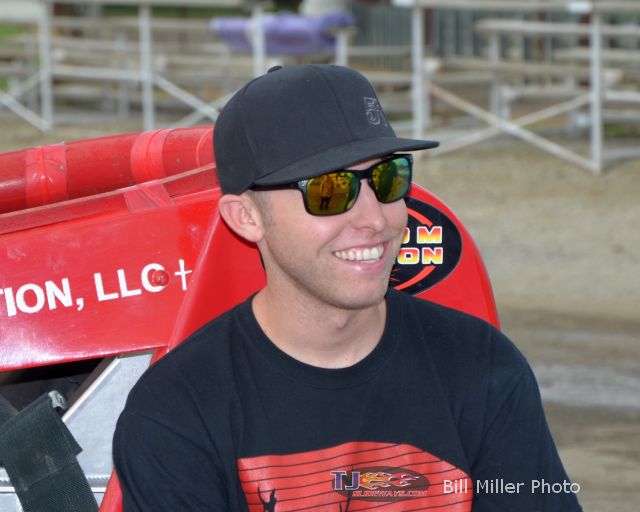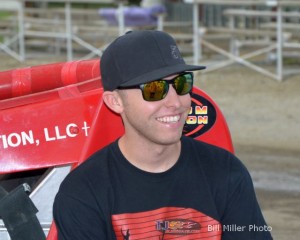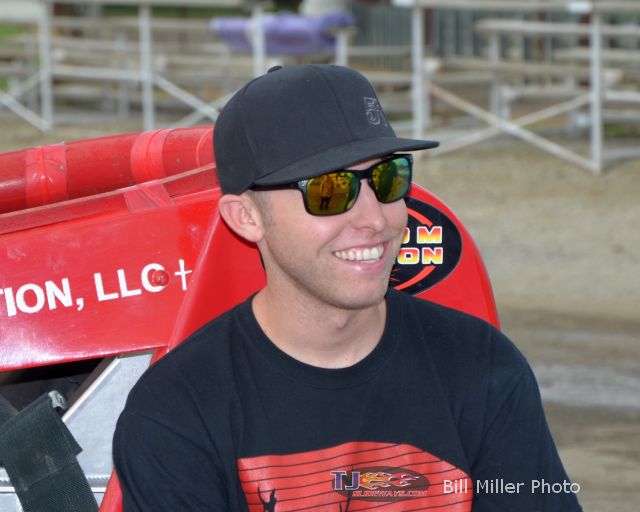 From Bob Miller
Bechtelsville, PA — (March 24, 2014) — The 8th Annual USAC Eastern Storm is fast approaching with the opener set for the Grandview Speedway on Tuesday night, June 3.   Grandview Speedway and the NAPA Auto Parts Thunder on the Hill Racing Series is pleased to host the opener.  Grandview has been part of the Eastern Storm every year since the Series started in 2007.    Five race dates make-up the Eastern Storm with additional stops at the Lincoln Speedway on Wednesday, June 4, New Egypt Speedway on Thursday, June 5, Port Royal Speedway on Saturday, June 7 with the series closing at the Susquehanna Speedway on Sunday, June 8.
One driver looking forward to the Eastern Storm is twenty-six year old Chad Boespflug of Handford, CA.  Boespflug's credentials include winning the 2005 SCRA 360 sprint championship as well as the 2011 Lawrenceburg Speedway track championship.
Chad Boespflug was born in 1988 in Carmichael, California. Shortly after, his parents and he moved to Hanford, California. Growing up in a Hanford, Chad graduated from Hanford high school in 2006. After graduating, He made the move back to Indiana to pursue his dream of being a top ranked sprint car driver. He went to college at IUPUC for two years studying business marketing.
Always up for a challenge and willing to race anything with wheels, Chad lives to race. He has been racing every summer since 1998 winning races and championships from coast to coast. The Hanford, California native grew up racing in California and made the move to the Midwest in 2007. In the first two seasons in the Midwest Chad faced two nearly career ending crashes in 2007 and 2008 but since has been able to bounce back and continue to win on any given night.
"Non-wing sprint car racing is like nothing else, pitching the car at some tracks long before the corner even starts, but staying in control, it's just such an adrenaline rush", said Chad.
"The plan right now is for me to bring my personal car out and run the entire USAC Eastern Swing.    My car is the #98  that I  ran in seasons past. I will be bringing my car with the help of my grandfather and possibly one other person to help wrench the entire week".   Chad continued to say,  "We  will have some help from some local PA friends and  I will be bringing shirts and  other merchandise items with me as well".   You can visit Chad's  online store at:  www.chadboespflugracing.com
For Chad Boespflug, the Eastern Storm will bring him to five tracks he has not previously seen.     "As for Grandview, I've heard very little although  I've watched races from there online.  Lincoln is a top notch facility and has a great track prep program and I just can't wait to get there and see the place for myself".    Boespflug continued, "As for New Egypt Speedway, I've heard it is a fun place to race.   I'm looking forward to race at all the tracks and to meet new fans".
"Since some PA fans have heard I will be coming east,  I have received several messages about how excited they are that I will be coming to the Eastern Storm. I've heard great things of how supportive and passionate the Pennsylvania fans are about sprint cars", said Chad.
By trade, Chad is a Project Supervisor for Dalton Luebbert Groups, managing the utility and piping fabrication and installation.  Racing is an important part of his life and being successful is a career aspiration.   "I have to thank all of my sponsors of my sprint car to include  Midwest Shades, Bell Helmets, Hinchman, ButlerBuilt Seats, Shaws Vintage Hot Rods, Manvel Motorsports, Creative Finishing, Claxton Engines, and Indy Race Parts", said Chad.
Get ready for the always exciting USAC non-wing sprint car Easter Storm.  They only come east one time a year so block out June 3 to June 8 and check it out.
8th Annual Amsoil Eastern Storm USAC Non-Wing Sprints
Tuesday, June 3       7:30 PM         Grandview Speedway  Bechtelsville, PA  USAC Non-Wing Sprints Jesse Hockett Classic Plus ARDC  Midgets
Wednesday, June 4 7:30 PM         Lincoln Speedway Abbottstown, PA   USAC Non-Wing Sprints & URC 360 Sprints
Thursday, June 5     7:30 PM          New Egypt Speedway  New Egypt, NJ   USAC Non-Wing Sprints Plus ARDC Midgets
Saturday, June 7     7:30 PM          Port Royal Speedway  Port Royal, PA    USAC Non-Wing Sprints
Sunday, June 8        7:30 PM          Susquehanna Speedway  Newberrytown, PA   USAC Non-Wing Sprints
Previous Eastern Storm Champions
2014    8th Annual
2013      Bryan Clauson/Nobelsville, IN
2012      Bryan Clauson/Nobelsville, IN
2011      Levi Jones/Olney, IL
2010      Levi Jones/Olney, IL
2009      Cole Whitt/Alpine, CA
2008      Cole Whitt/Alpine, CA
2007      Levi Jones/ Olney, IL