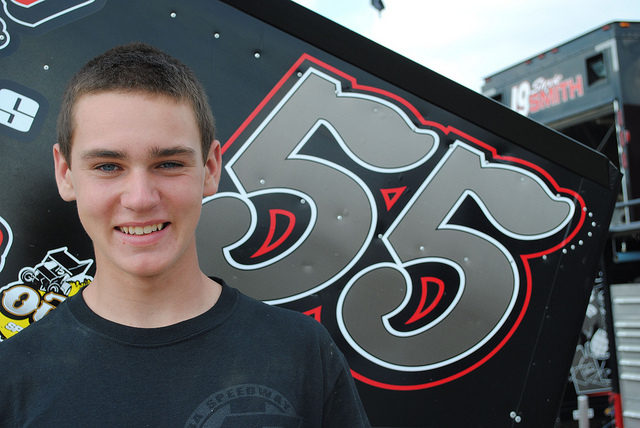 From Inside Line Promotions
Stockton, CA — (March 23, 2014) — Momentum is building for Trey Starks, who is coming off his best weekend of the season as he ventures to Pennsylvania for several weeks of sprint car competition.
Starks is scheduled to compete on Friday at Williams Grove Speedway in Mechanicsburg for the season opener at the half-mile track. He will then race on Saturday at either Lincoln Speedway in Abbottstown or Port Royal Speedway in Port Royal, which kicks off at least three straight weeks of racing with the PA Posse.
"You wouldn't think of Pennsylvania as a place I'm familiar with," he said. "We did really good last year and I'm comfortable with the guys I was working with. I'm thinking with a little bit of a change of pace we can show our speed and hopefully have the bad luck out of our system."
Bad luck reared its head again last weekend during Starks' inaugural trip to Stockton Dirt Track, which began on Friday with a 360ci race.
"We went out early and the track was a little slower so we didn't have too good of a qualifying lap," he said.
Starks, who timed in 14th quickest, then won his heat race to advance to the dash. He ended where he started – sixth – in the dash to start the main event on the outside of the third row.
"I think by the first lap of the feature we were into fourth and on the second lap I picked off second and third place," he said. "I ran second for about 10 laps and we had a caution. About three or four laps after the restart I ended up sliding the leader in turns one and two."
Starks led for approximately a dozen laps before the nose wing on his sprint car was knocked down, which severely impacted the handling of his race car.
"We had a long run and the nose wing ended up getting knocked down," he said. "The track was pretty rough and it just fell down. We were pretty tight anyway and that just made it way worse. The car was a handful the last 10 laps. Rico (Abreu) was fast and he ended up getting by us."
Starks lost the top spot with approximately six laps remaining and he held on for a runner-up finish, which marked his best result of the season.
He returned to Stockton Dirt Track the following night for the World of Outlaws STP Sprint Car Series event.
After timing in 18th quickest, Starks was in contention for a lock-in position throughout his heat race before he ended sixth – one spot out of automatically advancing to the feature.
"We got a bad start and we ran sixth," he said. "I just about got the transfer spot a couple of times in the closing laps, but just didn't get it."
Starks then led most of the Last Chance Showdown before finishing third to pick up a transfer to the main event, which he started 18th.
"We were doing really good on starts and restarts," he said.
Starks capitalized on several cautions in the opening laps to advance to 10th place, but the car became tougher to handle as the race went on.
"The track got pretty slick and we struggled the whole main, especially in turn two," he said. "We had a late red flag and I told the guys the car was really bad. We just didn't have any bite anywhere. We took a big swing at it and made some drastic changes. It made it a lot worse. We just missed on the car a little bit. We just couldn't quite dial in the car."
Starks finished with a 15th-place result, which was his second top 15 with the premier sprint car series this season.
QUICK RESULTS –
March 21 – Stockton Dirt Track in Stockton, Calif. – Qualifying: 14; Heat race: 1 (1); Dash: 6 (6); Feature: 2 (6).
March 22 – Stockton Dirt Track in Stockton, Calif. – Qualifying: 18; Heat race: 6 (5); B Main: 3 (1); Feature: 15 (18).
SEASON STATS –
10 races, 0 wins, 1 top five, 1 top 10, 3 top 15s, 3 top 20s
UP NEXT –
Friday at Williams Grove Speedway in Mechanicsburg, Pa., and Saturday at either Lincoln Speedway in Abbottstown, Pa., or Port Royal Speedway in Port Royal, Pa.
MEDIA LINKS –
Website: http://www.TreyStarksRacing.com
Twitter: https://twitter.com/Starks55Trey