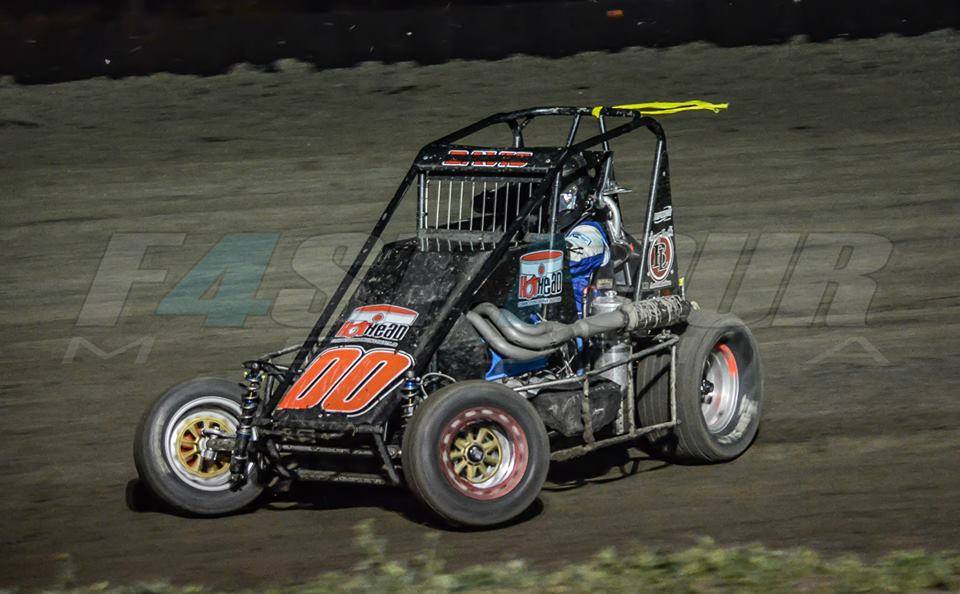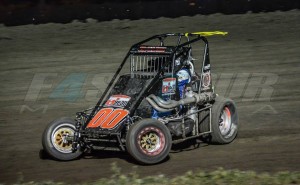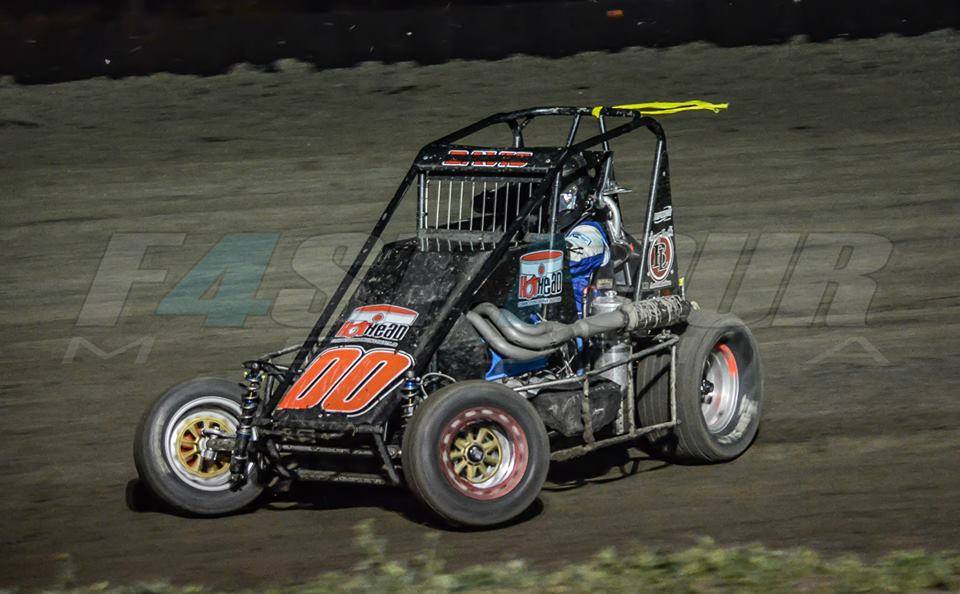 From Peterson Media
He wasn't able to qualify, nor run a heat race, and he even did not finish the feature, but young Nathan Washam found the silver lining in his midget debut, and walked away with a smile, and some confidence.
"First off, I cannot thank Pete Davis, who owns HotHead Engine Heaters, enough for the opportunity to make my midget debut in his car," Washam said. "Though we had some issues, I feel like I was able to get comfortable during the 25 laps I ran, and look forward to my next chance in it."
With gremlins giving the HotHeads Engine Heaters team fits during the early portion of the night, Washam was unable to make a qualifying run, and only made a lap in his heat, as the team continued to work on the No. 00 machine.
Continuing to thrash, and go over what they could, the team thought they had it rectified for the feature, and Washam pushed off and started scratch on the field.
During the first few laps it was apparent that Washam still had issues, and as he went to pull off and call it a night, a wreck happened on the speedway, bringing out the caution, and Washam went to the work area.
"The guys basically tried a 'Hail Mary' fix with the fuel system, and I went back out, and it ran pretty good, so I went out and tried to keep my nose clean, and make laps," he said.
With Washam getting pushed out late, he took the green as the leaders were coming right behind him, and quickly found himself in the midst of the lead battle.
Keeping his machine as straight as he could, Washam held his own as he let the leaders race, and they got by him.
Getting confident lap after lap, Washam was able to pick up some spots both on his own and with attrition, but with five laps to go, he pulled his machine into the infield.
"I can't thank everybody who was involved enough for this opportunity," he said. "Like I said earlier, I really feel that I was able to feel the midget out over the 25 laps I ran, and feel like my next race I can be even more competitive."
Nathan Washam Racing would like to thank Dan's Upholstery, Dee Dee's Deli-ishes Taqueria, Air Unlimited, Aquarius Consulting, Winchester Auto, Prodigy Strength and Conditioning, Quick Racing Products (Tel-Tac),Jon and Sandy Beck,
BR Motorsports, King Racing Products, Pearl Performance Engines, RV's Computers Inc. Roger's Diner, Watsonville Auto Body, Doyl Enterprises Open Wheel Components, Scarborough Ace Hardware, Jimmy Sill's School of Open Wheel Racing, Chaz Design, Rodriguez Custom Powder Coating, Bayside Oil, Advance Auto Santa Cruz, Rod End Supply, L&W Supply, Hooker Harness, and Hot Head Engine Heaters for their support during the 2014 season.
2014 BY THE NUMBERS: Starts-1, Wins-0, Top 5's-0, Top 10's-0.
ON TAP: Washam will kick his 2014 sprint car season off on 4/18 at the Ocean Speedway, and will be in action with the King of the West Series, in what will be his first 410ci start on 4/19 at the Placerville Speedway.
STAY CONNECTED: Stay connected with Nathan and his team by visiting their website, www.nathanwashamracing.com, and befriending them on facebook at https://www.facebook.com/nathan.washam?fref=ts, or follow Nathan on Twitter @NateWasham.