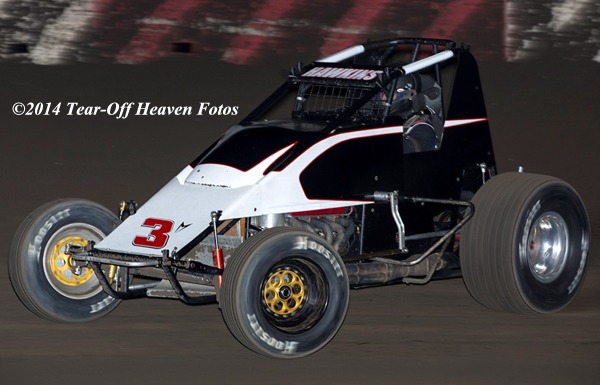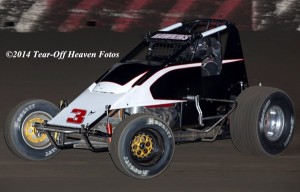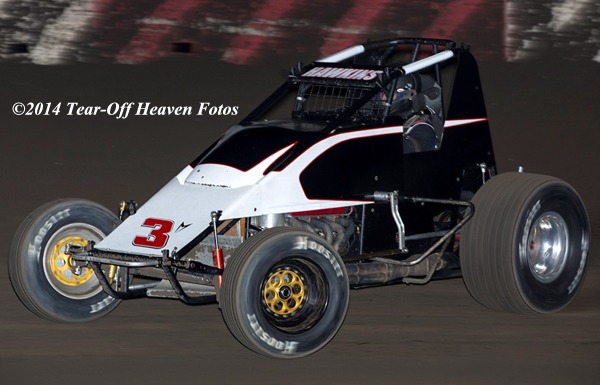 From Lance Jennings
Santa Maria, CA — (April 2, 2014) — This weekend, the USAC Western Classic Racing Series (WCRS) will open their fourth campaign with a doubleheader at the famed Calistoga Speedway. Paying $2,000-to-win and $250-to-start each night, the action packed card on April 5th and 6th will also showcase the popular World of Outlaw Sprint Cars. After recent weather concerns, there have been some changes to the posted start times. On Saturday, the Pit Gates will open at 8:00am for teams to park and unload their equipment before a 12:30pm sweep. The Pit Gates will reopen at 1:00pm, Spectator Gates will open at 4:00pm, Outlaw Qualifying is 6:00pm, with Racing set for 7:00pm. On Sunday, wheel packing is scheduled at 4:30pm with Racing to start at 6:00pm.
2014 will begin a new chapter for USAC's Northern California traditional sprint car division. The WCRS has adopted the same successful rules package currently in use by the USAC West Coast Sprint Cars. Legal cars must use iron block, 360 cubic-inch engines as restricted 410s are no longer allowed. ASCS engines must have 2 3/16″ maximum inside diameter injector stacks and open cylinder head engines must use 1 7/8″ restrictors. Restrictors will not be loaned out by the series and can be purchased by calling System One at 559.687.1955. The "official" right rear tire is the Hoosier 105/16 Medium and the older Hoosier HTW/HT2s can only be used at the first two shows (4/5 Calistoga and 4/6 Calistoga). Hoosier tires must be used on all four corners and carbureted spec sprints can still use their track legal Hoosiers. The weight rule is 1,475 pounds with driver and mufflers must meet local track sound/muffler rules, typically 95 decibels and 100 feet. The entry fee for all WCRS events is $35, except for the August 2nd "Billet Cup" at Hanford, which is $50. The complete 2014 USAC Western Classic Sprint Car Rule Book is online at
www.westcoastsprintcars.com/2014classic.pdf
.
Since September 2011, the former home track of the Northern Auto Racing Club (NARC) has hosted six Western Classic and USAC/CRA co-sanctioned events. Robert Ballou, Mike Spencer, Ryan Bernal, Kyle Hirst, Bud Kaeding, and Kyle Larson have celebrated their "Louie Vermeil Classic" victories at the legendary 1/2-mile oval. This weekend's action marks the first time at Calistoga that points will only be earned under the USAC Western Classic banner.
After winning last season's crown, Ryan Bernal will be back to battle a talented roster of drivers including last season's Rookie of the Year D.J. Johnson and the improving Marty Hawkins. "The Human Highlight Reel" Geoff Ensign, "Wild" Billy Aton, Bradley Terrell, Tim Barber, Matt Streeter, Scott Hall, Terry Schank Jr., James Sweeney, Sparky Howard, Klint Simpson, Tom Baker, Jim Richardson, "The Show" Tim Sherman Jr., and many more are expected to clash at Calistoga.
Calistoga Speedway is located on the Napa Valley Fairgrounds at 1435 North Oak Street in Calistoga. Reserved Premium tickets (with fan pit pass) are $45, General Admission Adult tickets are $40, and Children (12 and under) are $10. Two day seats are also available and tickets can be purchased online at
www.worldofoutlaws.com/tickets
or calling
(877) 395-8606
. For more race event information, visit
www.calistogaspeedway.org
, or call
(916) 773-7225
.
The USAC Western Classic Racing Series thanks Amsoil, Hoosier Tire, Competition Suspension Inc., Deist Safety, Engler Machine & Tool, Extreme Mufflers, Keizer Wheels, Pyrotect Racing Cells, Racing Optics, Rod End Supply, Rugged Radios, Saldana Racing Products, VanLare Steering Repair, and Woodland Auto Display for their support. If you or your company would like to become part of the series, email PR Director Lance Jennings at
lwjennings@earthlink.net
.
———————————————–
2014 USAC WESTERN CLASSIC SPRINT CAR SERIES SCHEDULE
DATE – TRACK – LOCATION
April 5: Calistoga Speedway – Calistoga, CA
April 6: Calistoga Speedway – Calistoga, CA
April 25: *Kings Speedway – Hanford, CA (Verne Brasel Classic)
April 26: *Thunderbowl Raceway – Tulare, CA
May 16: *Ocean Speedway – Watsonville, CA
May 17: *Thunderbowl Raceway – Tulare, CA (Chris & Brian Faria Memorial)
August 2: *Kings Speedway – Hanford, CA (Billet Cup / $2,500-to-Win)
August 8: *Ocean Speedway – Watsonville, CA
August 9: *Chowchilla Speedway – Chowchilla, CA
September 20: Marysville Raceway Park – Marysville, CA
October 4: Petaluma Speedway – Petaluma, CA
———————————————–
* = Co-Sanctioned Event with USAC West Coast Sprints.
This schedule is subject to change.