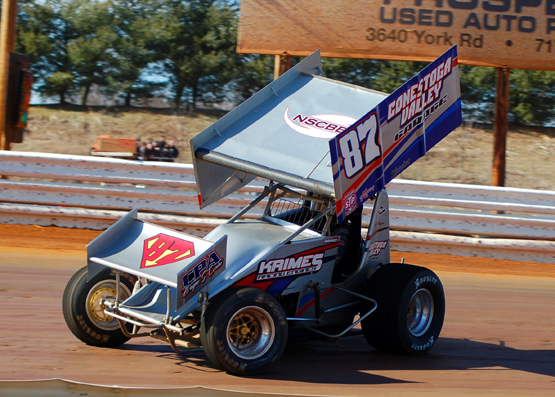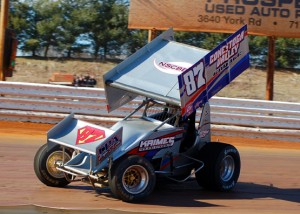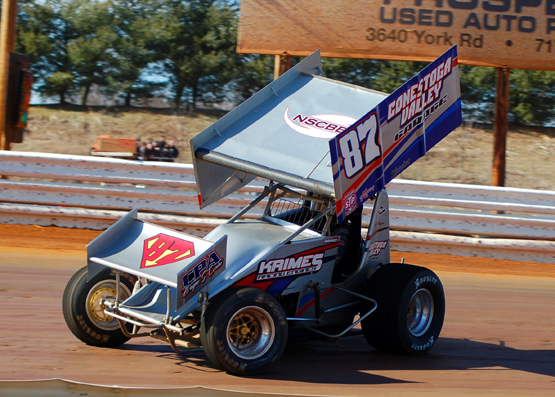 From Bill Meyer
Abbottstown, PA — (April 12, 2014) —  He gone! That's the catch phrase Alan Krimes and his followers use when Alan Krimes starts putting his competitors behind him. And he did it short order in Saturday's ARCH Night 25-lap 410 sprint car feature.
"I have to thank Dennis Kohler," said Krimes upon exiting his Midnight Antiques/Conestoga Valley Garage/Krimes Racing Engines #87 in victory lane, "He changed everything but the driver there before the feature, and he must have found something."
Touché. Krimes started ninth, crossed fifth at the end of the first lap, and passed outside front row started Kevin Nagy for second on lap three. At the time, polesitter Tyler Ross held a 1.16-second lead, which was quickly erased by Krimes over the next three laps.
"I knew starting on the bottom was going to be the key," said Krimes," The top was real dirty and it was hard to run up there. I got a real good start and I thought we'd be in pretty good shape. I got up to second there pretty quick. The 92 was going pretty good, and he just slipped in turn four and allowed me to sneak underneath him."
Krimes caught Ross in turns one and two of the sixth lap, and led until eighth-starting Brian Montieth passed him in lapped traffic exiting turn four of lap 22. Heading into the very next turns, Montieth lost the handle and spun out, handing the lead back over to Krimes. No one was more surprised than Krimes himself.
"We came up on a lapped car running on the bottom, and I made up my mind to go to the top to get around him," said Krimes, "I almost spun out, and Brian got back by me and I turned and got back underneath him going into one, and the yellow came out. I thought 'Dang it!' He had me at the line and they're going to put him back in front of me. I came back around, and he was sitting there, so we lucked out. He would've been tough to get by."
Robbie Kendall inherited second for the restart, but was never able to challenge Krimes, who crossed 1.34 second in front for his 14th career Lincoln win. In doing so, he became the fourth winner in as many races in 2014.
Danny Dietrich came from tenth starting spot to catch last week's feature winner Jimmy Siegel for third with a lap to go. Siegel, who started 12th, settled for fourth, with Nagy fifth. Sixth through tenth were hard charger Cory Hass (who started 15th), Glenndon Forsythe, Lance Dewease, Ross, and Adam Wilt.
Heats for the 29 410 sprinters were won by Nagy, Austin Hogue, and Forsythe, with Gerard McIntyre, Jr. winning the consolation.
Carmen Perigo, Jr. dominated the 25-lap super sportsman feature, starting third and leading every lap, to score his fifth career Lincoln win. Defending tour champ Frankie Herr was involved in a multi-car crash in turns three and four of lap three to end his night.
After setting a new 10-lap track record in his heat, Scott Geesey advanced from fifth to second on the first lap and ran there the rest of the way, with Russ Mitten coming from 14th starting spot to finish third. Rounding out the top five were Mike Enders and Rick Barr.
Heats for the 32 Super Sportsman were won by Joey Biasi, Geesey, Perigo, and Chad Trout, with Rich Eichelberger winning the consolation. Geesey's 10-lap track record was 2 minutes, 31.44 seconds.
Dover's Gene Knaub drove away from the field to score his 15th career win in the 20-lap Precise Racing Products 358 late model feature. Knaub started fourth and took the lead from polesitter Travis Mease on lap four. He led the rest of the way, with outside front row starter Tyler Horst crossing second. Third through fifth were hard charger Kyle Lear (who started ninth), Mease, and Alan Sagi.
Heats for the 19 358 Late Models were won by Knaub and Bobby Beard, who dropped from the field while running third in the feature.
Next Saturday, April 19, it'll be JOHN H. MYERS & SON BUILDING & REMODELING SUPPLIES NIGHT, featuring a spring championship event paying for $4,000 to win the 410 sprint car feature, plus 358 Sprints and Street Stocks. Gates open at 5 p.m., with racing to begin at 7:00 p.m.
To get all the latest news, results, schedule changes and rule changes, visit Lincoln Speedway's website at http://www.lincolnspeedway.com or join them on Facebook (https://www.facebook.com/lincolnspeedway) or Twitter (@lincolnspeedway) to stay up-to-date on all the action or pending weather conditions at Central Pennsylvania's "Premier" Saturday night race track – The Fabulous Lincoln Speedway.
Saturday, April 12, 2014
LINCOLN SPEEDWAY
Abbottstown, PA
ARCH NIGHT
LAWRENCE CHEVROLET 410 SPRINTS
Feature (25 Laps) – 1. 87-Alan Krimes ($3,300); 2. 55K-Robbie Kendall; 3. 48-Danny Dietrich; 4. 59-Jim Siegel; 5. 45-Kevin Nagy; 6. 11C-Cory Haas; 7. 2W-Glenndon Forsythe; 8. 14-Lance Dewease; 9. 92-Tyler Ross; 10. 15-Adam Wilt; 11. 52-Austin Hogue; 12. 99M-Kyle Moody; 13. 16-Gerard McIntyre, Jr.; 14. 69-Shane Hoff; 15. 56-Tim Wagaman; 16. 12-Mike Bittinger; 17. 35-Steve Owings; 18. 51-Freddie Rahmer; 19. 75-Nicole Bower; 20. 21-Brian Montieth; 21. 21T-Scott Fisher; 22. 21A-Will Rose; 23. 8-Billy Dietrich (DNF); 24. 29-Ryan Wilson (DNF). No Time
Lap Leaders – Tyler Ross (1-5), Alan Krimes (6-21), Brian Montieth (22), Alan Krimes (23-25)
1st Heat (10 Laps/6 to qualify) – 1. 45-Kevin Nagy; 2. 55K-Robbie Kendall; 3. 15-Adam Wilt; 4. 48-Danny Dietrich; 5. 69-Shane Hoff; 6. 21A-Will Rose; 7. 16-Gerard McIntyre, Jr.; 8. 12-Mike Bittinger; 9. 88-Brandon Rahmer; 10. 85-Nathan Berwager. Time – 2:24.519
2nd Heat (10 Laps/6 to qualify) – 1. 52-Austin Hogue; 2. 21-Brian Montieth; 3. 92-Tyler Ross; 4. 87-Alan Krimes; 5. 8-Billy Dietrich; 6. 35-Steve Owings; 7. 75-Nicole Bower; 8. 21T-Scott Fisher; 9. 2-Mike Thomas; DNS – 49-Bradley Howard. No Time
3rd Heat (10 Laps/6 to qualify) – 1. 2W-Glenndon Forsythe; 2. 59-Jim Siegel; 3. 14-Lance Dewease; 4. 99M-Kyle Moody; 5. 11C-Cory Haas; 6. 56-Tim Wagaman; 7. 29-Ryan Wilson; 8. 51-Freddie Rahmer; 9. 22T-Matt Boland (DNF). Time – 2:25.385
Consolation (10 Laps/6 to qualify) – 1. 16-Gerard McIntyre, Jr.; 2. 75-Nicole Bower; 3. 12-Mike Bittinger; 4. 29-Ryan Wilson; 5. 51-Freddie Rahmer; 6. 21T-Scott Fisher; 7. 88-Brandon R4ahmer; 8. 85-Nathan Berwager; 9. 22T-Matt Boland; 10. 2-Mike Thomas; DNS – 49-Bradley Howard. No Time
358 Late Models:
Feature (20 Laps) – 1. 1-Gene Knaub; 2. 14-Tyler Horst; 3. 151-Kyle Lear; 4. 116-Travis Mease; 5. 112-Alan Sagi; 6. 4-John Moser, Jr.; 7. 7-Pat Beard; 8. 4S-Danny Snyder; 9. 14B-Brad Shank; 10. 51-Barry Lear; 11. 21-Troy Swindell; 12. 44-Jimmy Jesmer, Jr.; 13. 121-Larry Neiderer; 14. 19-Drew Weisser; 15. 9-Matt Adams; 16. 5-Bobby Beard (DNF); 17. Nine-Cam Zeigler (DNF); 18. 22-Chase Billet (DNF); 19. 5M-Jake Moser (DNF). No Time
Lap Leaders – Travis Mease (1-3), Gene Knaub (4-20)
1st Heat (8 Laps) – 1. 1-Gene Knaub; 2. 14-Tyler Horst; 3. 7-Pat Beard; 4. 4-John Moser, Jr.; 5. 151-Kyle Lear; 6. 51-Barry Lear; 7. 121-Larry Neiderer; 8. Nine-Cam Zeigler (DNF); 9. 9-Matt Adams (DNF); DNS – 22-Chase Billet. No Time
2nd Heat (8 Laps) – 1. 5-Bobby Beard; 2. 116-Travis Mease; 3. 4S-Danny Snyder; 4. 112-Alan Sagi; 5. 44-Jimmy Jesmer, Jr.; 6. 19-Drew Weisser; 7. 14B-Brad Shank (DNF); 8. 21A-Troy Swindell (DNF); DNS – 5M-Jake Moser. No Time
Super Sportsman:
Feature (25 Laps) – 1. 93-carmen Perigo, Jr.; 2. 33-Scott Geesey; 3. 77-Russ Mitten; 4. 3B-Mike Enders; 5. 00-Rick Barr; 6. 11-Steve Fannasy; 7. 45-Dave Socks; 8. 318-Chris Meleason; 9. 17-Steve Wilbur; 10. B1-Joey Biasi; 11. 75-Kenny Edkin; 12. 7-Todd Leonard; 13. 25-Bobby Hockenberry; 14. 77W-Tom Wykoff; 15. 99C-Chad Smith; 16. 7C-Chad Trout (DNF); 17. 22-Jaremi Hansen (DNF); 18. 32-Gregg Foster (DNF); 19. 99-Frankie Herr (DNF); 20. 99G-Scott Grace (DNF); 21. 222-Jay Fannasy (DNF); 22. 64-Stan Wanner (DNF); 23. 29W-Adam Wray (DNF);24. 8-Rich Eichelberger (DNF). No Time
Lap Leaders – Carmen Perigo, Jr. (1-25)
1st Heat (10 Laps/5 to qualify) – 1. B1-Joey Biasi; 2. 7-Todd Leonard; 3. 11-Steve Fannasy; 4. 99G-Scott Grace; 5. 222-Jay Fannasy; 6. 20W-Davey Walsh; 7. 32-Gregg Foster; 8. 83-Cody Fairchok (DNF). Time – 2:38.90
2nd Heat (10 Laps/5 to qualify) – 1. 33-Scott Geesey; 2. 99-Frankie Herr; 3. 3B-Mike Enders; 4. 77-Russ Mitten; 5. 30-Scott Dellinger; 6. 25-Bobby Hockenberry; 7. 8-Rich Eichelberger; 8. 29-Duaine Smith. Time – 2:31.44 (New 10-Lap Track record, old record was 2:35.56 by Scott Dellinger on 9/14/2013)
3rd Heat (10 Laps/5 to qualify) – 1. 93-Carmen Perigo, Jr.; 2. 00-Rick Barr; 3. 45-Dave Socks; 4. 318-Chris Meleason; 5. 77W-Tom Wykoff; 6. 91-Lanny Hake; 7. 55-Chad Criswell (DNF); 8. 17-Steve Wilbur (DNF). No Time
4th Heat (10 Laps/5 to qualify) – 1.7C-Chad Trout; 2. 22-Jaremi Hanson; 3. 29W-Adam Wray; 4. 64-Stan Wanner; 5. 99C-Chad Smith; 6. 2-Ken Keyton; 7. 75-Kenny Edkin; DNS- 18-Dave Conrad, Jr. No Time
Consolation (10 Laps/4 to qualify) – 1. 8-Rich Eichelberger; 2. 25-Bobby Hockenberry; 3. 32-Gregg Foster; 4. 75-Kenny Edkin; 5. 17-Steve Wilbur; 6. 83-Cody Fairchok; 7. 91-Lanny Hake; 8. 18-Dave Conrad, Jr.; DNS – 20W-Davey Walsh, 29-Duaine Smith, 2-Ken Keyton, 55C-Chad Criswell. Time – 2:47.13