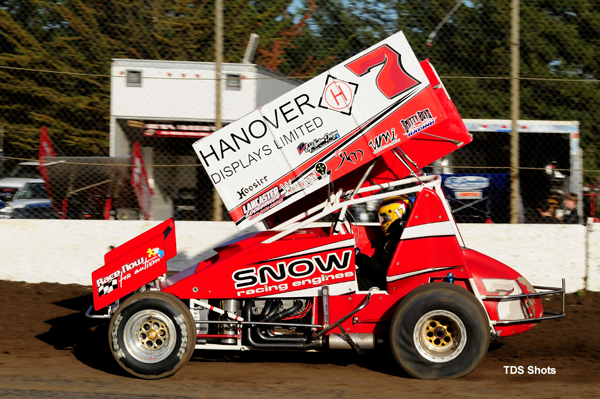 PETERSEN MEDIA
 Over the last few seasons, Justin Sanders has been close to picking up a win at the Placerville Speedway but had fell short numerous times. That all changed on Saturday night when the Prunedale, CA driver dominated the 25-lap feature event to claim his first win at the tight bullring.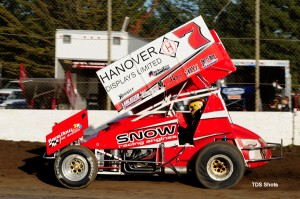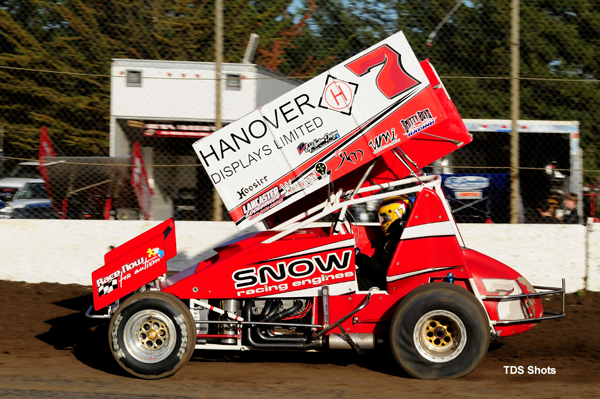 With 22-cars on hand in front of another packed house, Sanders timed his Rudy Warrington entry in second fastest, putting him in the second row of his heat race.
Scoring a third place finish in heat race action, Sander was eligible for the redraw, and as fate would have it, he would pull the one-pill, putting him on the front row of the 25-lap affair alongside many time Placerville feature event winner, Greg DeCaires.
Poised and primed to pick up that elusive first victory, Sanders was hard on the throttle when the green lights flashed, as he jumped into the early lead, with DeCaires hot on his tail.
As laps clicked off and Sanders approached lapped traffic on a handful of occasions, the yellow would fly, and though he would have to restart with DeCaires hot on his tail, he had clean track ahead of him.
When the checkered flag waived, it was Sanders picking up that first feature event, as he was very excited as he saluted the crowd in victory lane.
"I can't thank Rudy and Bev Warrington enough for sticking with me," Sanders said. "We got off to a tough start to the year, but to finally pick up a win here is pretty special, and hopefully we can start clicking them off now."
Justin Sanders would like to thank North County Plastering, G&N Construction, STS Trucking, Lancaster Locksmith, Village Glass. Lufos Kustom Designs, Taco Bravo, LRB Race Products, Petersen Media, Fire Protection Management, Dirt Solution, Bob Tweedy, Ron Gravelle. Keener Auto Body, and  Dave Haver Racing Engines for their continued support.
ON TAP: Sanders will be in action on Friday night for the opening event with the Ocean Sprints presented by Taco Bravo at the Ocean Speedway aboard his owned Sanders Racing entry.
2014 BY THE NUMBERS: Starts-6, Wins-1, Top-5's-2, Top-10's-3
STAY CONNECTED: Stay connected with Justin Sanders by visiting his website, www.teamsandersmotorsports.com.
PETERSEN MEDIA: Petersen Media specializes in motorsports media constructing news releases, both pre and post race, as well as constructing email lists to keep sponsors, and fans up to date. Petersen Media also utilizes today's Social Media networks to provide trackside updates to fans and sponsors, and can customize packages to fit your team's needs.
For more information contact sales@PetersenMediaInc.com, by phone at 916-342-3424,  visit www.petersenmediainc.com, www.facebook.com/petersenmedia or follow @Petersen_Media on twitter.