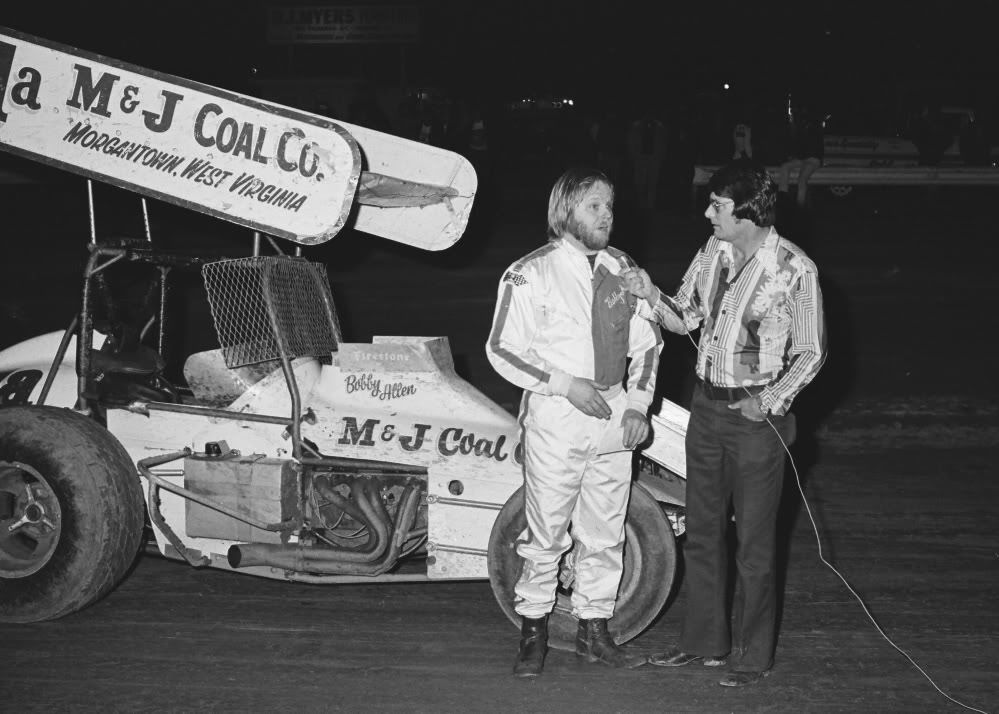 From Linda Mansfield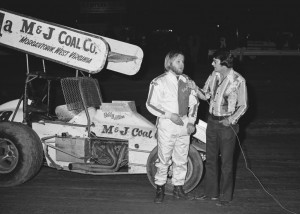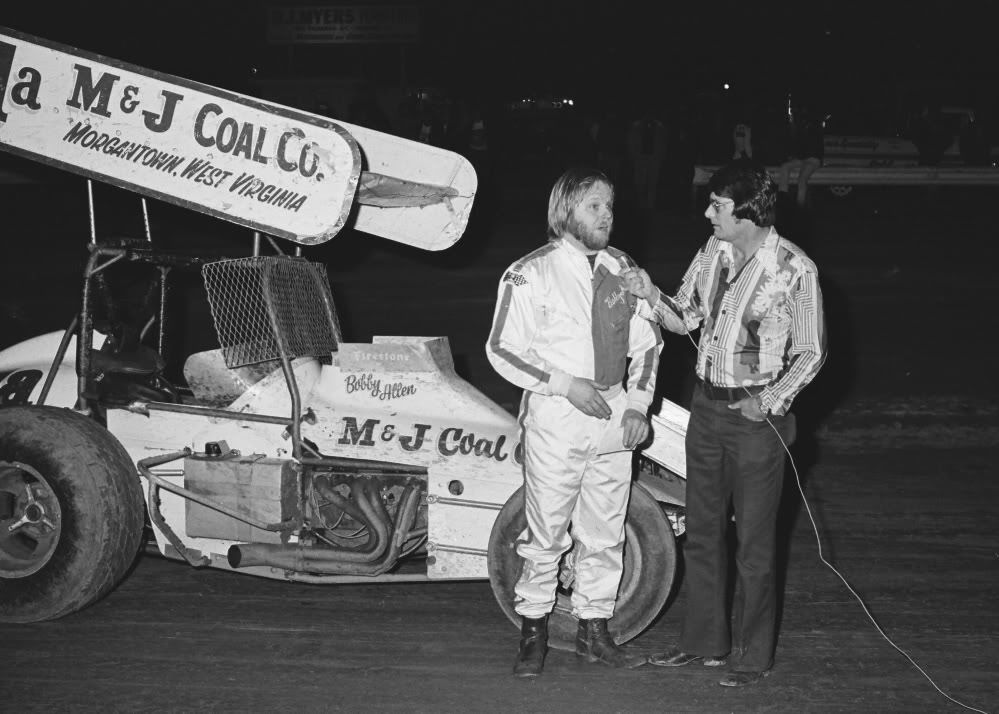 HANOVER, Pa., April 16 — A great deal has changed and a great deal hasn't changed since 1978 when the first World of Outlaws sprint car show ever was staged at Devil's Bowl Speedway in Mesquite, Texas. Bobby Allen of Hanover, Pa., finished third in the series' points that inaugural year, and he'll be on hand at Devil's Bowl for a two-night show this Friday and Saturday to field two Shark Racing sprint cars for Logan Schuchart (#1s) and Jacob Allen (#1a).
Schuchart, Bobby's grandson, and Jacob Allen, Bobby's son, are both rookies in the World of Outlaws STP Sprint Car Series this year, contending for the Kevin Gobrecht Rookie of the Year Award presented by ButlerBuilt. In February the trio left their home base in Hanover, Pa. to embark on a challenging, 10-month schedule of 93 different WoO races at 53 tracks in 24 states and three Canadian provinces.
Bobby Allen, who turned 70 in December, noted that the whole sport has gotten much more professional since Ted Johnson organized the top outlaw (unsanctioned) drivers into a series. Allen said that in the seventies as the drivers traveled from track to track in search of the biggest purses offered that particular weekend, there was a lot more camaraderie among the competitors than what he notices now.
"Before, it was like one big family; it was a band of guys traveling around and having fun along the way," he said. "Today the drivers talk to each other at the track, but they don't seem to hang out with each other much otherwise like we did. It's all more like big business; it's just different."
Allen said some of the drivers would travel together in a convoy, and now and then they'd have cookouts in the tracks' parking lots. After the races they'd lift a beer or two at a local bar or their motel's lounge, and they'd play cards together if a race was rained out.
"It wasn't really poker, but we gambled," he said.  "We'd put $5 at a time in the pot, and a couple of times it got over $100."
He added that the wives and girlfriends following the circuit would usually go shopping during a rainout, and he was sometimes left with the kids.
"That's when they got me, because they'd say they'd be back by 3 and it was really more like 6," he added with a smile.
It wasn't just his own kids he was babysitting, either.
"Kinser's kids were the worst; they'd run in different directions and I couldn't catch them," he said.  "And yes, that includes Kraig," he added, speaking of current WoO driver Kraig Kinser.
"I did small magic tricks for the kids, so I was a pretty popular babysitter," he added. "Just simple things; nothing fancy, but they liked it."
Along with his skills as a driver — he won the 1990 Knoxville Nationals in a career that numbers over 276 sprint car feature victories and put him in the National Sprint Car Hall of Fame — Allen's work as a designer and fabricator are also legendary. His rookies will drive the only Shark chassis in the field at Devil's Bowl.
"Today everything is bought; there are manufacturers for the cars and all the parts; nothing is built out of the garage anymore," he noted.  "It's gotten more business-like down the line.  I'm a little the other way though," he added with a smile.
More borrowing went on too.
"Back when I was driving, people would come to my shop and I'd give them old tires or little things that I had that they might need, and they'd do the same for me," he remembered. "Jimmy Boyd just mentioned a front axle I gave him years ago. Now that I'm back on the road, people are coming up to me and reminding me of things I gave them at one time or another."
It wasn't called paying it forward at the time but those kindnesses are coming back to him now, and he mentioned how thankful he is for help from people like engine builders Don Ott and Charlie Garrett today.
Although sprint car racing is more business-like today, Allen said one thing that hasn't changed much in 36 years is the cars themselves.  "They're basically the same, but the motors and the tires have changed a lot," he said.  "The motors generate more horsepower and stay together longer, and the tires have gotten better too. With every tire company that's been involved in sprint car racing, we've learned something. Nowadays what's big as far as the engines go is the fuel set-ups. We've learned a lot about shocks too; that's really important.
"The technology has gotten much better," he summarized. "But everything costs more and more big business is involved than there was in the past."
To that end, Shark Racing is actively looking for additional sponsors to join its list of supporters, which includes businesses and individuals such as Your Auto Source NAPA Autocare Center, Pell's Tire Service, Marty Thompson, Don Ott Racing Engines, Rich Fogle Custom Pole Buildings, Newman's Towing & Recovery, CnB Mushroom Farms, Brenneman Painting, Speedway 94, Dirt: The Game, Silpada Jewelry, Lebo Skin Care, DMI, Penske Shocks, ButlerBuilt Seats, Tony Stewart Racing and SR Lubricant Solutions.
With this weekend's show, called the Texas Outlaw Nationals presented by American Racing Custom Wheels, the World of Outlaws STP Sprint Car Series is making its first appearance at Devil's Bowl in more than a decade. Former driver Shane Carson is organizing a reunion of some of the drivers who were there in March 1978 when it all started. Included in this year's event is an autograph session for the "original outlaws" like Allen on Saturday afternoon.
Bobby Allen didn't compete in that first race, but he did race at a "test" two-day show that Johnson promoted at Lincoln Speedway in New Oxford, Pa. in 1977. Allen was in plenty of other WoO shows in 1978 though, and he finished third in the very first WoO season behind the champion, Steve Kinser, and Rick Ferkel. Doug Wolfgang and Jack Hewitt rounded out the top five.
Boyd won the series' inaugural event March 18, 1978, ironically in a non-wing car.
Allen said he met Johnson a few years before that first WoO race at a race in Shreveport, La., and he was involved in Johnson's first promotion at Lincoln before the World of Outlaws was formed.
"I just love racing, and I wanted people to see how they ran at places like Knoxville and Manzanita," he said. "Some people had never seen guys run up against the wall like they do at places like that.
"I wanted to have guys like Jimmy Boyd, Doug Wolfgang, Chuck Amati and people like that put on a show at Lincoln, and Ted was talking to all of us about organizing a series," he said.  "Originally it was Ted; me, and my sponsor, the M & J Coal Company, that were going to promote that show at Lincoln, but then they bought me out and I just drove in it. I can't remember exactly when it was or who won though."
Allen has seen a lot of different tracks and been in a lot of races since then too.
Now all his attention is focused on getting Schuchart and Jacob Allen more experience.
They will be getting their first look at Devil's Bowl this weekend. Devil's Bowl is unique because the frontstretch is a little lower than the backstretch, so the drivers go up and down hill during the course of a lap. It will definitely be challenging, but they're both looking forward to experiencing it for themselves.
Fans who can't attend the races at Devil's Bowl can follow along through DirtVision.com. Shark Racing, Schuchart and Allen have Facebook pages and Twitter accounts, and Schuchart has a Web site at Shark1s.com. Team apparel can be purchased through that Web site or at the track. Other information is available on the series' Web site at woosprint.com.