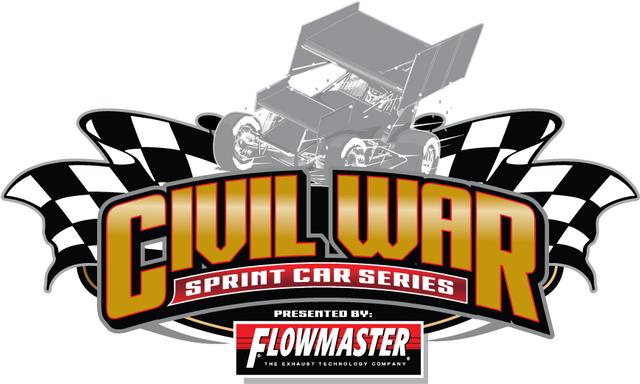 By Gary Thomas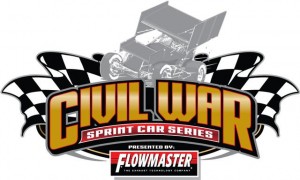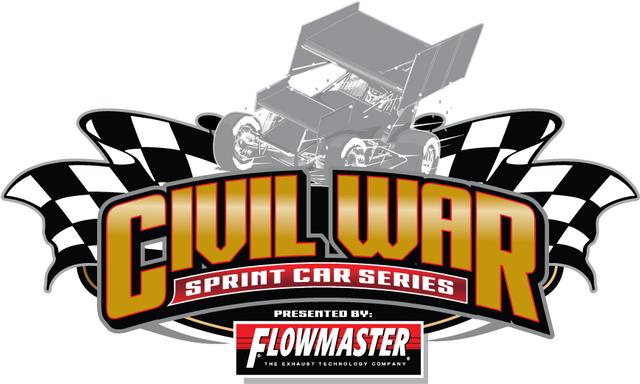 Petaluma, CA – April 24, 2014…When it comes to going fast at the Petaluma Speedway, three-time & defending Civil War Sprint Car Series presented by Flowmaster champion Sean Becker knows a thing or two about that and will look to put it to use during round two of the season on Saturday.
The driver known as the "Shark" has raced to five career Civil War Sprint Car Series victories at Petaluma, including the most recent contest held this past September. Along with those, Becker also has two King of the West 410 Sprint Car Series victories at the 3/8 mile clay oval and a non-sanctioned 360 win, making him one of the heavy favorites on Saturday.
"Petaluma Speedway has always seemed to be a great track for me and I've had a lot of success there in different cars throughout the years," said Becker, who earned his first 410 win there in 2005 driving for Rolfe/Perkins/McMillen Racing. "We were on the podium at the Civil War opener in March and would definitely like to get a win this weekend. We've had speed in this Main Motorsports 35m and I'm really excited for the opportunity to drive for them this year with Civil War and KWS."
Becker will have a number of challengers on Saturday however, including seven-time Civil War Sprint Car Series presented by Flowmaster champion Andy Forsberg of Auburn, who battled Becker for the title right down to the end last season. "Mr. Excitement" has also been very successful in his career at the Petaluma Speedway, having scored six Civil War wins at the track, along with a wingless victory and the non-sanctioned Adobe Cup.
Forsberg currently sits tied for fourth in the standings with Sacramento's Herman Klein after one round of action. Past Civil War Petaluma winner Andy Gregg stands at the top of the points following his victory in the opening race of the season at Marysville. Gregg is coming off the best campaign of his career last season and has started off 2014 every bit as hot as he was last year.
After a strong runner up finish from 12th starting at the opener, Sebastopol's Geoff Ensign goes into his home track ranking second in the standings. The "Human Highlight Reel" has captured victory at Petaluma each of the last two weeks and will be gunning to add a Civil War Series presented by Flowmaster triumph to that string. Penngrove's Alissa Geving earned a podium finish during the most recent Civil War event held at Petaluma and will be another local driver hoping put her car on the front stretch. Geving sits four markers out of the top-five going into Saturday night.
Other drivers looking to take home the money during round two of the Civil War Sprint Car Series presented by Flowmaster season will include Chico's Jonathan Allard, Fremont's Shane Golobic, Sacramento's Willie Croft, Colfax' Colby Wiesz, Penngrove's Chase Johnson, Grass Valley's Jeremy Burt & Billy Wallace, Watsonville's Justin Sanders, Clarksburg's Justyn Cox, Gilroy's Kurt Nelson, Hanford's DJ Netto, Visalia's Steven Tiner, Wilton's Matt Peterson, Vacaville's Joey Magaruh, Fresno's Koen Shaw, Pleasanton's Nathan Washam and many more.
The night of racing will be part of a double header weekend for Prentice Motorsports Group, with the Ocean Sprints presented by Taco Bravo also competing on Friday at Ocean Speedway in Watsonville. If a driver can win on Friday with the Ocean Sprints and then turn around to win on Saturday with the Civil War Sprint Car Series presented by Flowmaster in Petaluma, they will walk away with the "Double Down Blackjack Bonus" presented by Tachi Palace worth $2121. The bonus money is on top of the normal winners share each night, therefore if a driver sweeps the weekend they would earn $5621 for the two nights of racing.
The front gate will open at 4:30pm this Saturday April 26, with racing expected to get underway at 6pm. Adult tickets cost $17, juniors 6 to 11 & seniors 65 & older will be $12, with kids five and under free. All seating is general admission during the night. The Petaluma Speedway is located in the southern part of the wine country at the Sonoma-Marin Fairgrounds just off Highway 101 in Petaluma, California.
Flowmaster is celebrating over 30 years of delivering high performance exhaust systems for cars and now trucks. In 2013, they developed and launched over 100 new full system exhaust kits with the bulk of them truck and SUV. Now you can have that classic American rumble for your truck and SUV. Full stainless and a lifetime warranty will let you know that these systems are built to last. And these systems are bolt-on, something you can do in your driveway in only a couple of hours. More info at
http://www.flowmastermufflers.com/
For more on Prentice Motorsports Group log on to www.racepmg.com