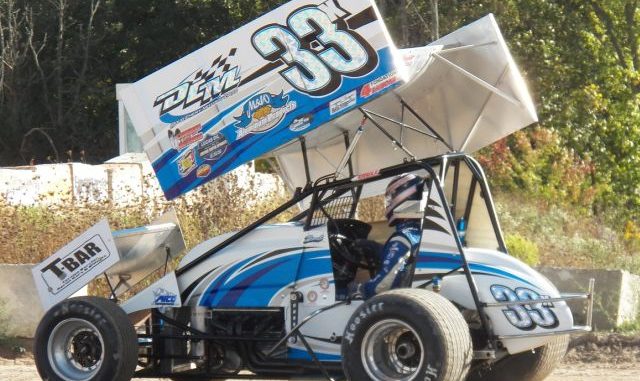 LaFargeville, N.Y. — (April 25, 2014) — It's safe to say that 2013 was a season to forget on the Lucas Oil Empire Super Sprints (ESS) Tour for South Onondaga, NY's Shawn Donath.  That is now a distant memory as he lead all 25 laps to win the 31st Anniversary opener at the Can-Am Motorsports Park and $2,000 that went with it.
"This is a big win for us, not necessarily for me but for the team.  It was frustrating for the Lewandowski family last year and I'm just glad we can get this car in victory lane." said Shawn shortly afterwards.  "They were down after last year, I have been around a long time and know you can have seasons like that but for them getting involved as much as they are, it was tough.  I'm just proud that we all stuck it out and a great way to start the year"
Zach Weigand and Donath were on the front row for the A-Main which also paid points towards the E&V Energy Tour of the States and the SUNY Canton Series.  When starter Matt Burdick displayed the green lights it was Donath's Pitre Painting #53 taking charge.
During the event, the Donath Motor Worx powered mount had to survive several restarts but the car was up too the challenge.  "The car was hooked, I could pull the front end off the ground each time." Donath noted. "Then I could go into turns one and two so deep, I was surprised how deep I could carry my speed and in the middle of the track.  The track was super tonight."
The challengers on those restarts and during the race were stiff…Jessica Zemken, Stewart Friesen and Cory Sparks in the closing stages and took their shots at Donath.  Zemken even got the lead on one restart but it was called back for debris.
"I just chose the bottom, cause, well…it's Can-Am and I just figured that's where it's always been.  But then I would use the middle of the track after that." said the driver that now has six career wins on the ESS tour. "I was waiting for someone to roll the bottom but it never happened."
Zemken faded a bit, Friesen was forced to drop out with a bad magneto while getting ready to make his bid at the top spot.  This left Sparks to take up the challenge who came from the tenth starting spot.
"On the restarts I was lucky to be on the outside, that's where I wanted to be and the car was fast up top." said the driver who proposed to his long time girlfriend Ashley the last time at Can-Am which was also a podium finish. "Each restart I could get such a good run and pick off cars.  There is just something about this place that suits me, I go good here."
The final restart was with four laps to go and Donath had what it took to keep Sparks at bay, defending ESS champion Steve Poirier his 11th place starting spot to take third ahead of Tommy Wickham and Zemken.
Rounding out the top ten were Alain Bergeron, Weigand, Etienne Girard, Matt Tanner and Jeff Cook.  Taking the Car Mate Custom Built Trailer heats were Sparks, Poirier and Wickham.  The Jason Smith Exit Reality/Cobra Coaches Dash was also won by Sparks.
ESS/Can-Am Notes – Despite rain all throughout NY and Canada, 23 sprints made the tow to the north country oval…Yan Bilodeau and Tim Axton made their first ever ESS starts…Axton had mechanical issues and was unable to start the A-Main…both Paul Kinney and Matt Tanner had hauler issues on the way to the track, for Kinney he had to borrow a tow rig to get his car and trailer to the track…Sparks also claimed the Insinger Performance Hard Charger bonus making for a good night…The Lucas Oil Tour visits the Mohawk International Raceway next Sunday for the Atomic Sprint Clash, $2,000 to the winner.
Lucas Oil A-Main – Shawn Donath ($2,100), Cory Sparks, Steve Poirier, Tommy Wickham, Jessica Zemken, Alain Bergeron, Zach Weigand, Etienne Girard, Matt Tanner, Jeff Cook, Joe Trenca, Kevin Ward Jr., Chris Jones, Lee Ladouceur, Jason Barney, James Hanson, Patrick Vigneault, Dave Axton, Yan Bilodeau, Stewart Friesen,, Chuck Hebing, Paul Kinney – DNS – Tim Axton.
Car Mate Custom Built Trailers Heat 1 – Sparks, Zemken, Girard, Friesen, Ward Jr., Cook
Car Mate Custom Built Trailers Heat 2 – Poirier, Vigneault, Donath, Bergeron, Tanner, D. Axton
Car Mate Custom Built Trailers Heat 3 – Wickham, Hebing, Trenca, Weigand, Hanson, Bilodeau.
Jason Smith Realty/Cobra Coaches Dash – Sparks
Lap Leader – Donath 1-25.
Bonuses:
Westward Painting Company Halfway – Donath $100
Fondations 55 Pick 5 – Zemken $50
Insigner Performance Hard Charger – Sparks (8 pos.) $50
Car Mate Trailers Heat – Sparks, Poirier, Wickham $25