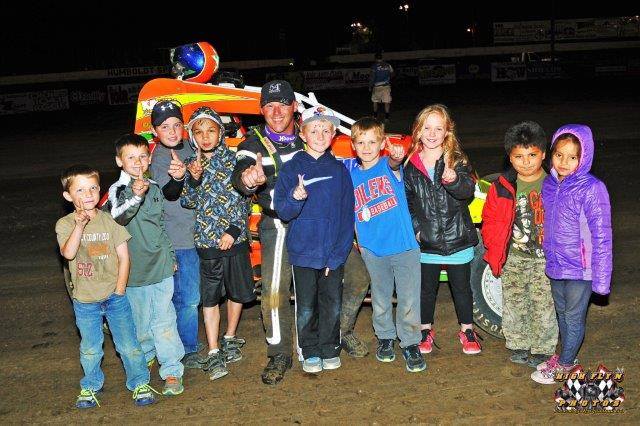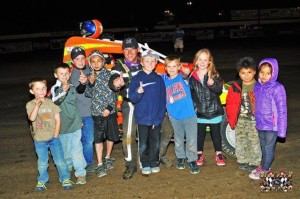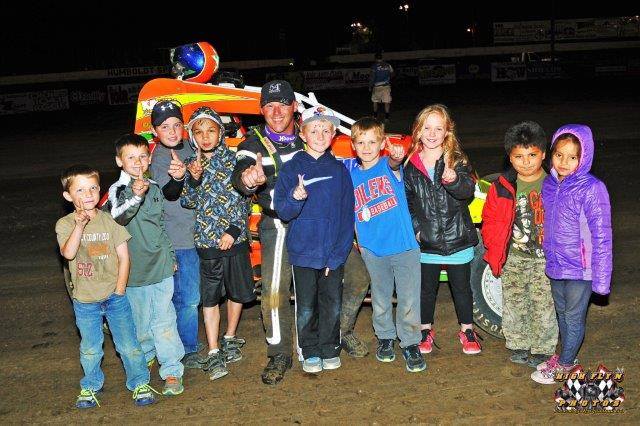 From WAR
Humboldt, KS — (April 25, 2014) — Taking over the lead on lap twenty-two, Chris Parkinson picked up his second career WAR Sprint Series presented by Impact Signs, Awnings, and Wraps win on Friday night at Humboldt Speedway.
Cody Baker took control early from his pole starting position as John Helm and Mitchell Moore battled closely for second. Baker extended his lead as Moore and Parkinson had a nice battle for the runner-up spot. On lap ten, with Baker still in control, Parkinson was able to get by Moore for second.
As Baker continued to lead comfortably, Moore kept second running Parkinson in his sights. At this point, John Helm was fourth and Chad Goff in fifth.
Baker was in control when disaster struck on lap seventeen. Chris Desselle spun at the bottom of turn four. Baker, who had been running the bottom, could not avoid Desselle and collided with him ending both drivers' evening. During the yellow, disaster also struck for second running Moore as he pulled into the pits with a flat tire. Before his tire could be changed, action resumed ending Moore's evening.
With Parkinson setting the pace on the restart, Helm got a great start and was able to get by the Gladstone, MO driver as Goff also worked his way past. By lap twenty, Parkinson was able to mount another charge and worked his way back past Goff. A couple of laps later, Parkinson would work his way past Helm and would go on to the $800 victory in his 54th Street Grill and Bar/Ozarks Barge and Dock Service #65. Helm would hold on to second in his Vee Village Eagle. Goff would come home a solid third in his B&D Racing DRC. Kevin Risley was a strong fourth in his Risley Trash Service Maxim with Devon Huff rounding out the top five in his Lawrence Photo Twister.
The WAR Series will be in action again on Saturday April 26th at the Central Missour Speedway in Warrensburg, MO. Please go to warsprints.com or join the WAR Series on Facebook for the latest information about Wingless Auto Racing.
Time Trials-
1. 51-Mitchell Moore, Edgerton, KS-14.63, 2. 65-Chris Parkinson, Gladstone, MO-14.75, 3. 38-Cody Baker, Lone Jack, MO-14.88, 4. 4U-Devon Huff, Nixa, MO-14.89, 5. 9-Chad Goff, Spring Hill, KS-14.91, 6. 12-John Helm, Kearney, MO-14.93, 7. 24-Kevin Risley, Collinsville, OK-14.93, 8. 27-Bob Thoman, Higginsville, MO-14.93, 9. 11-Dylan Kadous, Topeka, KS-15.13, 10. 19s-Steven Cross, Clinton, MO-15.13, 11. 77-Taylor Walton, Warrensburg, MO-15.18, 12. 09-Josh Stephens, Buckner, MO-15.19, 13. 8-Jeff Wingate, Centertown, MO-15.21, 14. 21C-Chris Desselle, Richmond, MO-15.81
1st Heat-8 laps
1. 77-Taylor Walton (2) 2. 8-Jeff Wingate (1) 3. 51-Mitchell Moore (6) 4. 24-Kevin Risley (4) 5. 11-Dylan Kadous (3) 6. 9-Chad Goff (7)-DNF 7. 38-Cody Baker (5)-DNF
2nd Heat-8 laps
1. 09-Josh Stephens (2) 2. 27-Bob Thoman (4) 3. 65-Chris Parkinson (7) 4. 12-John Helm (5) 5. 19s-Steven Cross (3) 6. 21C-Chris Deselle (1) 7. 4U-Devon Huff (6)-DNF
A-Main- 25 laps
1. 65-Chris Parkinson (5) 2. 12-John Helm (2) 3. 9-Chad Goff (7) 4. 24-Kevin Risley (8) 5. 4U-Devon Huff (6) 6. 09-Josh Stephens (10) 7. 27-Bob Thoman (4) 8. 11-Dylan Kadous (11) 9. 77-Taylor Walton (9) 10. 19s-Steven Cross (12) 11. 8-Jeff Wingate (13) 12. 38-Cody Baker (1)-DNF 13. 51-Mitchell Moore (3)-DNF 14. 21C-Chris Deselle (14)-DNF