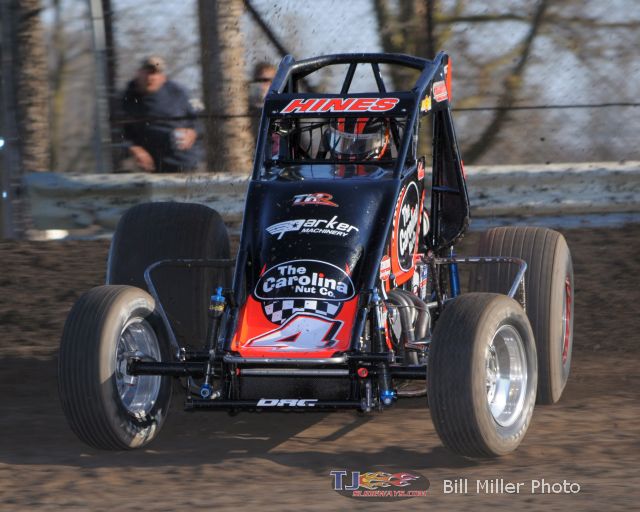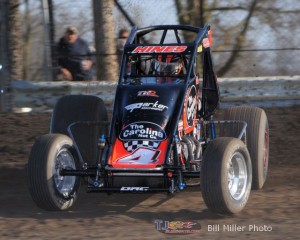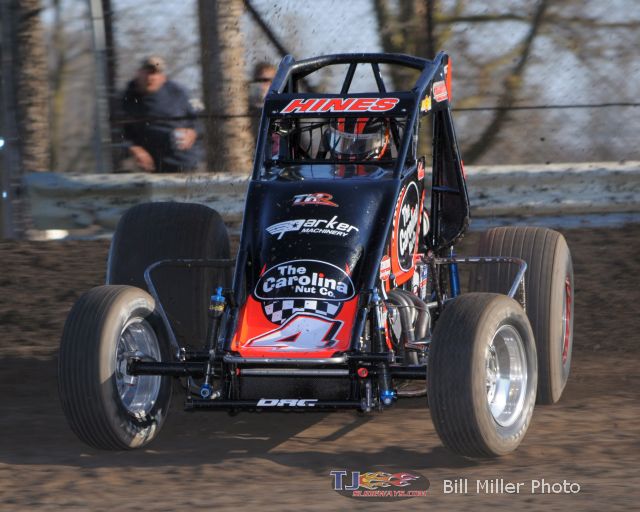 By Tracy Hines Racing PR
NEW CASTLE, Ind.—May 1, 2014— Tracy Hines has raced at plenty of tracks over the years and the veteran driver still is afforded the opportunity once in a while to compete at a venue he has never been to before. This weekend is one of those instances as he will turn his first laps at Junction Motor Speedway in Nebraska, as well as paying a visit to Eagle (Neb.) Raceway for just the second time with the Amsoil USAC National Sprint Car Series.
The doubleheader weekend in the Cornhusker State takes the green flag for the Amsoil USAC National Sprint Car Series on Friday, May 2, at Eagle Raceway near Lincoln, followed by a trip to Junction Motor Speedway in McCool Junction on Saturday, May 3.
"The fans out in the Heartland don't get to see us very often, so it's great to have two nights in a row there," said Hines, driver of The Carolina Nut Company DRC. "Last year Mother Nature didn't cooperate, so we are excited to get back out there and try our hand at Eagle (Raceway) again and see McCool Junction (Junction Motor Speedway) for the first time."
Hines has made one start with the Amsoil USAC National Sprint Car Series at Eagle Raceway in his career. He finished seventh at the high-banked, third-mile in 2012. He opened the night by turning the 10th-fastest lap in time trials. Hines followed that up with a win in the second heat race. The veteran driver lined up 10th for the 30-lap main event and was able to work his way forward to cross the line seventh. Last year's schedule event at Eagle Raceway was rained out.
The Amsoil USAC National Sprint Car Series will be making its debut at Junction Motor Speedway. The state-of-the-art three-eighths-mile is located just south of York, Neb. Hines has made three starts this season on three-eighths-mile tracks, earning second- and sixth-place finished at Bubba Raceway Park in Florida, back in February.
"Eagle (Raceway) is a smaller track, so that is similar to some of the places we run back around home," he noted. "With the banking, you really keep your speed and momentum up all the way around it. Junction (Motor Speedway) sounds like it's a fast place and we have been pretty consistent on tracks like that this year. We were able to get our first win of the season last weekend and hopefully we are able to pick up a few more as the season really gets rolling now."
Last weekend, Hines became just the second driver in USAC history to eclipse the 1,000 National feature start mark, joining Dave Darland, who crossed the plateau earlier this season. Hines was victorious at Gas City (Ind.) I-69 Speedway, picking up his first triumph of the 2014 campaign. He currently sits sixth in the Amsoil USAC National Sprint Car Series standings.
Tracy Hines Racing would like to thank Primary Sponsors:  The Carolina Nut Company, Hansen's Welding Inc,  Elliott's Custom Trailers and Carts, and MPHG Promotions Inc. Associate Sponsors for 2014 include: ProSource Professional Resources, Turbines Inc., Daum Crop Insurance, Parker Machinery,  Stanton Racing Engines and Schipper Family Farms. Product Sponsors that are part of Tracy Hines Racing in 2014 include: Afco Racing Products, Schoenfeld Headers, Autonet Mobile, Indy Race Parts, Bell Racing, Kenny's Components, Race Bumpers, Hoosier Racing Tires, CSI Competition Suspension, Shadow Graphix, Driven Racing Oil, Sander Engineering, Hugh Brothers and Midwest Sheet Metal.
For more information on Tracy Hines Racing, visit http://www.tracyhinesracing.com. Follow Tracy on Twitter at www.Twitter.com/TracyHinesRacin and "Like him" on Facebook at: https://www.facebook.com/Tracyhinesracing.