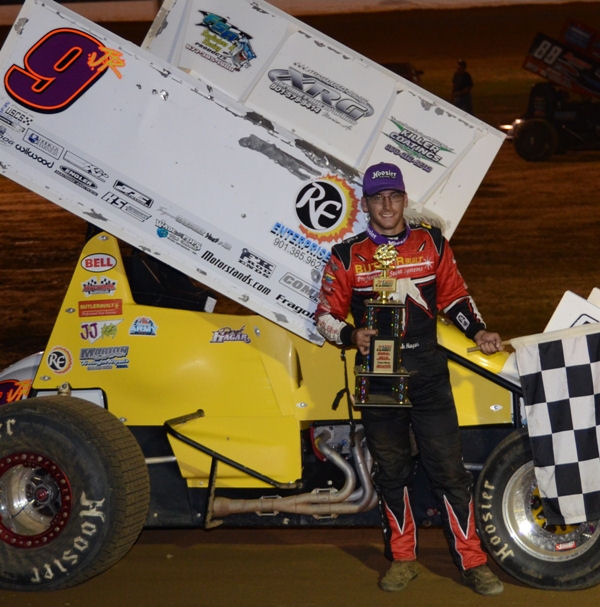 From Bryan Hulbert
West Memphis, AR — (May 3, 2014) — There was not a seat left occupied when the checkered flag fell at the Riverside International Speedway as Derek Hagar came around to a track wide ovation of fans screaming their approval of the winner of the sixth annual Eagle Motorsports Rock 'N Roll 50 presented by MyRacePass.com.
Spending nearly the entire race in a battle with Tim Crawley, the Arkansas shoe swapped the lead countless times with the two-time Rock 'N Roll 50 winner.
"When you race with Tim Crawley, you know it's going to be clean and close racing. He doesn't give an inch on the race track, and I don't give an inch on the racetrack. We're always battling for the lead and I love racing with him," said Hagar of the racing with Crawley for the win.
Earning his first Gibson Guitar, Hagar's victory is also his first against the Lucas Oil American Sprint Car Series presented by MAVTV American Real, marking the second time in as many races that the Rock 'N Roll 50 signified a driver's first ASCS National Tour win as Seth Bergman did it in 2012.
Jumping to the lead at the green, Hagar would surrender the point to Crawley before the first turn with the Mike Ward Racing No. 88 rolling the cushion to the top spot. The only sizable advantage held by Crawley the entire race, the caution flew on Lap 8 as Crawley began working through slower traffic.
Back to green, Hagar kept pace with Crawley as the pair chased down the back markers. Using walls, infield tires, and cars as picks, Hagar finally worked past the No. 88 for the lead on Lap 19.
Exchanging slide jobs at both ends of "The Ditch", the red halted things on Lap 34.
Under the red, Crawley almost saw his night evaporate as the engine billowed steam; depositing what remained in the cooling system on the track as Crawley reported having the temperature gauge pegged and still going before the red.
Able to re-fire, Crawley slid Hagar for the lead on Lap 35 with Hagar returning the favor the following lap. Resuming their festival of slide jobs, the final caution displayed at the white flag; putting the field single file for a green, white, checkered finish with Derek Hagar emerging victorious.
Challenged by Brad Loyet on the final restart, Crawley held on to finish second despite the car vibrating due to the right rear wheel being packed with mud.
"I was giving it everything I had," said a nearly out of breath Tim Crawley. "I guess one time I hit the wall coming off four, I packed the right-rear with mud so it was shaking real bad. I knew it was going to be a struggle to hang on from there, but I think if I hadn't packed that wheel with mud, we might have been able to do slide jobs to the end."
Brad Loyet grabbed the final podium step, moving the Loyet Motorsports No. 05 within 11 markers of Jason Johnson for the point lead.
"I had a really good car, just got hung up behind Jeff Swindell and Johnny Herrera for the better part of half the race," commented Loyet. "Once I cleared them, I really wish I would have had more than about six laps because I could have run with those guys."
Jeff Swindell crossed fourth with Johnny Herrera completing the top five.
Sam Hafertepe, Jr. grabbed sixth from ninth. After having to race in through the B-Feautre, Seth Bergman charged from eighteenth to seventh with Jason Johnson from nineteenth to eighth. Aaron Reutzel crossed ninth from thirteenth with Dalton Davis making up the top ten.
The night saw 33 drivers checking in with the field broke into four Heat Races with Jerod Roller, Tim Crawley, Jeff Swindell, and Zach Pringle earning wins. Brad Bowden topped the night's lone B-Feature.
The Lucas Oil ASCS presented by MAVTV American Real competes next at the McCarty Auto Group KC Klassic at Lakeside Speedway in Kansas City, Kansas on Thursday, May 8. Tickets are on sale at http://www.tbjpromotions.com.
For continued updates on the Lucas Oil ASCS National Tour, log onto http://www.ascsracing.com.
Lucas Oil ASCS presented by MAVTV American Real
Riverside International Speedway – West Memphis, Ark.
6th annual Eagle Motorsports Rock 'N Roll 50
Saturday, May 3, 2014
Car Count: 33
Heat Races presented by SpeedMart – 8 Laps, winners plus top 12 in passing points to A-Feature.
Heat 1 (8 Laps): 1. 5-Jerod Roller[1]; 2. 8X-Chris Williams[3]; 3. 40-Howard Moore[6]; 4. 05-Brad Loyet[8]; 5. 21-Jan Howard[2]; 6. 27-Curt Terrell[4]; 7. 17-Blake Hahn[9]; 8. 1-Nic Jenkins[7]; 9. 32X-Robert Richardson[5]
Heat 2 (8 Laps): 1. 88-Tim Crawley[2]; 2. 45X-Johnny Herrera[4]; 3. 44-Ronny Howard[1]; 4. 15H-Sam Hafertepe Jr[8]; 5. 41-Jason Johnson[6]; 6. 3H-Brandon Hanks[3]; 7. 18-Tony Bruce Jr[5]; 8. 14-Jordon Mallett[7]
Heat 3 (8 Laps): 1. 94-Jeff Swindell[6]; 2. 95-Matt Covington[1]; 3. 87-Aaron Reutzel[3]; 4. 39-Brad Bowden[4]; 5. 42-Andy McElhannon[7]; 6. 3-A.G. Rains[8]; 7. (DNF) 14H-Chris Hoyt[2]; 8. (DNF) 26-Marshall Skinner[5]
Heat 4 (8 Laps): 1. 9JR-Derek Hagar[2]; 2. 14Z-Zach Pringle[1]; 3. 12-Dalton Davis[8]; 4. 23-Seth Bergman[4]; 5. 91-Dale Howard[7]; 6. 1X-Eddie Gallagher[3]; 7. 17G-Cody Gardner[6]; 8. (DNF) 13-Taylor Tidmore[5]
Smiley's Racing Products B-Features – Top 6 advance to the A-Feature.
B Feature 1 (15 Laps): 1. 39-Brad Bowden[1]; 2. 23-Seth Bergman[2]; 3. 41-Jason Johnson[3]; 4. 3-A.G. Rains[4]; 5. 3H-Brandon Hanks[8]; 6. 17-Blake Hahn[5]; 7. 14-Jordon Mallett[14]; 8. 17G-Cody Gardner[10]; 9. 27-Curt Terrell[7]; 10. 13-Taylor Tidmore[16]; 11. 1-Nic Jenkins[13]; 12. 1X-Eddie Gallagher[9]; 13. 18-Tony Bruce Jr[11]; 14. 26-Marshall Skinner[15]; 15. 32X-Robert Richardson[17]; 16. (DNF) 21-Jan Howard[6]; DNS 14H-Chris Hoyt
Protect the Harvest A-Feature
A Feature (50 Laps): 1. 9JR-Derek Hagar[1]; 2. 88-Tim Crawley[2]; 3. 05-Brad Loyet[3]; 4. 94-Jeff Swindell[8]; 5. 45X-Johnny Herrera[7]; 6. 15H-Sam Hafertepe Jr[9]; 7. 23-Seth Bergman[18]; 8. 41-Jason Johnson[19]; 9. 87-Aaron Reutzel[13]; 10. 12-Dalton Davis[5]; 11. 40-Howard Moore[6]; 12. 17-Blake Hahn[22]; 13. 3H-Brandon Hanks[21]; 14. 5-Jerod Roller[4]; 15. 44-Ronny Howard[14]; 16. (DNF) 91-Dale Howard[16]; 17. (DNF) 18-Tony Bruce Jr[23]; 18. (DNF) 42-Andy McElhannon[15]; 19. (DNF) 3-A.G. Rains[20]; 20. (DNF) 8X-Chris Williams[10]; 21. (DNF) 39-Brad Bowden[17]; 22. (DNF) 95-Matt Covington[11]; 23. (DNF) 14Z-Zach Pringle[12]
Lap Leader(s): Tim Crawley 1-18, 35; Derek Hagar 19-34, 36-50
KSE Hard Charger: Seth Bergman +11
Hawk Performance Fastest Lap: Tim Crawley – 12.431 seconds
CSI Rebound: Matt Covington
Provisional(s): Tony Bruce, Jr. (P1)
=======================================================
2014 A-Feature Winner(s): Aaron Reutzel -2, Rico Abreu – 2, Tony Bruce, Jr. – 1, Patrick Stasa – 1, Derek Hagar – 1
2014 Lucas Oil ASCS Driver Standings (Top 10): 1. Jason Johnson 838; 2. Brad Loyet 827; 3. Johnny Herrera 805; 4. Sam Hafertepe, Jr. 800; 5. Jeff Swindell 798; 6. Aaron Reutzel 781; 7. Tony Bruce, Jr. 781; 8. Seth Bergman 754; 9. Matt Covington 745; 10. Blake Hahn 726;