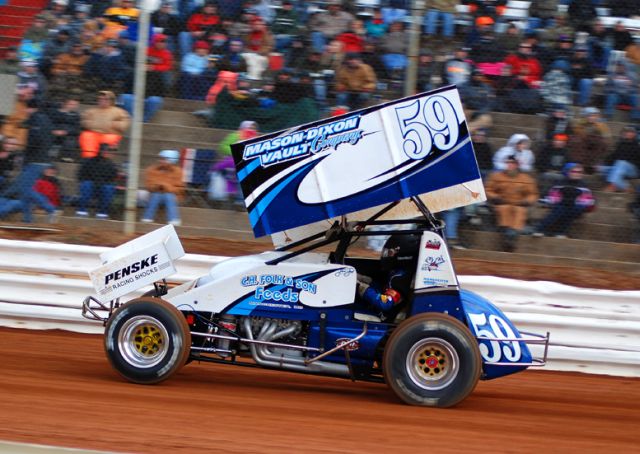 From Bill Meyer
Abbottstown, PA — (May 3, 2014) — Jim Siegel collected the $7,000 top prize in claiming the 33-lap 410 sprint car feature win in the 11th Annual Weldon Sterner memorial at Lincoln Speedway Saturday night.
A heavy and tacky track resulting from a 45-minute rain delay made for super-fast speeds, and the last 25 laps went non-stop.
"Oh, man…I'm whipped. It was a tough race track. It was fast all night and pretty demanding," said Siegel upon exiting the Mason-Dixon Vault Company #59 in victory lane.
Siegel started on the front row beside polesitter Brian Leppo, who was subbing for vacationing Brian Montieth and the Jerry Parrish #21, which carried the Sterner Cement #69 logo on the top wing.
Leppo grabbed the lead at the outset and led the first seven laps before bobbling in turn two and opening the door for Siegel's race-winning move.
"Brian got up front there and I didn't know if I'd catch him. I think he was pushing real hard," said Siegel, "It was only the second time he was in the car, so he was trying to feel things out a little bit and got over the cushion and I got by him."
Siegel led the rest of the way, despite late-race pressure from Greg Hodnett, who set fast time on the night, started sixth and caught Leppo for second on lap 11. Leppo settled for third, with Kyle Moody and Gerard McIntyre, Jr. completing the top five. Moody and McIntyre both finished where they started.
"With all those (early) cautions, I was worried about my tire bleeding down. But we got going there," said Siegel, "I got to lapped traffic, and they're tough. (Fred) Rahmer's boys ran 13.4's in time trials and it's, like, they're sixth race! There's a lot of good competition out here, and the race seemed to last forever. We put a fresh Don Ott engine in tonight, and it just ripped all night."
Sixth through tenth were 21st-starting and hard-charger Danny Dietrich (who actually went to the pits and made repairs after losing a front wing in a multi-car crash in turn two of lap three), Robbie Kendall, Alan Krimes, Cory Haas, and 18th-starting Lance Dewease.
Heats for the 410 sprinters were won by Kendall, Siegel, Freddie Rahmer, and Leppo, with Glenndon Forsythe winning the consolation. Fast time in time trials over the 34-car field was set by Greg Hodnett with a one-lap time of 13.156 seconds (102.615 MPH).
16-year-old Matt Campbell, still on his six-month learning permit to drive a car in Pennsylvania, came from eighth starting spot to grab the lead from polesitter Ryan Higgins on lap four and drove to a convincing 2.97-second win in the 20-lap 358 sprint car feature.
It was Campbell's second career Lincoln win and third career win overall.
12th-starting Niki Young reclaimed the points lead with a second-place finish, followed by Tyler Esh, Chandler Leiby, and Mike Bittinger in the Michael Markey #31.
Heats for the 24 358 sprinters were won by Brie Hershey, Esh, and Leiby.
Hunter Nester claimed his first career Lincoln win in the 20-lap All-American Outlaw feature. Nester started beside polesitter Randy Doty and followed Doty the first lap before Doty suddenly slowed on the back stretch and came to a stop on lap two.
Nester received race-long pressure from Tim Fake, who was actually scored the leader in side-by-side racing on laps 14 and 15. Nester reclaimed the lead from Fake on lap 16, and led the rest of the way, with Fake fading to fourth at the end.
Dylan Keim made a late-race charge to cross second, with Kurt Zimmerman coming from 15th-starting spot to finish third.
Rounding out the top five was Jim Minter.
Heats for the 20 All American Outlaws were won by Doty and Nester.
Next Saturday, May 10th, it will be PROSPECT METAL & USED AUTO PARTS NIGHT along with Dover Elementary Night as the 410 Sprinters will be tuning up for the invading World of Outlaw show coming up on Wed., May 14th. Time trials will get underway at 7:30 PM. Joining them will be the 358 Sprints & Central PA Legends. Gates open at 5:30 PM.
To get all the latest news, results, schedule changes and rule changes, visit Lincoln Speedway's website at http://www.lincolnspeedway.com or join them on Facebook (https://www.facebook.com/lincolnspeedway) or Twitter (@lincolnspeedway) to stay up-to-date on all the action or pending weather conditions at Central Pennsylvania's "Premier" Saturday night race track – The Fabulous Lincoln Speedway.
Saturday, May 3, 2014
LINCOLN SPEEDWAY
Abbottstown, PA
11TH ANNUAL WELDON STERNER MEMORIAL
LAWRENCE CHEVROLET 410 SPRINTS:
Feature (33 Laps) – 1. 59-Jim Siegel ($6,900); 2. 27-Greg Hodnett; 3. 69-Brian Leppo; 4. 99M-Kyle Moody; 5. 16-Gerard McIntyre, Jr.; 6. 48-Danny Dietrich; 7. 55K-Robbie Kendall; 8. 87-Alan Krimes; 9. 11C-Cory Haas; 10. 14-Lance Dewease; 11. 25-Aaron Ott; 12. 15-Adam Wilt; 13. 51-Freddie Rahmer; 14. 8-Billy Dietrich; 15. 35-Steve Owings; 16. 92-Tyler Ross; 17. 88-Brandon Rahmer (DNF); 18. 75-Nicole Bower (DNF); 19. 2W-Glenndon Forsythe (DNF); 20. 29-Ryan Wilson (DNF); 21. 37-JJ Grasso (DNF); 22. 94-Ryan Smith (DNF); 23. 45-Kevin Nagy (DNF); 24. 22T-Matt Boland (DNF). No Time
Lap Leaders – Brian Leppo (1-6), Jim Siegel (7-33)
1st Heat (10 Laps/5 to qualify) – 1. 55K-Robbie Kendall; 2. 37-JJ Grasso; 3. 87-Alan Krimes; 4. 27-Greg Hodnett; 5. 25-Aaron Ott; 6. 2W-Glenndon Forsythe; 7. 92-Tyler Ross; 8. 21K-Kyle Reinhardt; 9. 91-Niki Young. Time – 2:15.569
2nd Heat (10 Laps/5 to qualify) – 1. 59-Jim Siegel; 2. 16-Gerard McIntyre, Jr.; 3. 75-Nicole Bower; 4. 48-Danny Dietrich; 5. 29-Ryan Wilson; 6. 14-Lance Dewease; 7. 4-John Rudisill; 8. 59A-Alex Schanz; 9. 2-Mike Thomas (DNF). Time – 2:14.017
3rd Heat (10 Laps/5 to qualify) – 1. 51-Freddie Rahmer; 2. 15-Adam Wilt; 3. 8-Billy Dietrich; 4. 99M-Kyle Moody; 5. 22T-Matt Boland; 6. 56-Tim Wagaman; 7. 21T-Scott Fisher; 8. 21A-Will Rose (DNF). Time – 2:14.113
4th Heat (10 Laps/5 to qualify) – 1. 69-Brian Leppo; 2. 35-Steve Owings; 3. 11C-Cory Haas; 4. 88-Brandon Rahmer; 5. 94-Ryan Smith; 6. 12-Mike Bittinger; 7. 45-Kevin Nagy; 8. 6K-Chris Knopp. Time – 2:14.462
Consolation (10 Laps/4 to qualify) – 1. 2W-Glenndon Forsythe; 2. 14-Lance Dewease; 3. 92-Tyler Ross; 4. 45-Kevin Nagy; 5. 56-Tim Wagaman; 6. 12-Mike Bittinger; 7. 21A-Will Rose; 8. 21K-Kyle Reinhardt; 9. 4-John Rudisill; 10. 21T-Scott Fisher; 11. 91-Niki Young; 12. 59A-Alex Schanz; DNS – 6K-Chris Knopp, 2-Mike Thomas. Time – 2:17.035
TIME TRIAL RESULTS – 1. 27-Greg Hodnett, 13.156 seconds (102.615 MPH); 2. 16-Gerard McIntyre, 13.225; 3. 35-Steve Owings, 13.264; 4. 99m-Kyle Moody, 13.264; 5. 87-Alan Krimes, 13.291; 6. 29-Ryan Wilson, 13.302; 7. 11C-Cory Haas, 13.321; 8. 15-Adam Wilt, 13.347; 9. 37-JJ Grasso, 13.408; 10. 59-Jim Siegel, 13.425; 11. 8-Billy Dietrich, 13.433; 12. 69-Brian Leppo, 13.435; 13. 55K-Robbie Kendall, 13.441; 14. 75-Nicole Bower, 13.468; 15. 51-Freddie Rahmer, 13.492; 16. 88-Brandon Rahmer, 13.562; 17. 2W-Glenndon Forsythe, 13.568; 18. 14-Lance Dewease, 13.580; 19. 21A-Will Rose, 13.603; 20. 94-Ryan Smith, 13.609; 21. 25-Aaron Ott, 13.613; 22. 48-Danny Dietrich, 13.623; 23. 22T-Matt Boland, 13.631; 24. 45-Kevin Nagy, 13.645; 25. 92-Tyler Ross, 13.739; 26. 59A-Alex Schanz, 13.816; 27. 56-Tim Wagaman, 13.824; 28. 12-Mike Bittinger, 13.825; 29. 21K-Kyle Reinhardt, 13.937; 30. 4-John Rudisill, 14.015; 31. 21T-Scott Fisher, 14.017; 32. 6K-Chris Knopp, 14.163; 33. 91-David Quackenbush, 14.814; 34. 2-Mike Thomas, 15.571
358 SPRINTS:
Feature (20 Laps) – 1. 16-Matt Campbell; 2. 91-Niki Young; 3. 35-Tyler Esh; 4. 119-Chandler Leiby; 5. 31-Mike Bittinger; 6. 01-Rick Horn; 7. 38-Mark Strickler; 8. 2D-Chase Dietz; 9. 89-Ashley Cappetta; 10. 21-CJ Tracy; 11. 27-Jay Galloway; 12. 29-Chris Arnold; 13. 38D-Kyle Denmyer; 14. 5A-Brian Allman; 15. 47-Michael Hamer (DNF); 16. 13-Ryan Higgins (DNF); 17. 97-Brie Hershey (DNF); 18. 45H-Jeff Halligan (DNF); 19. 10-Zach Eucalano (DNF); 20. 66A-Cody Fletcher (DNF); 21. 66-Doug Hammaker (DNF); 22. 3W-Duane Watson (DNF); 23. 28-Matt Findley (DNF); DNS – 19-Troy Wagaman, Jr. No Time
Lap Leaders – Ryan Higgins (1-3), Matt Campbell (4-20)
1st Heat (10 Laps) – 1. 97-Brie Hershey; 2. 66A-Cody Fletcher; 3. 31-Mike Bittinger; 4. 91-Niki Young; 5. 3W-Duane Watson; 6. 19-Troy Wagaman, Jr.; 7. 5A-Brian Allman; 8. 38-Mark Strickler. Time – 2:28.38
2nd Heat (10 Laps) – 1. 35-Tyler Esh; 2. 45H-Jeff Halligan; 3. 89-Ashley Cappetta; 4. 16-Matt Campbell; 5. 28-Matt Findley; 6. 21-CJ Tracy; 7. 29-Chris Arnold; 8. 47-Michael Hamer. Time – 2:27.00
3rd Heat (10 Laps) – 1. 119-Chandler Leiby; 2. 13-Ryan Higgins; 3. 01-Rick Horn; 4. 66-Doug Hammaker; 5. 2D-Chase Dietz; 6. 10-Zach Eucalano; 7. 27-Jay Galloway; 8. 38D-Kyle Denmyer. Time – 2:23.41
ALL AMERICAN OUTLAWS:
Feature (20 Laps) – 1. 1N-Hunter Nester; 2. 07-Dylan Keim; 3. 9A-Kurt Zimmerman; 4. 100-Tim Fake; 5. 1-Jim Minter; 6. 99-Bryan Green; 7. 95-Justin Cullum; 8. 89-Carnie Fryfogle; 9. 11-Al Daniels; 10. 00-Scott Jorda; 11. 01-Paul Todd; 12. 71-Jim Chenowith; 13. 33-Justin Mathis; 14. 66-dave Egge; 15. 53-Tony Jorda; 16. 19R-Roy Denike (DNF); 17. 29-Phil Williams (DNF); 18. 21-Danny Gladhill (DNF); 19. 6-Randy Doty (DNF); 20. 3M-Steve Jorda (DNF). No Time
Lap Leaders – Randy Doty (1), Hunter Nester (2-13), Tim Fake (14-15), Hunter Nester (16-20)
1st Heat (8 Laps) – 1. 6-Randy Doty; 2. 9A-Kurt Zimmerman; 3. 100-Tim fake; 4. 1-Jim Minter; 5. 07-Dylan Keim; 6. 00-Scott Jorda; 7. 19R-Roy Denike; 8. 71-Jim Chenoweth; 9. 66-David Egge; 10. 21-Danny Gladhill. Time – 2:40.22
2nd Heat (8 Laps) – 1. 1N-Hunter Nestor; 2. 01-Todd Paul; 3. 99-Bryan Green; 4. 89-Carnie Fryfogle; 5. 95-Justin Cullum; 6. 3M-Steve Jorda; 7. 11-Al Daniels; 8. 33-Justin Mathis; 9. 53-Tony Jorda; 10. 29-Phil Williams. Time – 2:40.93