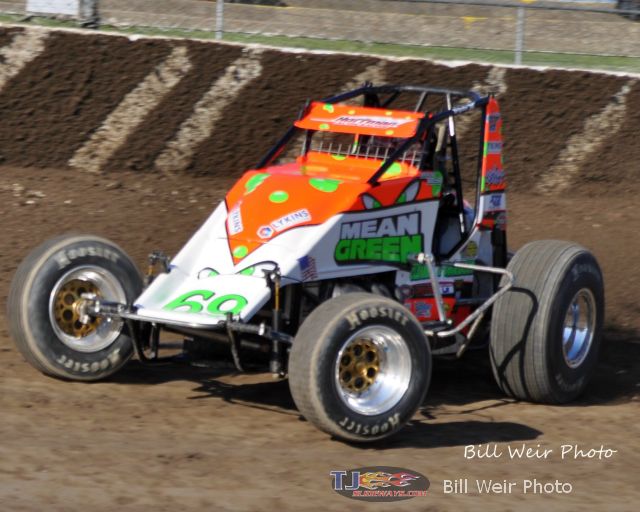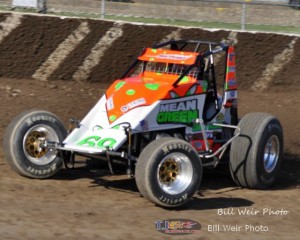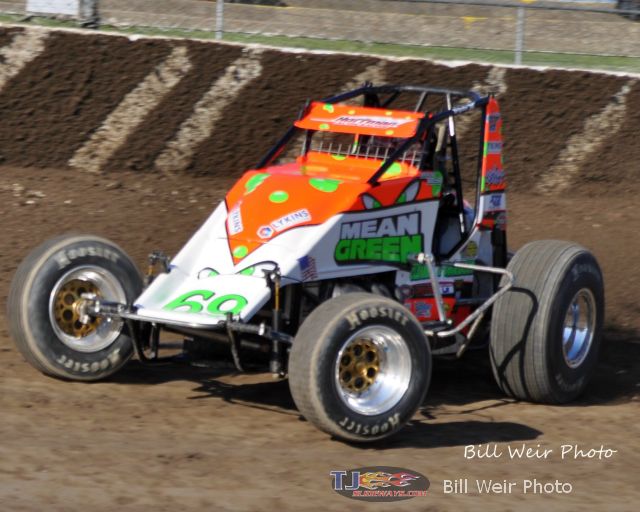 By Bill W
May 5, 2014 – Brady Bacon and the Hoffman Racing #69 team left Nebraska last weekend with the lead in the USAC National Sprint Car standings.  The team scored a third place finish Friday at Eagle Raceway near Eagle, and a second place finish at the Junction Motor Speedway near McCool Junction.  This weekend, the Broken Arrow, Oklahoma driver will be back aboard his Brady Bacon Racing #99 for World of Outlaws action in Jacksonville, Illinois on Wednesday and Haubstadt, Indiana Saturday.
Brady started the weekend at Eagle on Friday by timing in twelfth quick.  "We didn't qualify very well," he says.  "That put us a ways back in the feature.  We were able to get through the heat race with no issues though (finishing second)."
Starting twelfth in the main event, Brady charged forward to the show position.  "I raced with Justin Grant so long for second," he says of his ride on the banked 1/3-mile oval.  "I had to run the bottom, and he was on top.  I just wasn't quite good enough to get by him.  We had to settle for third.  We were good on either the top or the bottom.  We were one of the few cars that could do that well."
Things got interesting in the late stages.  "Grant got to (leader Dave) Darland later in the race," says Brady.  "I could just never clear him.  I tried to kind of slide up in front of him once, but he had a good run and I got left out in the middle.  I lost my momentum, but we were close.  It was a good rebound from having to start twelfth."
The team would register the quick time of the night in McCool Junction.  "We had a good draw in qualifying," says Brady.  "The car was really good.  We seem to be a little better on the bigger tracks in qualifying."
The 3/8-mile oval boded well for Brady's run in the heat as well.  "Our car was good all night," he says.  "We went from sixth to third in the heat, but obviously, the heats were stacked with just two of them being run.  There were a lot of good cars in both heats."
Lining up outside row three for the feature, Brady settled into a groove.  "It took us a while to get going and figure out how the track would play out," he says.  "It ended up being pretty racy.  We wound up running the top in one and two, and the bottom in three and four."
Brady began to move forward in the middle stages of the race.  "Once the guys in front of me started figuring out where they needed to be, we started picking them off," he says.  "I was able to get by Tracy (Hines) for second in traffic.  We were all over (leader) Hunter (Schuerenberg) a couple of times, we just couldn't quite get a good enough run to get past him.  We got side by side with him coming for the white flag, but I didn't get quite a good enough run into one to get him.  I had to settle for second.  It was a fast paced race.  It was tough to get through there from sixth."
Brady and the Hoffman team will lead the USAC points until at least the end of May, when the series hits the Terre Haute Action Track in Indiana on the Wednesday before the Indy 500.  "Getting the points lead was a good thing," says Brady.  "I think we've had the most consistent car so far.  We had one bobble at Gas City that was my fault.  The car has been good every night.  I'm looking forward to the schedule picking up and keeping our momentum."
Brady reflected on why his USAC team has been running so well.  "We got going well at the end of last year," he says.  "We made a couple more changes and that helped.  We got a tire rule change that gave us a clean start too.  We seem to have a good grasp on that."
Meanwhile, this week offers a chance to hone the winged sprint car skills with the Outlaws.  After leading much of the event at Haubstadt last year before a mechanical malfunction cost him a win with the WoO, Brady is ready.
Follow Brady on his Website, Twitter and Facebook!
Follow Brady at his website located at www.BradyBaconRacing.com! Also keep up with him on Facebook and Twitter (which also can be accessed at the website) at the following links…
Twitter Link – http://twitter.com/BradyBacon
Facebook Link – www.facebook.com/pages/Brady-Bacon-Racing/278125555137
Partner of the Week – Tel-Star Communications
Tel-Star Communications, Inc. is a personal communications service company. Tel-Star Communications was formed in October of 2000 to bring you the highest quality service available in this complex market of communications.  With over 50 years of combined experience, Tel-Star Communications brings you the highest expertise and diversity this market has to offer. Each technician has been trained, tested and authorized by the system manufacturer in telephone design, installation, programming, training, troubleshooting, and system maintenance and repair.  Our number one priority is Customer Service and we feel that what we provide is unparalleled with any other service company. Tel-Star Communications will work on any job and will always do it cost effectively. Our philosophy is based on best cost, best product, and what is best for our customer.  Visit Tel-Star Communications on the web at www.Tel-StarCommunications.com!
Associate Marketing Partner of the Week – All Star Performance
The key to success in any car building project, whether race car, street rod, or street machine, is access to high quality, reasonably priced parts that will get the job done right – the first time. Each and every AllStar Performance part came about as a direct result of our dedication to continuous research and development. Once a need for a particular part is established, the parts are designed and manufactured by talented craftsmen, many of whom are racers and hot rodders themselves. Remember, many Allstar Performance parts are one-of-a-kind, you won't find them anywhere else at any price!  Visit them on the web at www.AllStarPerformance.com!
Brady Bacon Racing would like the following sponsors for all their help: Fatheadz Eyewear, Tel-Star Communications, PPM Titanium Products, Triple X Race Components, Smiley's Racing Products, Heath Clips Lawn Care, VanDerBrink Designs, Keizer Aluminum Wheels, Eaton Industrial Coatings, Pattison Precision Products, Oilfield Equipment and Manufacturing, Butlerbuilt Seats, Hoosier Tire Southwest, Diversified Machine Inc., Brown and Miller Racing Solutions, Lightning Wings, Simpson, CP Pistons, Schoenfeld Headers, Carrillo Rods, Sweet Manufacturing, All Star Performance, King Racing, Schroth Racing, FSR Radiators and Fuel Safe.
The Hoffman #69 sprinter is sponsored by Mean Green, Mopar, Triple X Race Components, Hoosier, DMI, Lykins, Engler Machine & Tool, Goodridge Fluid Transfer Systems, KSE, MPD Racing, CSI Shocks, XYZ Machining, Saldana Racing Products, Fuel Safe Racing Cells, Fastener Specialty Motorsports, Wilwood Brakes, Joe Gibbs Driven Racing Oil, Zemco Headers, Chalk Racing Products and Weld.