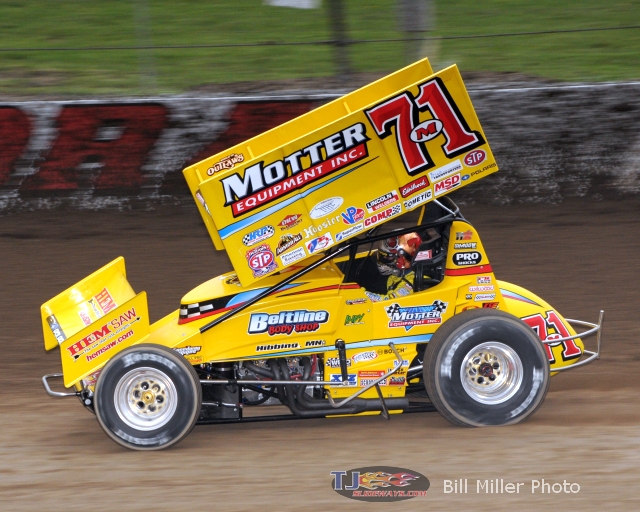 By Susan Arnold
JACKSONVILLE, Ill. (May 5, 2014) – The STP World of Outlaws Sprint Car drivers will make their first ever appearance at Jacksonville Speedway Wed., May 7, and will play to a full house. All grandstand seats for the special event have been sold out.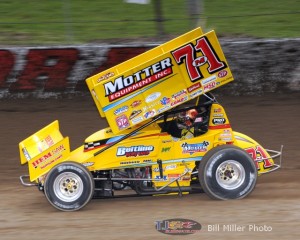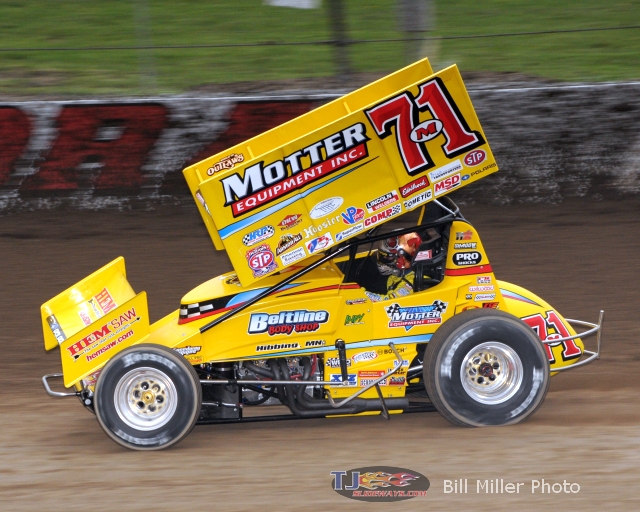 Though for the most part Outlaws drivers and crew chiefs will be starting with a clean sheet of paper for this event in terms of set up combinations, veteran driver Joey Saldana raced at the Jacksonville short track in 1998 and won an All Star race.
The driver of the Motter Equipment HE&M Saw Beltline Body Shop 71M leads the World of Outlaws point standings heading into this event by one point over friend Paul McMahan.  Though the two gutsy drivers share a souvenir trailer and enjoy spending family time together, when it comes to racing, it's gloves off and hammer down.
Saldana leads all drivers in No. 1 qualifying efforts this season with 10 quick times, more than triple the number of his closest quick time competitor, which once again happens to be McMahan.  The Brownsburg Bullet has two victories and a total of eight podium finishes in 21 starts.
Prior to traveling to Jacksonville, Saldana had the opportunity to log some laps around the Indianapolis Motor Speedway.  When Speedway personnel invited him to participate in a private function at the track yesterday (May 4) driving some special guests around the famous 2-1/2 mile oval, Saldana was quick to accept.  Driving a Chevrolet Impala Indy 500 pace car, the Bullet reached speeds in excess of 120 miles per hour.
"I wish I had been driving a race car at 220 miles per hour," said Saldana, "but it's one place I never had the opportunity to race.  I watched my Dad race here in the late 1970s and of course it's the month of May so excitement for the 500 is beginning to build.  I appreciate the opportunity the Speedway offered me.
"Even though this is pavement and we race dirt tracks, you never miss an opportunity to apply your driving skills on different racing surfaces and different styles of tracks.  It is a learning experience.
"I'm looking forward to returning to my 'office' in our Motter Sprint Car Wednesday night in Jacksonville and a big month of racing with 14 races on the WoO schedule this month."