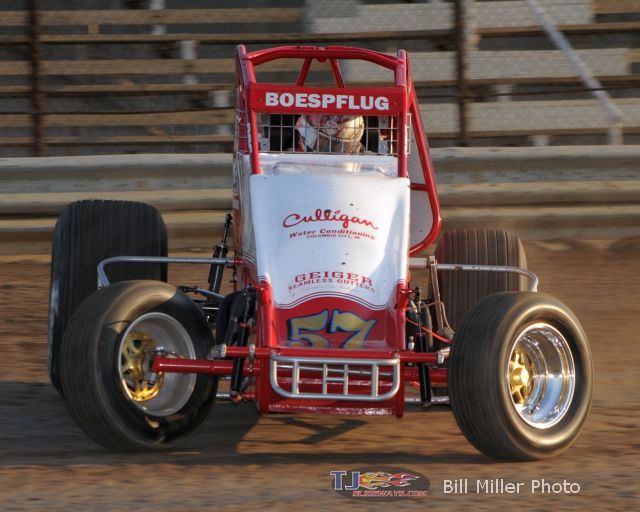 PETERSEN MEDIA
– Taking part of this first three-race weekend of the year, Chad Boespflug and his Paul Hazen team took their lumps, but the team continued to work hard and capped it off with an eight place finish at the Kokomo Speedway on Sunday night.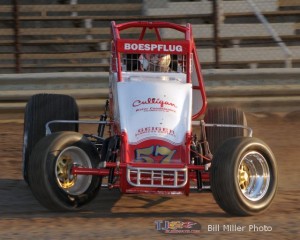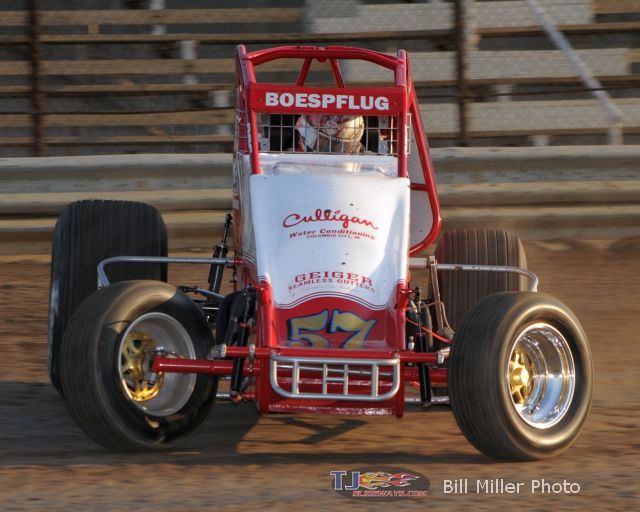 The weekend got off to a shaky start as their tow vehicle broke down on the way to the Bloomington Speedway on Friday night, and initially told they wouldn't make it to the show, they were able to get it fixed and make it to the track during engine warm ups.
Getting shocks bolted on, Boepsflug was able to make some hot laps, and lined up last in his heat race, and was able to work his way up to the third spot at the stripe.
Scheduled to start 12th in the feature, Boespflug felt something go south while lining up, and went to work area where they noticed a broken shock bolt. Starting the race in last with the broken bolt, Boespflug returned to work area to get it fixed during the next yellow.
Making a few more pit stops through the night, Boespflug would ultimately score a 16th place finish.
Heading to the Fremont Speedway on Saturday night, the Plainfield, IN resident, started second in his heat race, and won, and lined up for the feature event in the second row.
On the ultra slick surface, Boespflug quickly jumped into the second spot, but as the race went, Boespflug sealed up his tires, and began slowly dropping through the field, and ended up pulling off, and being scored 21st.
Capping their weekend off at the Kokomo Speedway in Kokomo, IN on Sunday night, Boespflug again had a strong heat race, as he started last and ran fourth to put himself in the feature event.
Lining up in the 14th spot, Boespflug rode the thick Kokomo cushion up to the seventh spot, and in a photo finish with Robert Ballou, he endedup eighth at the stripe.
"It was not really the weekend we were looking to have, but it's part of the sport," he said. "Paul Hazen really gave me a fast racecar all three nights, but we had some issues on Friday and Saturday that cost us some good finishes, but it was nice to end the weekend with a Top-10."
Chad would like to thank Midwest Shades, ButlerBuilt, Creative Finishing, Bell Helmets, Hinchman, Wilwood, Shaw's Vintage Stuff, Bud's Auto Sales, Physical Medical Consultants, K&N, and Weld Wheels for their support.
2014 BY THE NUMBERS: Starts-12, Wins-1, Top 5's-3, Top 10's-4
ON TAP: Chad has another busy week ahead of him as he will be at Gas City on Friday night, Lawrenceburg on Saturday night, and will be back in Kokomo on Sunday night.
STAY CONNECTED: For all of the latest news on Chad, visit his website at www.chadboespflugracing.com, 'like' his Facebook page, www.facebook.com/chadboespflugracing, or follow him on Twitter, @chadboespflug.
PETERSEN MEDIA: Petersen Media is a promotional agency that can handle all your needs for public relations, marketing, and any other promotional needs. Petersen Media utilizes multiple tactics to help you reach, and keep your audience involved.
For more information contact Sales@petersenmediainc.com, 916-342-3424, visit www.petersenmediainc.com, www.facebook.com/PetersenMedia or follow @Petersen_Media on twitter.