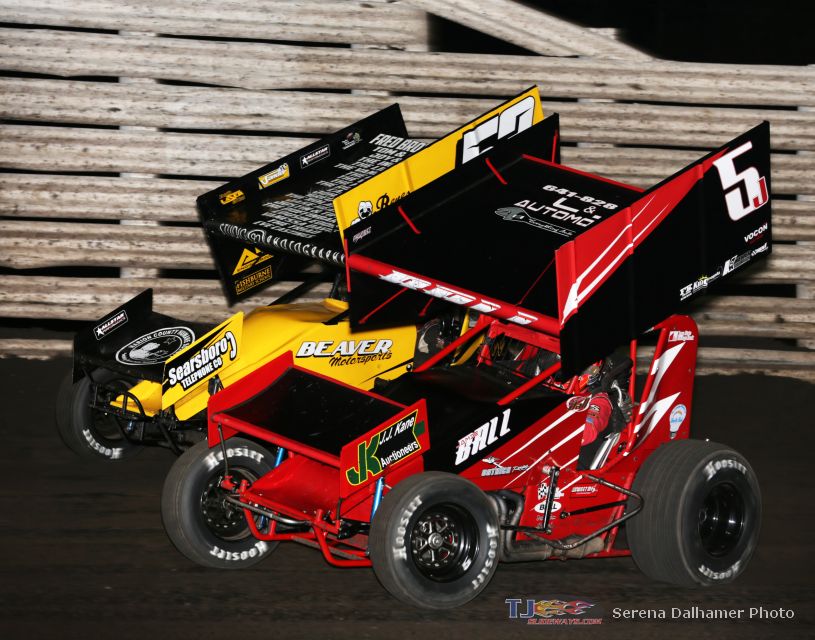 Inside Line Promotions
– KNOXVILLE, Iowa (May 6, 2014) – Jamie Ball led White Lightning Motorsports to its first podium of the season last Saturday at Knoxville Raceway.
After qualifying sixth quickest and placing fourth in his heat race, Ball started on the inside of the second row for the 360ci feature.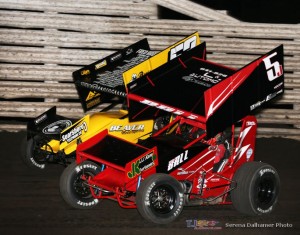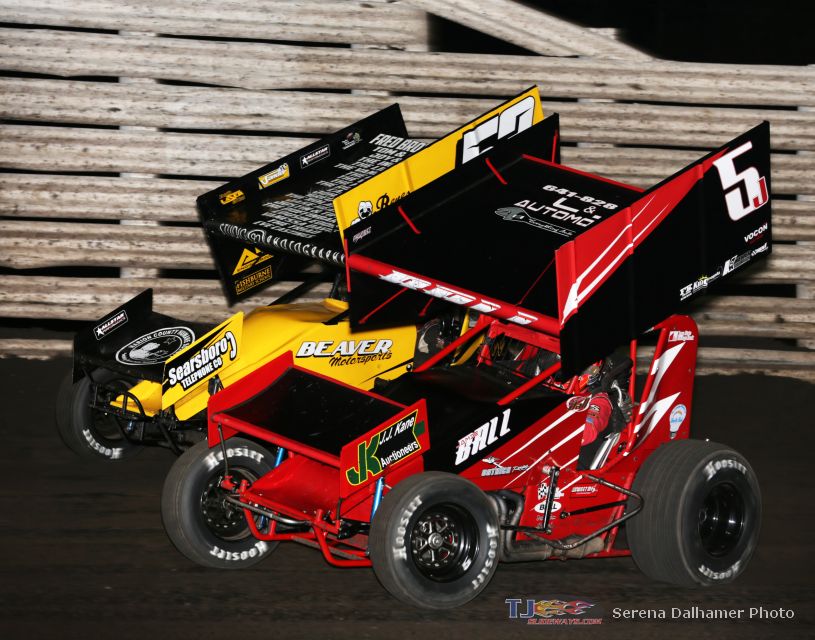 "I ended up getting to second on Lap 2 and I just slowly reeled (leader Joe Beaver) in," he said. "I hadn't planned to run the bottom the entire way around the track. Once I got out there my car was working good. I showed Beaver my nose on Lap 5 and then when he went to block me going into turn three I went to the top and sailed around him to the lead."
After crossing the start-finish line as the leader a caution came out, which bunched up the field with Ball in the top spot.
"On the restart I went in and covered the bottom," he said. "We drag raced down into turn three. I missed the bottom a little bit and he got by me in turn four."
Ball remained in second place throughout the rest of the 15-lap main event before he nearly capitalized on a late caution with three laps remaining.
"I still had a chance and I drove it in as hard as I could on the restart," he said. "Coming to the white flag I was two car lengths behind (Beaver) and I just missed my corners on the last lap. I was there and I had a chance. Being disappointed in second is something that makes me pretty happy."
That was the highlight for White Lightning Motorsports as Larry Ball Jr. continued to learn with the setup in the 410ci class. Ball Jr. qualified 18 th quickest and finished fifth in his heat race to lock himself into the main event. However, Ball Jr. is still battling with the car handling in dirty air and he placed 19th in the feature.
"We've got some different things we're trying," said Jamie Ball, who noted that the team will experiment with different shocks and wings this weekend. "It all starts with being a tick off in qualifying. It puts you behind the eight ball. We've got to fine-tune some details. It's a work in progress."
Devin Kline was sidelined early in his heat race during 305 action. Kline, who qualified fifth quickest, was unable to finish his heat or start the main event because of mechanical issues.
While the team will return to Knoxville Raceway this Saturday, Kline will likely be out for several weeks.
QUICK RESULTS –
JAMIE BALL – May 3 – Knoxville Raceway in Knoxville, Iowa – Qualifying: 6; Heat race: 4 (5); Feature: 2 (3).
LARRY BALL JR. – May 3 – Knoxville Raceway in Knoxville, Iowa – Qualifying: 18; Heat race: 5 (2); Feature: 19 (15).
DEVIN KLINE – May 3 – Knoxville Raceway in Knoxville, Iowa – Qualifying: 5; Heat race: 9 (5); Feature: DNS (-).
SEASON STATS –
JAMIE BALL – 3 races, 0 wins, 1 top five, 2 top 10s, 2 top 15s, 2 top 20s
LARRY BALL JR. – 3 races, 0 wins, 0 top fives, 0 top 10s, 0 top 15s, 2 top 20s
DEVIN KLINE – 3 races, 0 wins, 0 top fives, 0 top 10s, 0 top 15s, 0 top 20s
UP NEXT –
Saturday at Knoxville Raceway in Knoxville, Iowa
MEDIA LINKS –
Jamie Ball Website: http://www.JamieBall.com
Larry Ball Jr. Website: http://www.LarryBallJr.com
Devin Kline Website: http://www.DevinKline.com
Jamie Ball Twitter: http://www.twitter.com/JamieBall5j
Larry Ball Jr. Twitter: http://www.twitter.com/LarryBallJr5j
Devin Kline Twitter: http://www.twitter.com/DevinKline5j
APPAREL –
White Lightning Motorsports has t-shirts and hoodies available for purchase at their race trailers in the infield of each sprint car event at Knoxville Raceway in Knoxville, Iowa.
SPONSOR SPOTLIGHT – Ostrich Racing Engines
Ostrich Racing Engines offers performance 305ci, 360ci and 410ci engines. Along with being a dealer for many of the top product manufacturers, Ostrich also offers a complete machine shop service and dyno facility for the do-it-yourself racers. For more information, visit http://www.OstrichRacingEngines.com.
"We have been utilizing Ostrich power since we started our race team," Jamie Ball said. "Lee and the crew at Ostrich build a great engine and provide great service. At Knoxville Raceway you must have a great engine and Ostrich has been providing us with some of the fastest engines in the country. All of our cars are consistently top qualifiers and top runners and we credit that to our Ostrich Racing Engines."
White Lightning Motorsports would also like to thank L & J Automotive, AIB College of Business, JJ Kane Auctioneers, Van Gorp Construction, Timberline Tree Service, Sweet Manufacturing, Keizer Aluminum Wheels, Vocon Auctioneers, Iowa State Savings Bank, FK Rod Ends, Fragola Performance Systems, King Racing Products, BR Motorsports, Hoosier Tire, Bell Helmets, MPD Racing, Driver Websites, Champion Oil, Wingdance Graphics, Replay XD, The Hearing Clinic, Shell Shock and Hooker Harness for their continued support.
INSIDE LINE PROMOTIONS –
Inside Line Promotions specializes in affordable public relations and media management for motor sports drivers, teams, sponsors, tracks, series, events, organizations and manufacturers. ILP Founder Shawn Miller leverages professional journalism with new media technologies and social networking to improve your exposure and the return on investment for your sponsors.
To meet the media relations needs of your program and to join Team ILP, contact Shawn at 541-510-3663 or InsideLinePromotions@gmail.com. For more information on Inside Line Promotions, visit http://www.InsideLinePromotions.com.