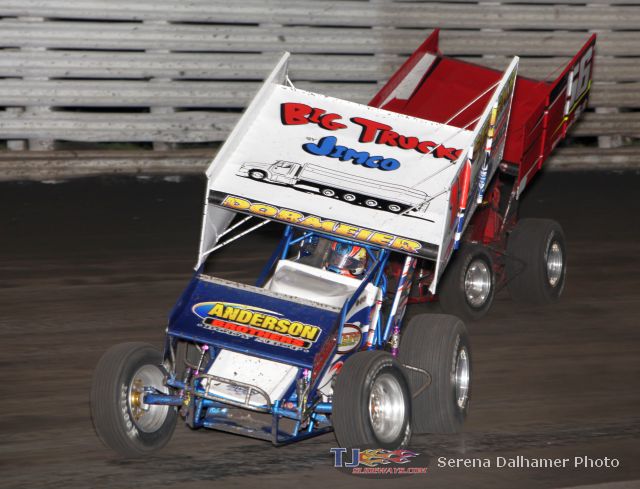 By Bill W
 May 8, 2014 – The ten-hour roundtrip to Knoxville Raceway has been a breeze lately for Mark Dobmeier and the Dobmeier/Lunstra #13 team.  The team is accustomed to racing in Mark's hometown of Grand Forks, North Dakota on Friday, towing ten hours to Knoxville on Saturday, and stopping at Huset's Speedway near Brandon, South Dakota on the way home Sunday.  Knoxville has been the only track in action the past three weeks, and Mark finished twelfth there last Saturday night.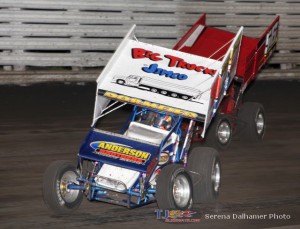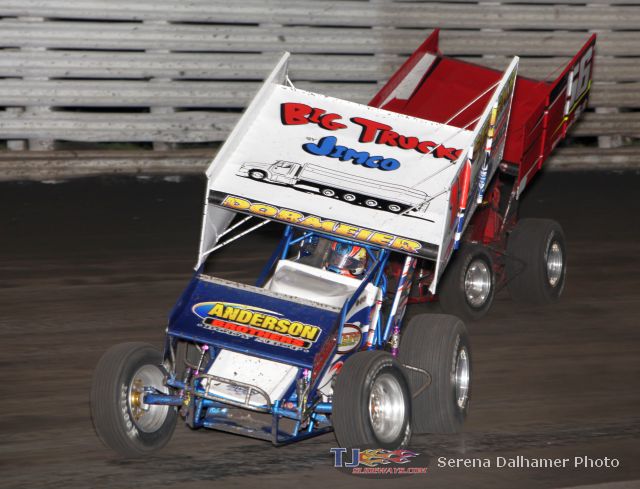 Qualifying has gone well lately at Knoxville, but Mark qualified 14th last Saturday night amongst the stout 33-car field.  "We wrecked the car the week before at Knoxville, so we had to put a new one together," he says.  "It took us a little bit to get it figured out, but we got more comfortable with it until after time trials."
Everything was running on all cylinders in the heat, with a starting spot inside row two and a smooth cruise to victory.  "We got really comfortable in the heat race," says Mark.  "The car was working on the bottom really well."
A starting spot outside of row six awaited Mark in the main event.  "There were some things we wanted to try in the feature," he says.  "We tried them, and I don't think we'll ever try them again!  We thought we were doing something that might help us, and it did nothing but hurt us."
Mark tried working the top and bottom of the track, but couldn't make any ground up.  "We really struggled the whole feature," he admits.  "We just couldn't get anything going.  We ended up finishing right where we had started (12th)."
The team is looking forward to doing more racing this weekend.  "We're excited to pick up our schedule starting this weekend," says Mark.  "River Cities doesn't look good for Friday to be honest, but we'll be back at Knoxville on Saturday, and the Huset's opener is Sunday."
That will mean a more normal summer routine for Mark.  "It's felt really weird," he says of his one-race weekends.  "We're used to the three-race weekends.  We've been home at 8:30 or 9:30 on Sunday mornings the last three weeks!  It's definitely different to have a Sunday at home!"
The Dobmeier/Lunstra team would like to thank Senske and Son Transfer, Big Trucks by Jimco, Sioux Falls Ford, IQ Bid, Dammer Trucking, ACME Tool, Strong Box and Tire Boss for all their help!