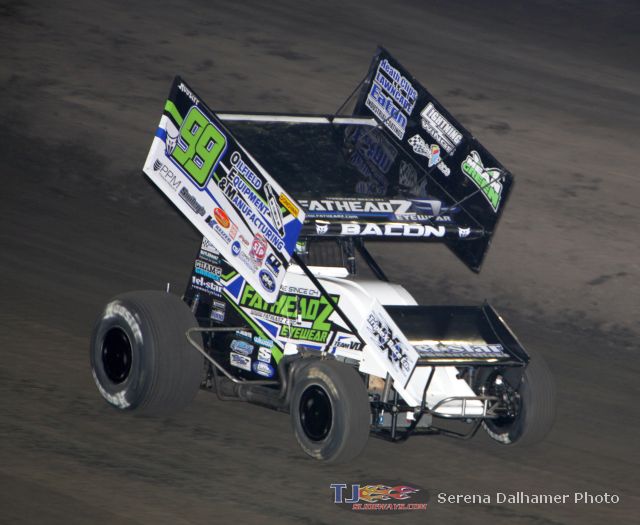 By Bill W
May 12, 2014 – It was a week for Brady Bacon to be an owner and a driver, and he finished with some success with the World of Outlaws.  On Wednesday, he overcame a rough qualifying effort in Jacksonville, Illinois to make the show, before recording a seventh place finish on Saturday at Tri-State Speedway near Haubstadt, Indiana.  This weekend finds him in his own car again with the wing at Attica Raceway Park in Ohio on Friday and without the wing in BOSS action at Eldora Speedway in Ohio on Saturday.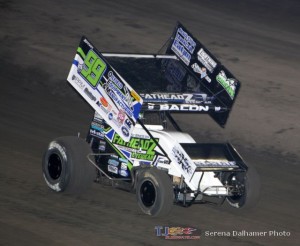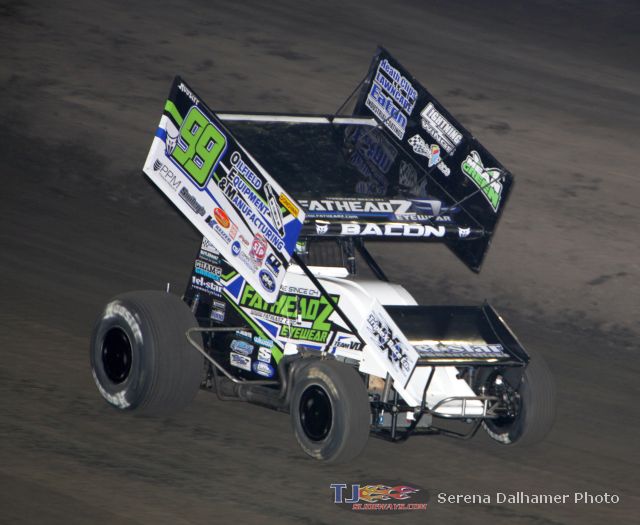 Brady qualified a disappointing 33rd quick in the 40-car field at Jacksonville Wednesday.  "I thought (the line) might be on the bottom for qualifying, and I should have made a lap on top," he admits.  "I made both laps on the bottom, and it was really slow.  I'm still adjusting to qualifying with the wing.  I've got the non-wing stuff figured out, but I just haven't got the wing qualifying figured out every time."
With just four transfers coming out of each of the five heats on the banked bullring, the Broken Arrow, Oklahoma driver had to hustle to transfer to the main event in his heat.  "We were really good in the heat," says Brady.  "We were able to get from seventh to fourth, which is really tough to do.  Luckily, we were able to do that."
Starting on the tail of the feature, he would only make a few laps.  "I tried some stuff in the feature," says Brady.  "I knew it was going to be tough to pass, and that it would probably take rubber.  The car wasn't good at all.  I also had a problem with the headrest on my seat coming loose.  Once I got lapped by Christopher (Bell) running in the back there, I just pulled in and saved my stuff."
Saturday at Haubstadt, things started well in qualifying for the Brady Bacon Racing #99.  "I'd been looking forward to that race since last year," says Brady.  "We qualified fifth, which was perfect for the qualifying they had for that night with three heats."
Starting third in his heat, Brady knew he just had to finish in the top six to qualify for the Dash.  He would checker fourth.  "We made it out of the heat," he says.  "The track was heavier than normal there.  It was a little hard to pass at that point.  I think I went through fifteen tear-offs in the heat race.  It was hard to pass in the Dash as well (he started and finished fifth).  We were getting a little better and the track was coming to me."
Starting inside row three for the main event, Brady had visions of a win.  Last year, he led much of the race at Tri-State Speedway with the WoO before a mechanical malfunction.  "It was normal Haubstadt in the feature, which isn't a bad thing," he says.  "You could definitely move around and pass.  I just didn't quite get the car tight enough with the forward drive to move up through there."
In the end, he would checker seventh.  "It was a good financial night for me personally," says Brady.  "We've done pretty well for the three nights that we've ran our car.  Making money is tough to do in this sport right now.  It was good to get a top ten finish with the Outlaws, and hopefully, we can do that a couple more times this year."
Brady will remain versatile this weekend.  "We've got another wing race this Friday night at Attica," he says.  "On Saturday, we'll race with the BOSS series at Eldora."
Follow Brady on his Website, Twitter and Facebook!
Follow Brady at his website located at www.BradyBaconRacing.com! Also keep up with him on Facebook and Twitter (which also can be accessed at the website) at the following links…
Twitter Link – http://twitter.com/BradyBacon
Facebook Link – www.facebook.com/pages/Brady-Bacon-Racing/278125555137
Partner of the Week – Triple X Race Components
At Triple X Race Components, we don't just build race parts – we race too.  We know how expensive it is to race.  That's why we offer the most common Sprint Car, Midget, and 600 Mini Sprint parts.  We keep our costs down by building thousands of each part.  We build the parts that get damaged the most.  With our discounted pricing, you can afford to race hard and race to win.  All Triple X components are produced in our ISO 9001 certified factory. They are laboratory tested, race tested, and universally approved. Whether you are a new customer or a repeat customer, you can be assured that you're buying race-proven products at great prices.  We guarantee it.  Triple X has established a large network of dealers coast to coast and internationally to serve your needs. Please stop by your local dealer and check out our newest products.  Check Triple X Race Co. out on the web at www.XXXRaceCo.com!
Associate Marketing Partner of the Week – King Racing Products
King Racing Products are Outlaw proven and American Made.  They are located in Visalia, California and offer anything you need for your sprint car.  Call them toll free at 1-866-209-8544 or take a look at their catalog at www.KingRacingProducts.com!
Brady Bacon Racing would like the following sponsors for all their help: Fatheadz Eyewear, Tel-Star Communications, PPM Titanium Products, Triple X Race Components, Smiley's Racing Products, Heath Clips Lawn Care, VanDerBrink Designs, Keizer Aluminum Wheels, Eaton Industrial Coatings, Pattison Precision Products, Oilfield Equipment and Manufacturing, Butlerbuilt Seats, Hoosier Tire Southwest, Diversified Machine Inc., Brown and Miller Racing Solutions, Lightning Wings, Simpson, CP Pistons, Schoenfeld Headers, Carrillo Rods, Sweet Manufacturing, All Star Performance, King Racing, Schroth Racing, FSR Radiators and Fuel Safe.
The Hoffman #69 sprinter is sponsored by Mean Green, Mopar, Triple X Race Components, Hoosier, DMI, Lykins, Engler Machine & Tool, Goodridge Fluid Transfer Systems, KSE, MPD Racing, CSI Shocks, XYZ Machining, Saldana Racing Products, Fuel Safe Racing Cells, Fastener Specialty Motorsports, Wilwood Brakes, Joe Gibbs Driven Racing Oil, Zemco Headers, Chalk Racing Products and Weld.