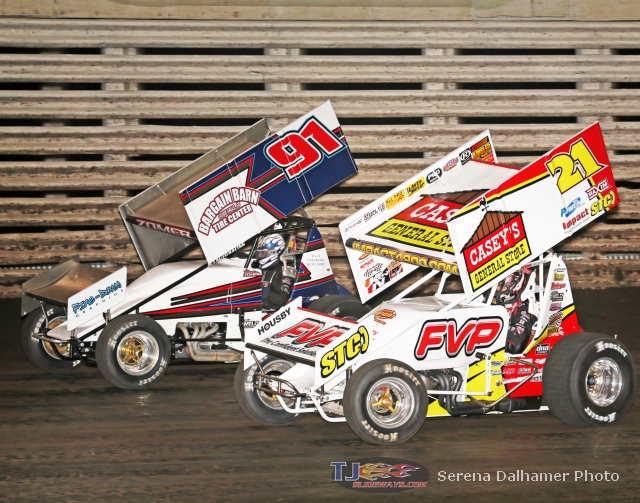 By Bill W
May 12, 2014 – The Brian Brown Racing Casey's General Stores/FVP #21 team was celebrating at the Knoxville Raceway for the second week in a row last Saturday night.  The Grain Valley, Missouri driver made his winning pass with two laps to go to take win #27 in his career at the famous half-mile.  This weekend, the team will be pulling double duty in both the 410 and 360 classes at Knoxville.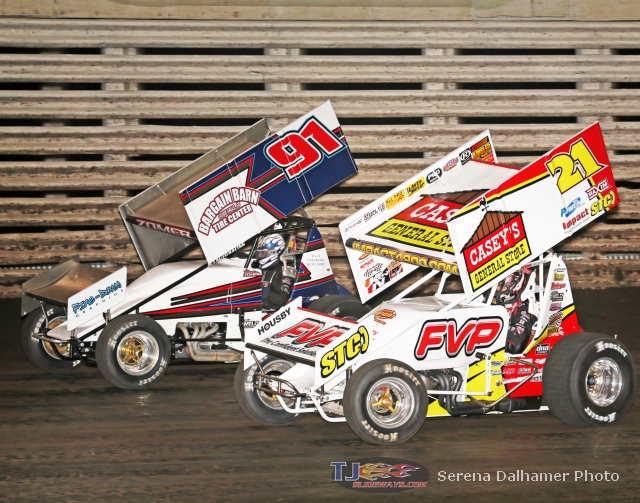 You registered the fifth quick time of the night, which put you in the first heat, which was tough.
We were able to get fifth quick, and we had a very stacked heat race.  It doesn't get any tougher than that.  We had tough cars in front of us (Jason Johnson, Wayne Johnson, Garrett and Craig Dollansky), Terry (McCarl) beside us and Scott Winters behind me.  Coming off turn two, I was running seventh, but we were able to come back and get the last transfer in fifth.
You started outside row two for the feature, which took a while to get started.
We took off well on the first start, but that came back (for Don Droud Jr.).  I got a good start the second time as well, but that came back too (Dustin Selvage crash).  The third time, I didn't take off well.  Danny (Lasoski) slid across and kicked a rock into my Bell helmet.  That knocked the tear-offs off.
What are you thinking when that happens and you have twenty laps to go?
A lot of things are going through your head at that point.  We had another yellow, and I thought about pulling over for safety reasons so they could let me change helmets.  Then I thought about how my other helmet wasn't even prepared.  I figured I'd try to see how it went.  For the first five laps, I was figuring out the best place to wipe my helmet off every lap, rather than how I could beat these guys.
Regardless, you settled into third behind Ian Madsen and Dusty Zomer.
We were set up for late in the race, and I was trying to be patient.  My thoughts going in were to stay with those guys and let them run their tires hard until we got to lapped traffic.  Then, I could make a move.  We got to traffic eight to ten laps in, and I felt they were coming back to me.  Then, the yellow came out.  That changed my mindset.  I didn't know how much traffic we would run into the rest of the race.
The race definitely had an exciting finish to it.
I was able to pick it up there late.  We were able to get by Dusty with about five laps to go.  Once I got by him, I was ready to go.  I was able to get by Ian with two to go, and run my best pace at that point.  It worked out for us, but it very easily could have went the other way.  It doesn't go your way every night.
It has to feel good to win two in a row at Knoxville.
Overall, it was a very solid night.  I feel like we're getting back to where we should be, especially at Knoxville.  I don't feel we're as good as years past, but we're close.  Hopefully, the track will change as the summer goes along, and we have a top and bottom to run.  It was pretty much around the top on Saturday.  I'm looking forward to getting back this week.  If everything goes as planned, we'll be running there with the 360 also.
I know you had a tough night Wednesday at Jacksonville with the Outlaws.
With the Outlaws, sometimes you need to put it on the edge.  It didn't work out for us.  I watched the first six or eight guys go out (qualifying), and I thought to myself that I needed to go harder than that.  It wasn't possible, and I got into the fence and knocked our axle out.  It was a driver error that ruined our night.  Chad (Morgan), Zach (Thomas), Scotty (Ritchhart) and a couple of Kerry Madsen's guys got us back together, and we were able to get a lap at the end.  We got a lap, but I didn't go as hard as I should have (30th quick).
You were able to go from sixth to third in your heat, which isn't easy with the Outlaws.
We were able to pass Paul McMahan and Steve (Kinser).  We passed Greg Wilson and passed Joey (Saldana) for second.  I thought we may have a shot at winning the heat there.  I spun the tires a bit racing Joey and couldn't go forward after that.
You started 22nd in the feature and you were making progress at one time.
We made it to 14th or 15th and got lapped.  The last thing you want to do at that point is get in the way of the leaders, especially with it laying rubber.  I just pulled in and called it a night (scored 19th).
Follow Brian on the Web, Twitter and Facebook!
Follow Brian at his website located at www.BrianBrownRacing.com!
Also keep up with FVP, Casey's and Brian on Facebook and Twitter at the following links…
Twitter Links – @BrianBrown21, @FVPRacing, @CaseysGenStores
Facebook Links
Brian Brown Racing – www.facebook.com/pages/Brian-Brown-Racing/200630163294222
Casey's General Stores – www.facebook.com/pages/Caseys-General-Stores/112073528804354
FVP Racing –  http://www.facebook.com/FVPRacing?ref=ts&fref=ts
Other Web site info
Casey's: www.caseys.com
FVP: www.fvpparts.com
Brown's Bits
Brian gained his first ever win at Knoxville Raceway, when he made a last lap pass to win the 360 feature on May 25.  He definitely earned the win after starting eleventh.  Doug Wilson was second, ahead of Matt Folstad, David Hesmer and Tim St. Arnold.
15% off of Enco Tools Purchase!
Receive 15% off of your order with Enco Tools!  Just go to www.UseEnco.com and use the coupon code "BBR21"!
About Casey's General Stores
Casey's General Stores is a Fortune-500 company (NASDAQ CASY) operating nearly 1700 convenience stores in 11 states through the Midwest. Known for its "Homemade-To-Go" pizza, sandwiches, donuts and bakery items, Casey's strives to consistently deliver quality gas, fresh kitchen-prepared food, clean environments and friendly service at every retail location.  Casey's is currently the 12th largest c-store chain and sixth largest pizza chain in the United States.
About FVP
We are very excited to introduce our new line of automotive chemicals, oils and fluids to our product offering.  These new products will be available at many retailers across the country.  We continue to offer a full line of high quality oil, air, cabin air and fuel filters, plus a complete line of high quality batteries for multiple applications including cars, trucks, SUV's, commercial and other specialty vehicles.  All products are made to OE manufacturer fitment specifications.  FVP products are engineered to provide our customers with quality products that are equal or superior in performance to the major national brands at a competitive price.  To learn more about our FVP products or to find out where you can have FVP products installed in your vehicle, visit us at www.FVPparts.com!  FVP…The Confident Solution
Marketing Partner of the Week – Weld Wheels
Weld ®.  The word is virtually synonymous with racing wheels.  Their heritage is unmatched; their product is the choice of champions in most forms of motorsports.  Founded in 1968 by Greg Weld out of the pure love of racing, the company has undergone many changes over the last forty years, but one thing that hasn't changed is that the product is still designed and manufactured in Kansas City, USA.  In November 2008, the heritage and future became one, as Weld Racing, LLC was formed by current Weld management and Granite Creek Partners, LLC, to place ownership and leadership of the company back in the hands of racers.  Visit them at www.WeldRacing.com!
Associate Marketing Partner of the Week – Ti64
Whether motorsports, sailing, or biking, Ti64 has performance fasteners and components to meet and Exceed Your Speed Dreams. They strive to create the best possible products at the best possible prices. They believe in their products and use them in their personal vehicles. With over 40 years of combined engineering expertise, they put their heart and soul into everything they do. Browse their site, compare their prices, place an order, and enter the age of Ti64.  Visit them on the web at www.Ti64.com!
Brian Brown Racing would like to thank Casey's General Stores, FVP, Searsboro Telephone Company, MC Power, Impact Signs Awnings Wraps / impact4800.com, Champion Brands, DNA Energy, Ditzfeld Transfer, Maxim Racing, Smiley's Racing Products, Enco Tools, Weld Wheels, Housby Trucks, www.RateWin.com, Arctic Cat, K&N, www.hostiowa.net, FSR Race Products, TI64, Fuel-Safe Tanks, Wolfe Eye Clinic, Bell Helmets, Hinchman, CP Pistons, Carrillo Rods, Vortex Wings, Penray, All Pro Cylinder Heads, Butler Built Seats, AkzoNobel, Kenny's Components,  www.AllDayParts.com, Tru Square, Jack Links, Deli Express, Snap-On Tools, Rod End Supply, KSE Racing Products, Winters Performance, Cometic Gaskets, Shell Shock, Donovan, ISC Racers Tape, Kinsler Fuel Injection, Racing Optics, Mothers Wax, Hoosier Tires, Klein RV, XYZ Machining, Brown and Miller Racing Solutions, Red Devil Brakes, Schoenfeld Headers, 6B Apparel, Bosch, Garrett Racing Engines, MSD, Moyle Racing Engines, Fortress Wealth Management, Legacy, Flexzilla and WSIB Insurance for all their support!