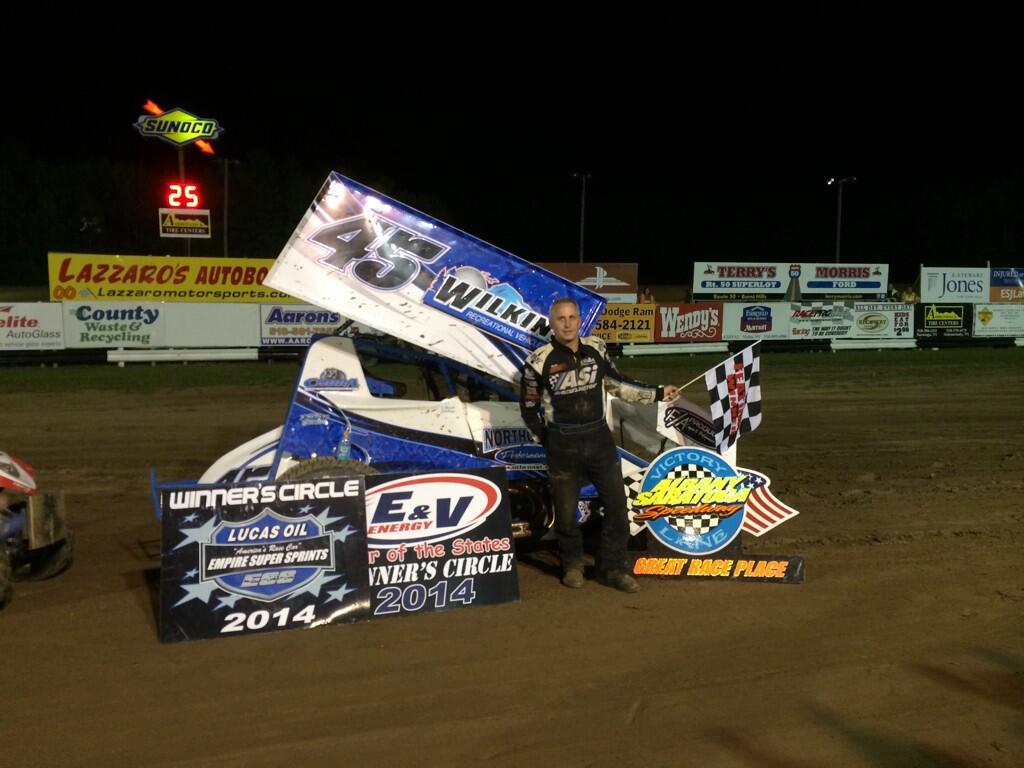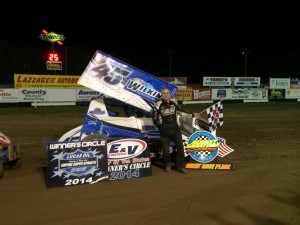 From Mike Mallett
Malta, NY — (May 23, 2014) — From Ask Chuck Hebing and he'll tell you that much of his struggles in 2013 came from a lack of confidence in the car. The former two-time series champion struggled while going winless in Lucas Oil Empire Super Sprint (ESS) competition. This season, things are different and it showed on Friday night at the Albany-Saratoga Speedway.
Hebing, driving his new Eagle chassis with assistance from notable crew-chief Doug Emery, powered past Matt Tanner for the lead early and then late he was able to keep Jessica Zemken behind him to win the E&V Energy Tour of America 25-lap feature event.
"We got a good car so far this year," said Hebing. "I think we got something for the future right here. It's good to be down here (in Victory Lane). I got to thank all of my guys for their hard work and Doug (Emery) for his help tonight."
Hebing started on the inside of the front row with Tanner on the point. Tanner grabbed the lead from the drop of the green with Hebing on his rear bumper.
Tanner continued to hold off Hebing as they raced into traffic on lap six. Tanner maintained the low line with Hebing working the high-lane through the corners. Hebing looked to make a move on Tanner. Before he could complete the pass the caution was shown as Kevin Ward Jr., spun in turn two on lap seven.
Tanner got the jump on Hebing at the green, but Hebing was strong on the exit of turn two and dove to the inside of Tanner down the backstretch. Tanner opened the door entering the third turn allowing Hebing to dive low then up in front of him for the lead as they exited turn four to complete lap eight.
"My car was pretty good on the bottom and I got underneath him," stated Hebing. "He tried guarding the spot too and we got real close I think."
Once he got the lead, Hebing drove away from Tanner as he faced opposition from several drivers including Shawn Donath. Donath challenged Tanner for multiple laps eventually taking the runner-up position on lap 11. Unfortunately for Donath his run in second was short lived.
Lap 14 saw Donath bring out the final yellow of the event as he lost a freeze plug in the motor causing moisture to spray his left rear tire. He lost grip and hit the fourth turn wall. He then flipped over onto his side. He was uninjured in the incident but his solid effort came to an end.
A new challenger emerged to the inside of Hebing for the restart in Jessica Zemken. Zemken's No. 1z was strong from the get go but got stronger as the bottom of the speedway came in. With green displayed Hebing and Zemken raced away from the field.
Hebing held off Zemken as she made multiple attempts to take over the race lead. Her greatest effort came on lap 21 as Hebing tried to knife his way through slower traffic. Zemken looked underneath with Hebing quickly shutting the door.
"Saw Jess (Zemken) in lapped traffic and she was gaining on me," said Hebing. "Seeing her on the bottom definitely made me guard the bottom next time around. No different than she would do to me. It was a good race."
Hebing held on over the final four laps putting his Wilkin's Recreation Vehicle sponsored machine in Victory Lane for his 23rd career ESS victory.
Zemken, of Sprakers, N.Y., finished in the runner-up spot for his best sprint car effort of the 2014 season.
"It was a decent run," said Zemken. "I think we were better than a second place car. We ran out of racing room there. I think he saw me there and chopped my nose off a little bit. We were good and ended up second. Not bad for our second time out in our own car so we'll take it."
Steve Poirier earned hard charger efforts advancing seven positions from the 10th starting spot to finish third. Poirier debuted a new GF1 Chassis. He had some handling issues in the feature as the team learns the new ride.
"I'm really happy to come from tenth to third," said Poirier. "We ran a new car tonight and we didn't know what to expect out of it. I was more nervous to go back with the Eagle but we got the new GF1. We needed to try it and I liked it."
Jason Barney, crossed the line in the fourth spot with Antwerp, N.Y., driver, Jeff Cook, coming home in fifth. Rounding out the top ten were Tanner, Jeff VanDusen, Cory Sparks, Robbie Stillwaggon and Paul Kinney.
ESS/Albany Saratoga Notes – With rain falling all over the Eastern part of NY 26 sprints still made the tow in very iffy weather…A brief shower while the sprints were lining up for heat 2 came to the track but the track crew had the oval back in shape in an hour…Will Hull made his first ever ESS start and just missed qualifying…Jeff VanDusen flew in from Florida to run his dad's sprint and had a solid night…Doug Emery arrived late with his sprint and unfortunately Stewart Friesen was a flip victim in his heat ending the night early.
Lucas Oil ESS A-Main – Chuck Hebing ($1,600), Jessica Zemken, Steve Poirier, Jason Barney, Jeff Cook, Matt Tanner, Jeff VanDusen, Cory Sparks, Robbie Stillwaggon, Paul Kinney, Paul Habeck, Zach Weigand, Etienne Girard, Tom Wickham, Joe Trenca, Charlie Donk, Patrick Vigneault, Josh Pieniazek, Dave Axton, Shawn Donath, Kory Gurney, Kevin Ward Jr., Tim Axton.
Did Not Qualify – Will Hull, Stewart Friesen, James Hanson
Lap Leaders – Tanner 1-7, Hebing 8-25
Car Mate Custom Built Trailers Heat 1 – Trenca, Hebing, Donath, VanDusen, Sparks, T. Axton.
Car Mate Custom Built Trailers Heat 2 – Tanner, Poirier, Donk, Zemken, Girard, Kinney
Car Mate Custom Built Trailers Heat 3 – Barney, Habeck, Cook, Weigand, Stillwaggon, D. Axton.
Lacaillade Masonry B-Main – Ward Jr, Wickham, Pieniazek,Gurney.
Added Starter – Vigneault
Bonuses:
Westward Painting Company Halfway – Hebing $100
Insinger Performance Hard Charger – Poirier (7 pos,) $50
Fondations 55 Pick 3 – Cook $50
Lacaillade Masonry B-Main – Ward Jr. $50
Car Mate Trailers Heats – Trenca, Tanner, Barney $25
Go Nuclear Go Fast Award – Trenca (13.950) $25
Bitner Automotive Blistering Fast Time – Hebing (14.517) $25